6/12/11
Kim's blog:

It is 2:00 AM local time and we are finally on our way to Papeete. I was just soaked when a big wave flooded the cockpit. Even though the sea temperature is 81 degrees, this was a chilling experience in tee shirt and shorts. Not only did the wave wake me up during my watch, it encouraged me to go below and write this blog.

We enjoyed our time at Toau, but were definitely ready to leave. There was only one family living at the pass where we were moored. Their restaurant was the only commercial establishment and was generally open only one night per week. Since their take away beer was $40/six pack, it would have been financial ruin to stay any longer.

We are looking forward to getting to a city. There is long list of pending boat repairs, our provisions are low and Plato has not set paw on land since April 5th. At anchor, he constantly walks the decks plotting his escape to the shore. He will be examined by the official government veterinarian in Papeete and should be granted asylum.

s/v Georgia J
Position 16 15.4 S, 147 12.1 W at 12:07 UTC on 6/12/11
Speed 6.0 knts, bearing 228 M.
Expected arrival in Papeete- Monday at 5:00 am local time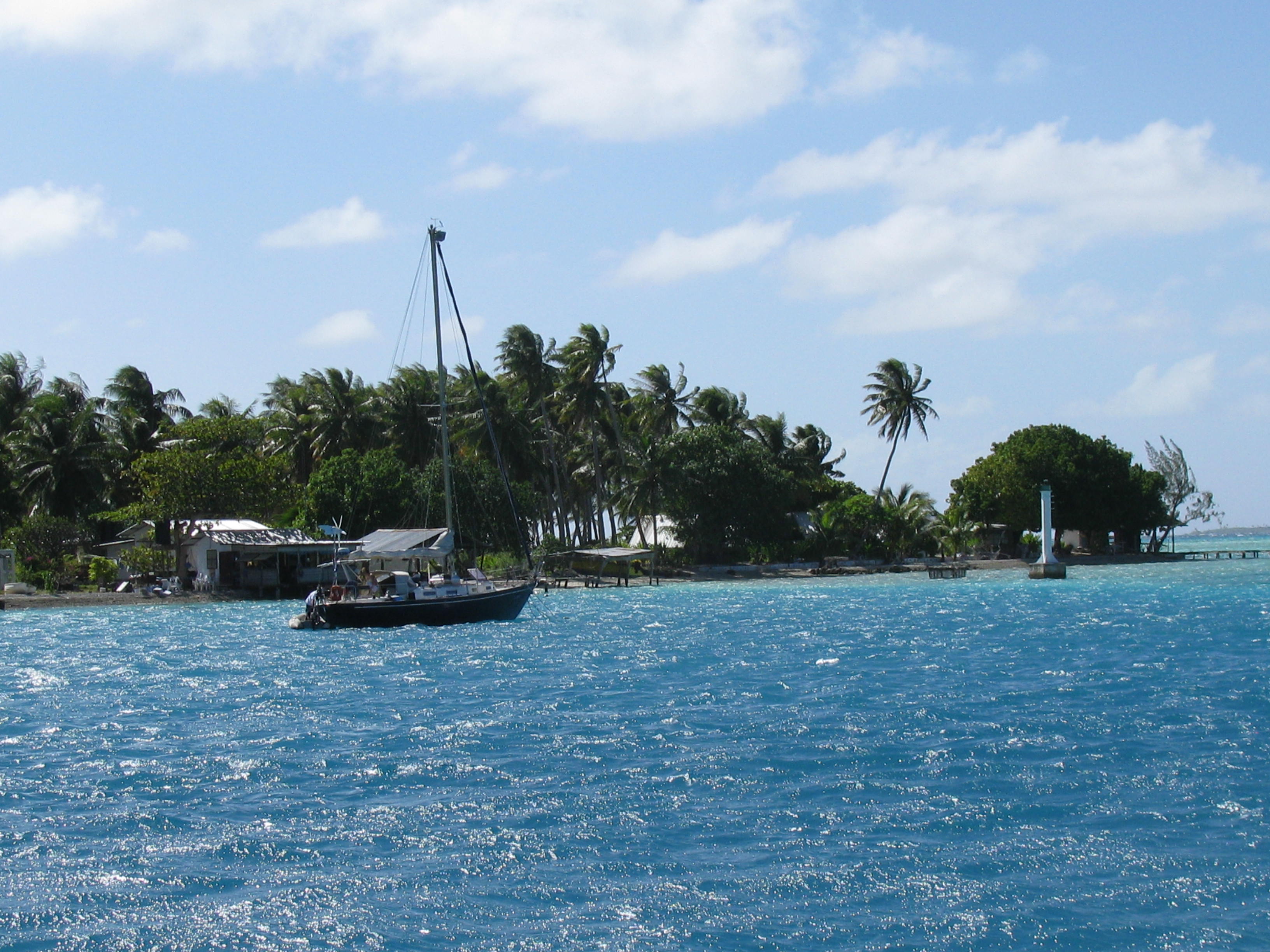 Restaurant & home in Tuao
June 8, 2011
Sharon's Log

The winds just keep howling, so it looks like we will be here until the end of the week. Everyone here in the anchorage is beginning to suffer from cabin fever. Several of us braved a very choppy and wet dingy ride to shore to play games, drink some beer and get off the boat! The home/restaurant of the only couple living here is a virtual zoo, complete with a sting ray, eels, sharks, chickens, pigs, and a host of cats and dogs. However, the most unforgettable creature was a raptor which appears to be the host's "pet". The frigate bird truly looks like something out of Jurasic Park. Those of you who know me well, know that birds are not my favorite wildlife. This thing makes the Schafers' Kelly look like the Fruit Loops bird. I am quite sure I will have nightmares about Valentina (our host) kissing the bird for quite some time. Kim (not me) is going back in today to try to get a picture which we will add as soon as we get back to the land of internet. Gaston (our other host) showed us all his technique for cleaning a very large tuna. We left with a kilo of tuna and some very highly priced beer. Oh well, the tuna was cheap.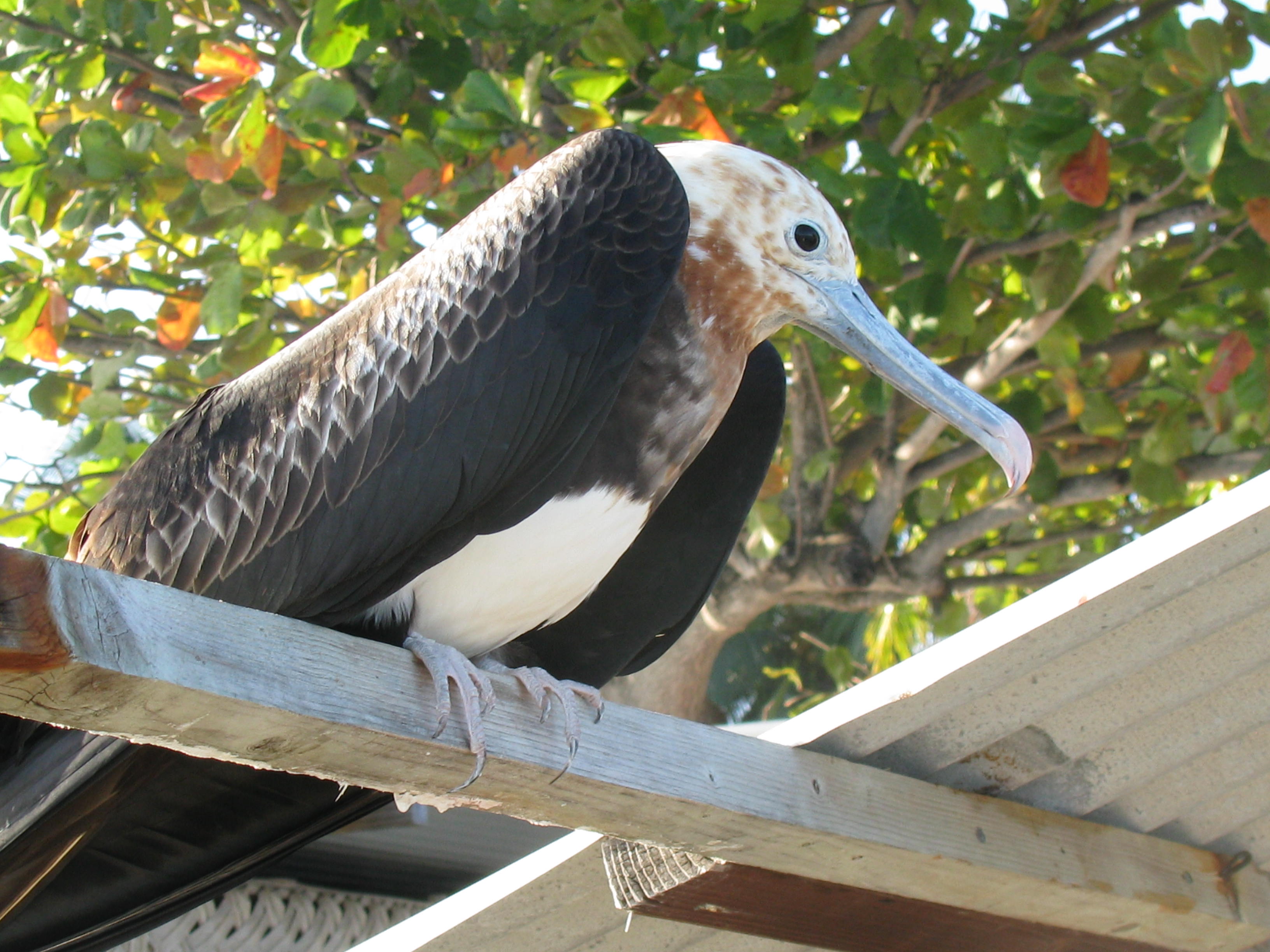 Pet friget at Gaston & Valentine's home
Coconut crabs break open coconuts- incredibly strong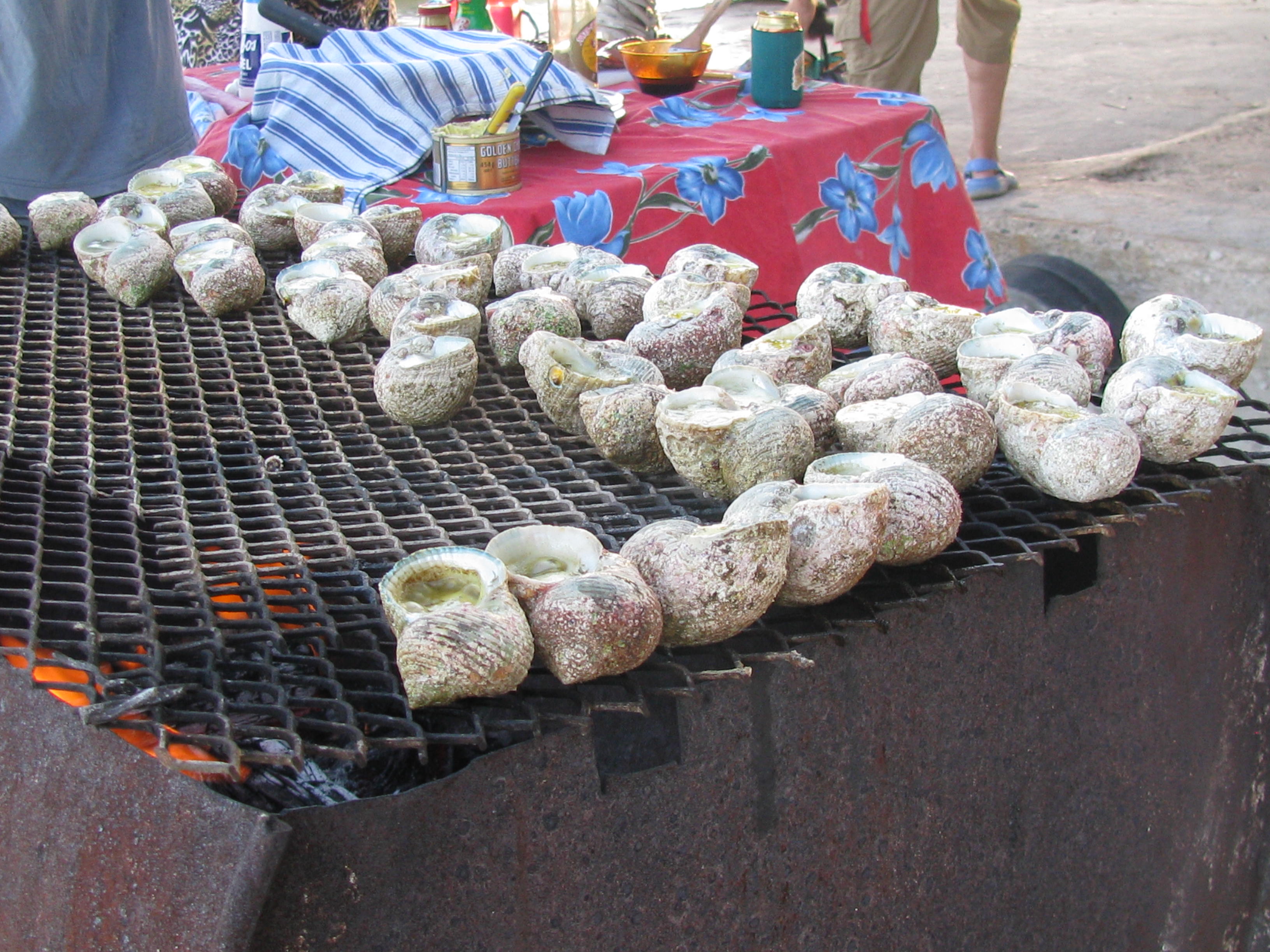 Sea snail appetizer was tasty. but chewy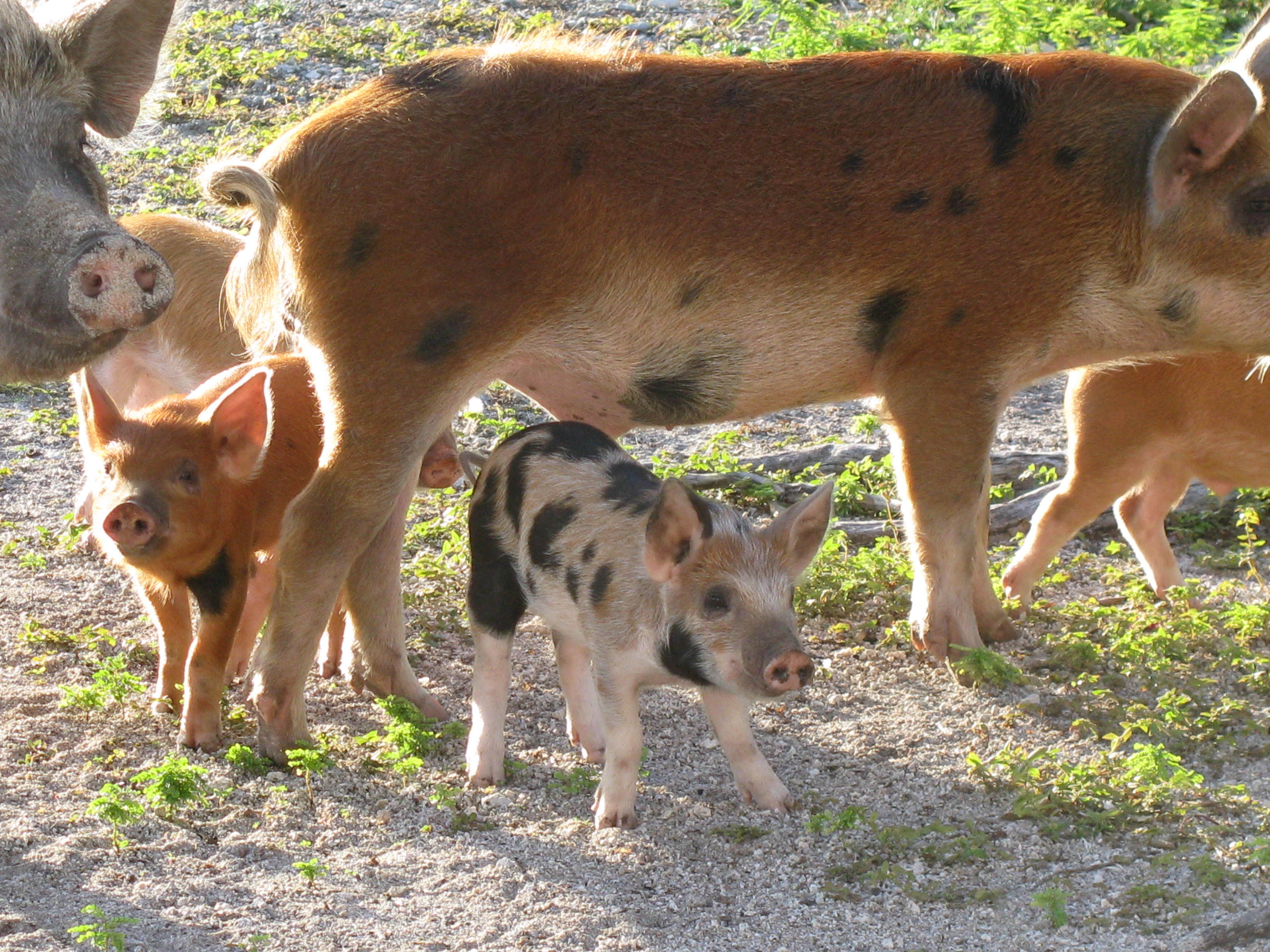 Next week's menu selection
June 6, 2011
Kim and Sharon's Log:

We have had to delay our 2 day passage to Papeete due to the weather conditions. A front is passing through creating high winds, gusting to 35 knots here in the anchorage. We are hunkered down, safely tied to a mooring ball, with 3 lines holding us tight. The reef which encircles the anchorage protects us from the waves.

The reef also offers some excellent snorkeling which we took advantage of a couple of days ago. We can snorkel just 3 boats lengths from Georgia. The coral was alive with many different types of fish, not as brightly colored as we have seen but they made up for it in quantity.

This is a great spot to lay low for a couple of days. We plan to buddy boat to Papeete with a friend, a single hander, who will be leaving from Fakarava.

s/v Georgia J
Moored at 15 48.185 S, 146 09.131 W at Toau atoll, Tuamotus, French Polynesia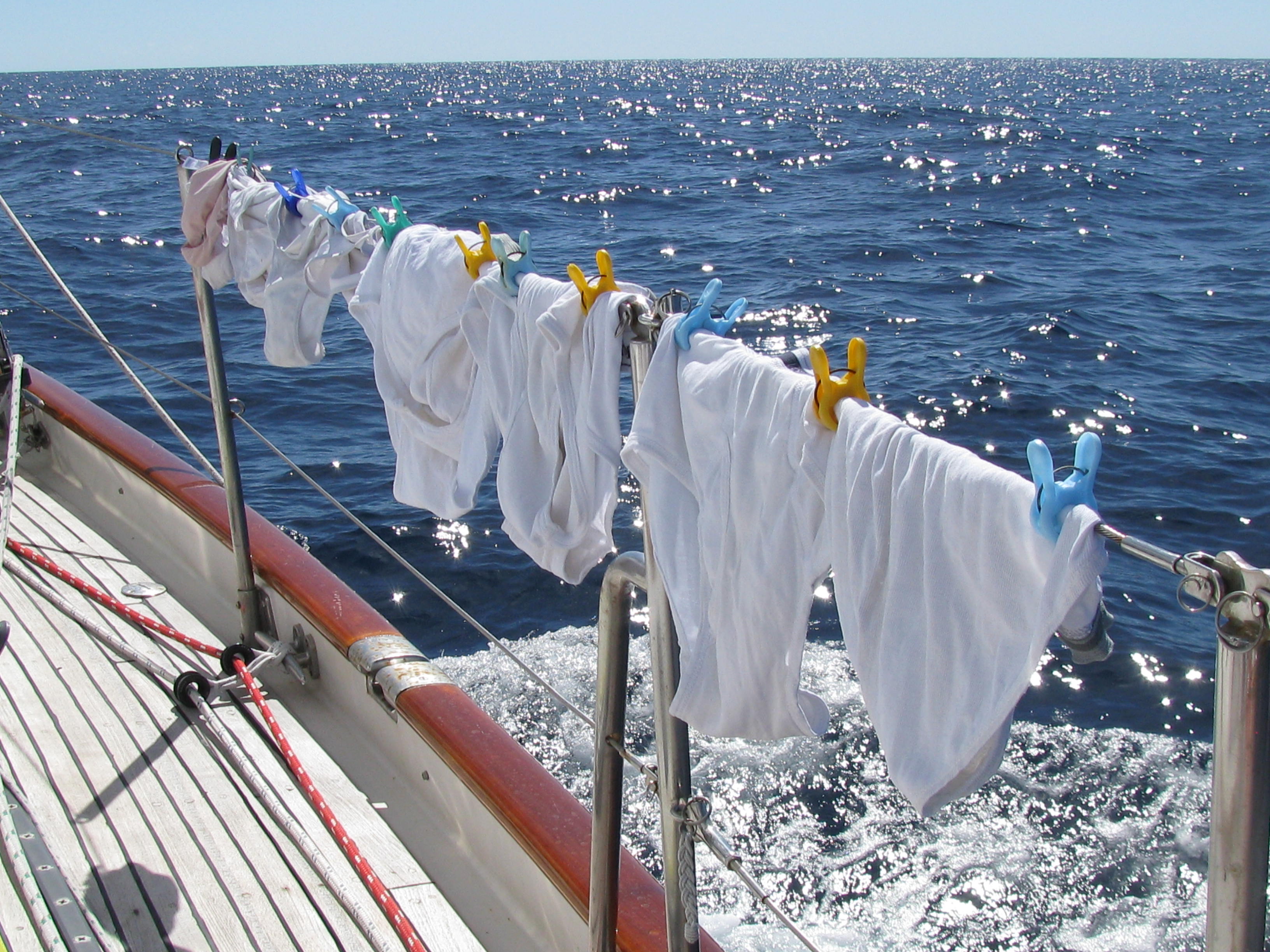 Clean underwear is essential when cruising
June 3, 2011
Sharon's Log

Our last couple of days brought us one major causality- our laptop! This is about the only thing on Georgia which didn't have a backup. Actually, we do have backup navigational system and a very nice new friend has loaned us a computer for a couple of weeks. So, we are re-connected to the world via our ham radio. This same friend has volunteered his wife to hand carry a PC for us to Papeete.

Our last night in Fakarava we invited some friends over for a "sundowner" (a term we learned from our new young Dutch friends). I wish Cindi Marques had been there, as not only did I use my "rationed" Georgia J cocktail napkins, but 2 serving dishes Cindi and Fred have given us.

The next morning, Georgia and the Dutch couple left at the same time for our 4th atoll in the Tuamotus- Toau. The passage was long, as we had almost no wind and had to motor the entire way.

Toau is a totally unique spot with a dozen mooring balls. Only one couple lives here and they occasionally offer dinners. As we pulled in we were greeted by a fellow cruiser in his dingy ready to assist with our mooring lines. We joined the group of 16 cruisers for lobster and pork (butchered that day with the help of the cruisers). We plan to stay here for the next 4-5 days.

s/v Georgia J
on mooring buoy at 15 48.194 S, 145 09.136 at Passe Tehere at Toau Atoll, Tuamotus,French Polynesia
Sharon's Blog 5/26/11

Curtis left us today, and we are genuinely sad to see him go. I think he was also bummed to be leaving us. Plato is in deep withdrawal, as he and Curtis were great buddies.

Fakarava is charming spot, and we are looking forward to a bit of down time. The water is a brilliant aqua blue. I have quickly learned to assess locations by the ease of the dingy landing. This one is definitely the best we have encountered. We made a major score today by being one of the first to the market after the arrival of the supply ship last night. Oh, how I used to take for granted the riches of the Farmers' Market. Hard to believe I can get so excited about fresh broccoli and carrots, two veggies I rarely even buy at home. However, my greatest treasure was lettuce, which we rarely see. We also made it to the bakery today before they sold out of everything, except baguettes. If you run out of croissants every day, wouldn't you think they would bake a few more? Well, that is just not the Polynesian way.

Fakarava is known for its black pearl farms. I keep mentioning my birthday coming up to Kim, but his hearing seems to be getting more selective these days.

We are looking forward to a rest and catching up on some boat chores. You know they say the definition of cruising is doing boat maintenance in exotic places, well, it must be true!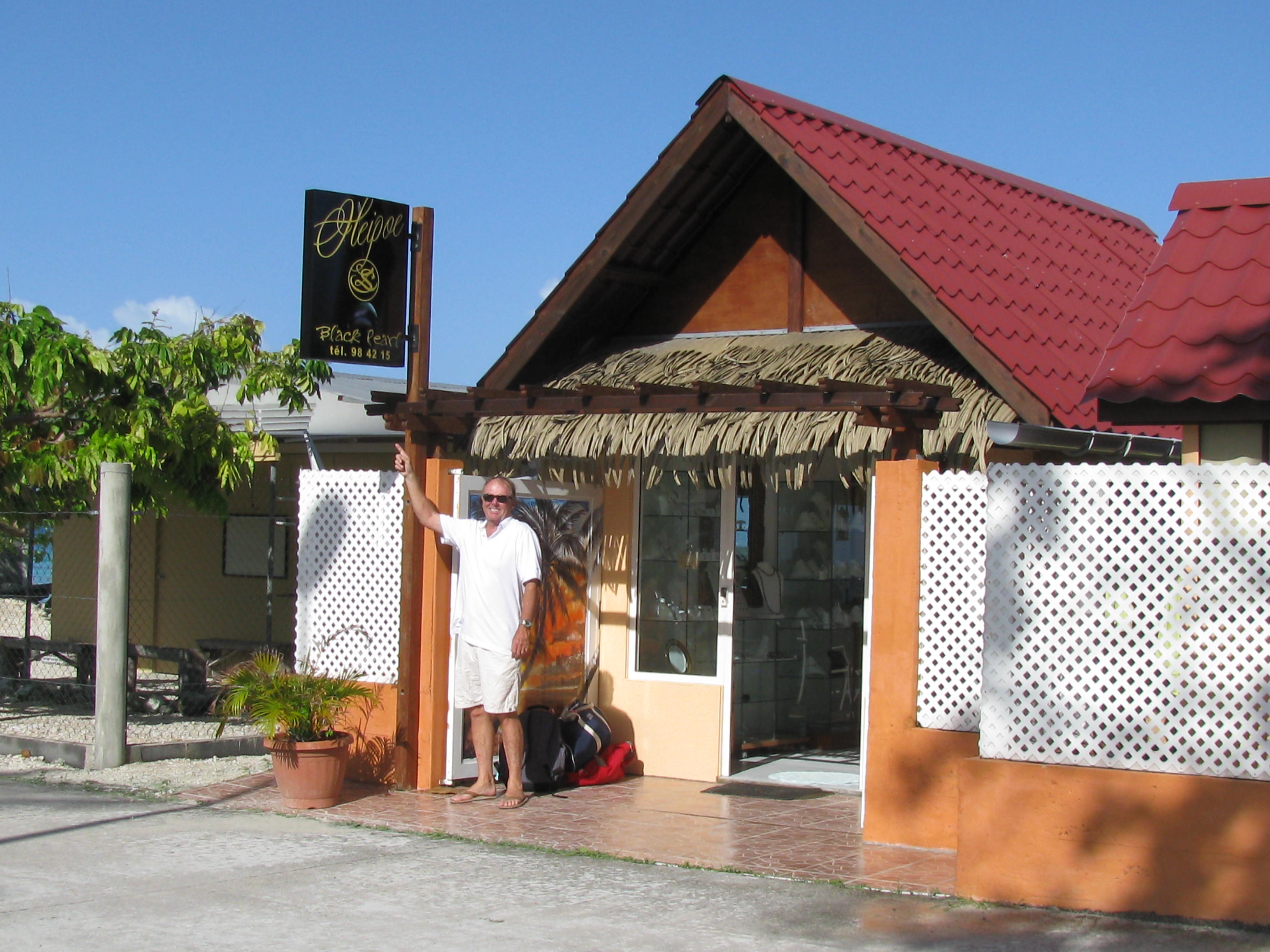 Curtis was a skilled shopper of black pearls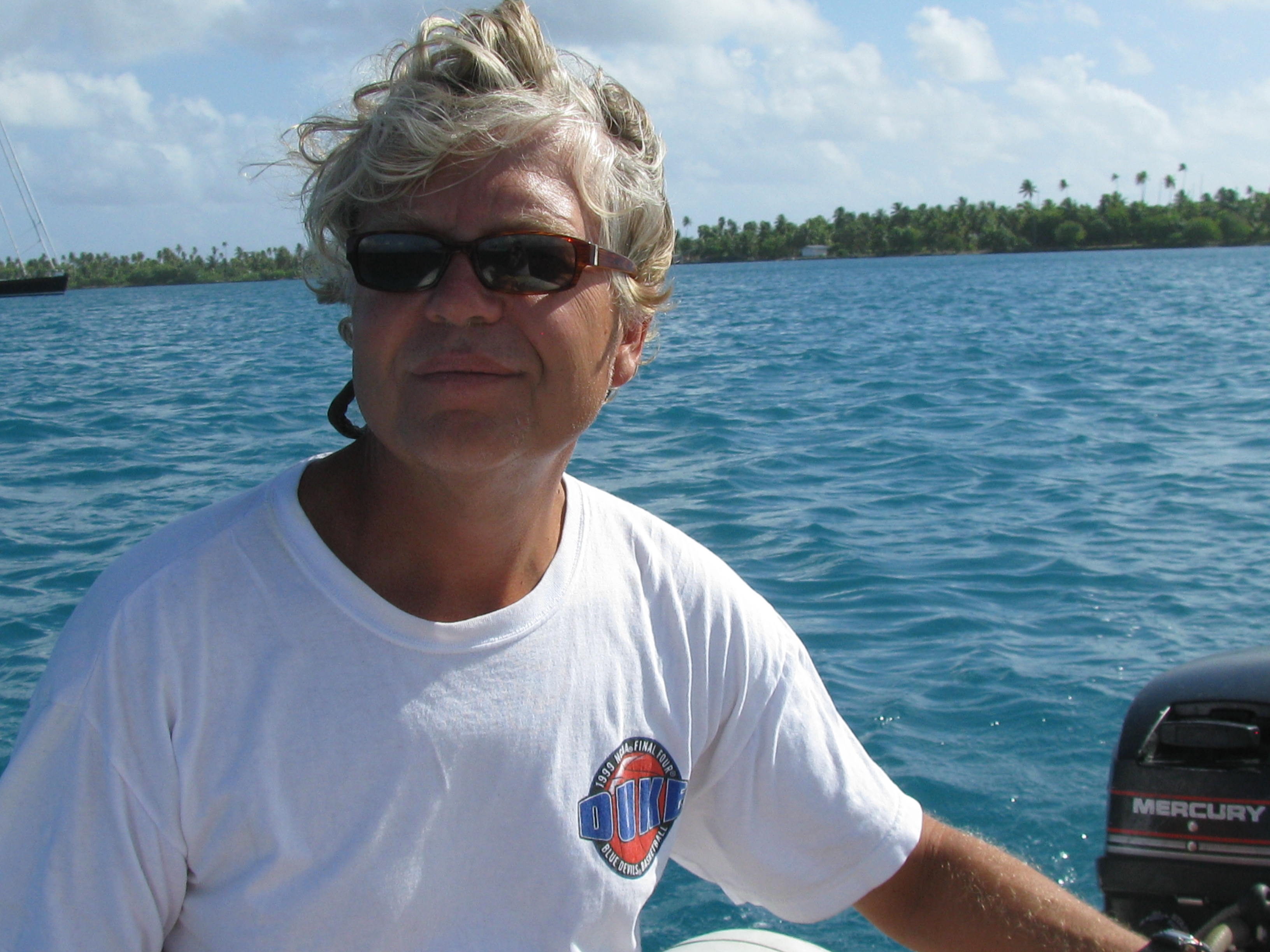 Dingying to shore at Rotoava Village, Fakarava lagoon
Fakarava - taken by passenger on cruise ship
5/25/11:

We had a very rough overnight passage to Fakarava. The squalls were continuous with gusts up to 38 knots and swells of 12+ feet. This is a huge atoll with a lagoon which is 30 miles long. Once inside the lagoon, we expected relief, but were hammered with 25+ knots and driving rain on the nose. We are now safely anchored, drying out while enjoying our bloody marys.

s/v Georgia J
Anchored at 16 03.531 S, 145 37.326 N

5/24/11

Kim's blog:

We have left the island of Tahanea and should arrive at the Fakarava early tomorrow morning. Tahanea was beautiful, but we all got a little paranoid about the sharks. Yesterday, I was standing on the beach in knee deep water. A three foot shark swam straight towards me. I threw a rock at it and it swam away. However, he came back at me twice more and only retreated when I got out of the water.

s/v Georgia J
Position: 16 36.5 S 144 55.1 W
Bearing 300 M, Speed 6.5 knts
In route to North pass of Fakarava atoll

Kim's blog- 5/23/11

The overnight passage from Makemo to Tahanea went fine. We arrived yesterday morning at Tahanea, an uninhabited atoll which is about 25 miles long and 8 miles wide. The lagoon is a beautiful turquoise color with corral heads and white sand beaches. After anchoring, I took a quick swim to make sure the anchor chain was not wrapped around the corral heads. A shark lazily swam under our stern. A bit later we noticed a second shark swimming at the surface beside the boat. We took a dingy ride into shore to go snorkeling and saw another shark attacking some unfortunate creature in about five feet of water. We decided to forgo the swim and retreated to boat for margaritas. We will try again today. A picture of Sharon's tattoo is now uploaded with other new photos on the Puddle Jump and Marquesas Islands link.

s/v Georgia J
Anchored at 16 50.741 S 144 41.802 W

5/21/11

Today was a great day in Makemo. I finally had a flat anchorage to go up the mast and try to fix the wind indicator. After I unplugged it and plugged back in, it worked! Magic.
View from the top of Georgia J's Mast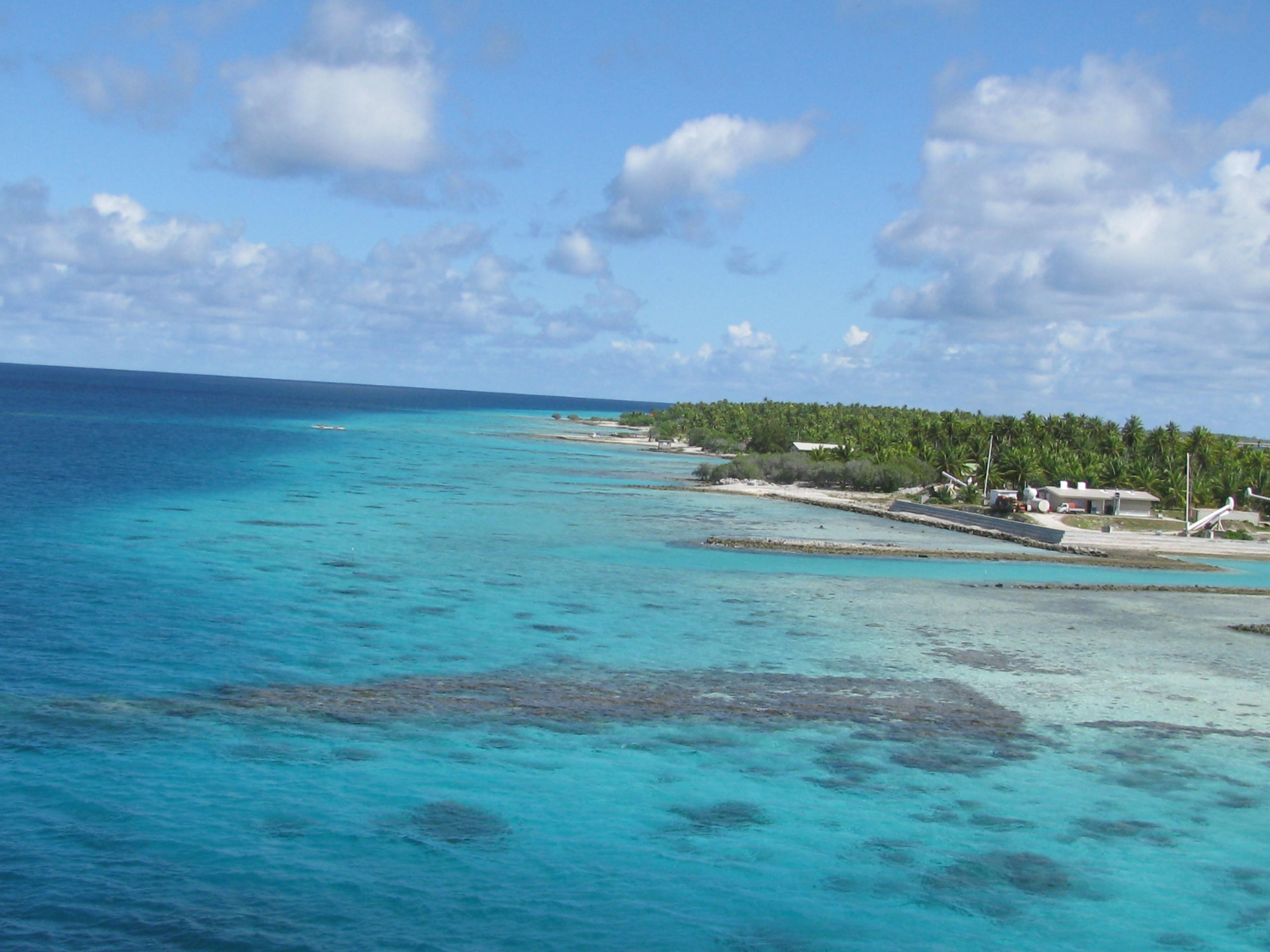 View of Makemo lagoon from top of mast
We toured the town, found the best grocery story since San Diego and purchased a few cans of diesel fuel.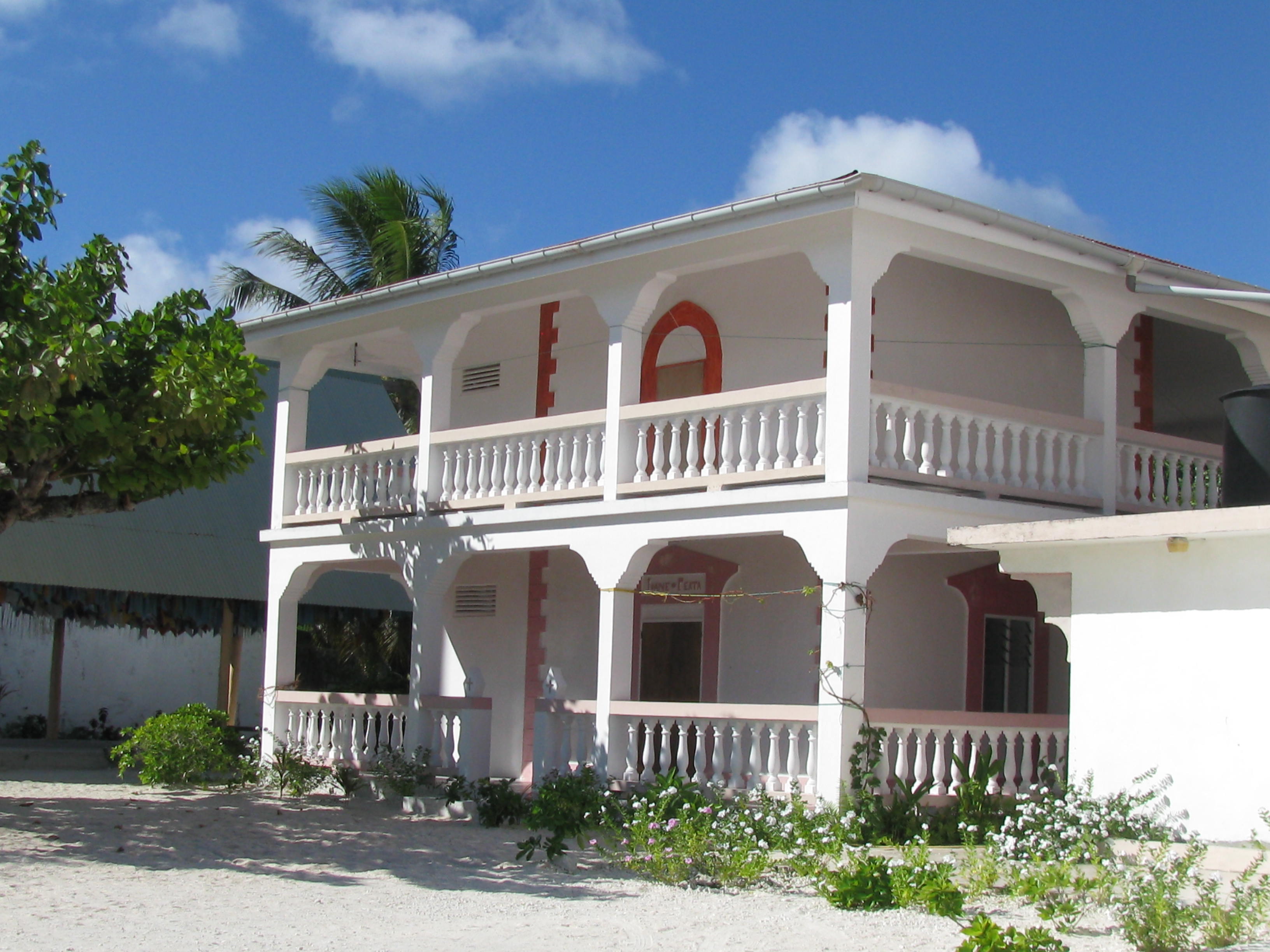 Curtis took us to dinner at a really nice restaurant where we had the best treat of all. You guessed it- Polynesia's #1 Elvis impersonator here from Papeete! We spent the evening with the locals humming "Blue Suede Shoes" and had a great time.
We plan to leave tomorrow afternoon for Tahanea, an uninhabited atoll about 80 miles away. In order to time go through the passes at slack time, we will travel over night and enter when the sun is high and the corral is easy to spot.
Kim's blog 5/20/11:

We arrived at Makemo, an atoll in the Tuamotus, yesterday morning after a 480 mile passage from the Marquesas. This passage was boring. The seas were flat and we only had wind for a couple of hours during the three days. However, we kept the batteries charged, the refrigerator cold and enjoyed the company with Curtis.

Our first entrance through an atoll pass went pretty well. Our current predictor estimated an outgoing current of 4 knots. We entered the pass cautiously and registered an ingoing current of 6 knots with many whirlpools, eddies and counter currents. I made quick retreat back out to sea and waited for the currents to subside. About an hour later, we tried again found the pass much more manageable.

We anchored in a beautiful lagoon by the village of Pouheva in 55 feet of sandy coral bottom. After a quick swim, we took the dingy in to tour the town. The headmaster of the local Catholic boarding school introduced himself and told us about the island. He said that 1500 people live here. I think every single one of them greeted us as we walked the streets.

s/v Georgia J

Anchored at 16 37.660 S, 143 34.501 W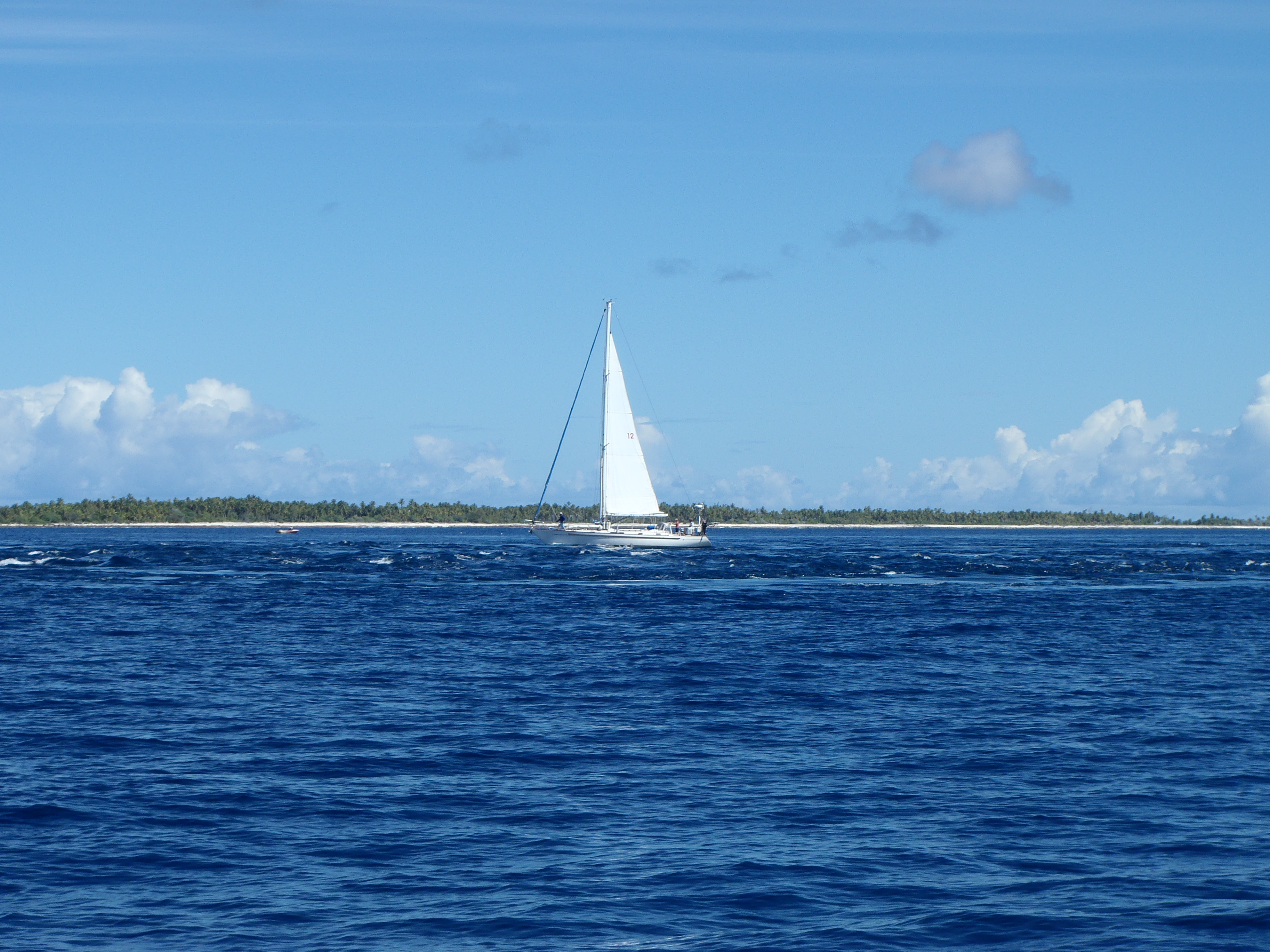 Georgia J preparing to enter pass at Makemo

5/16/11- Kim & Sharon's Blog

We left Ua Pou for the Tuamotus this morning. The Tuamotus used to be called the "Dangerous Archipelago" because so many ships wrecked there. There are 78 islands, all but two of which are coral atolls. Since there are no mountains, ships often ran aground before they saw the reefs or palm trees. With GPS, finding the correct island is no longer an problem.

With so many islands, choosing the ones to visit has been confusing. However, based on the recommendation of a German dentist who has cruised for 30 years, we are going to take the route less traveled by cruisers. Our first stop will be Makemo. This atoll is 477 miles away taking us 3-4 days. Once we reach Makemo, we will need to entry the lagoon at slack tide since the currents in this pass can reach 8-9 knots. We also need to enter near noon so we can see the coral heads in the lagoon. Hopefully, the stars will align to allow both conditions.

Current position:
09 27.44 S 140 10.49 W at 18:14 UTC on 5/16/11
Motor sailing at 5.9 knots at heading of 193 M in flat seas and little wind

Navigation will be tricky in the Tuamotus