Kim's Blog 8/31/13
Our passage to Sardinia started easy and ended tough. We debated whether to leave that morning. Although the forecasts were good, the weather looked stormy. Weather predictions here are so inaccurate that I have reverted to tried and true methods of looking at the sky and old sayings like "red sky in the morning, sailor take warning." We decided to go 10 miles, buy fuel and then decide. After we bought our fuel, the sky was clear. From 10:00 am to 2:00 am, we had boring ride with no wind and flat seas. We did pick up a pair of stowaways about 30 miles off Sicily. One little bird sat at the stern and one at the bow, both keeping a careful watch.
At around 2:00 am, we started seeing lighting in the far distance. The flashes grew closer and closer. We managed to maneuver around most of the vast storm, but were smack in the middle of severe lighting at 3:00 am. Unlike an automobile, a sail boat is a poor place to weather a thunderstorm. The big metal stick in the middle of the ocean seems an easy target.
I knew I should reduce sail before we reached the electrical storm. However, I didn't want work at the mast with lighting nearby and the wind was only 5 knots at that point; so we did not reef. At 5:00 am, the lighting had passed and the wind hit with Sharon on watch. It was 30 knots before I was on deck. The boat sailed fine, but I began to lose control when the wind went over 40 knots. Georgia J was going 10 knots- more than her theoretical hull speed. At 46 knots, I did something we have never done before. We did an emergency drop of part of the mainsail without properly reefing and regained control of the boat. After the wind dropped to the 30's, I was able to go to the mast and put a proper reef in the sail. By then, we had been blown downwind 10 miles off of course.
Again and again, the wind came up into the mid 30's, but Georgia J handled it just fine with only a reefed main sail. We were sad that our little bird stowaways disappeared in the storm, but were happy to arrive at in Sardinia at 4:00 pm, a passage of 32 hours.
s/v Georgia J, moored at Villasimius Marina, Carbonara Bay, Sardinia, Italy
PS- The little birds appeared in the cockpit just before landfall. One was singing and one was sullen- sort of like us.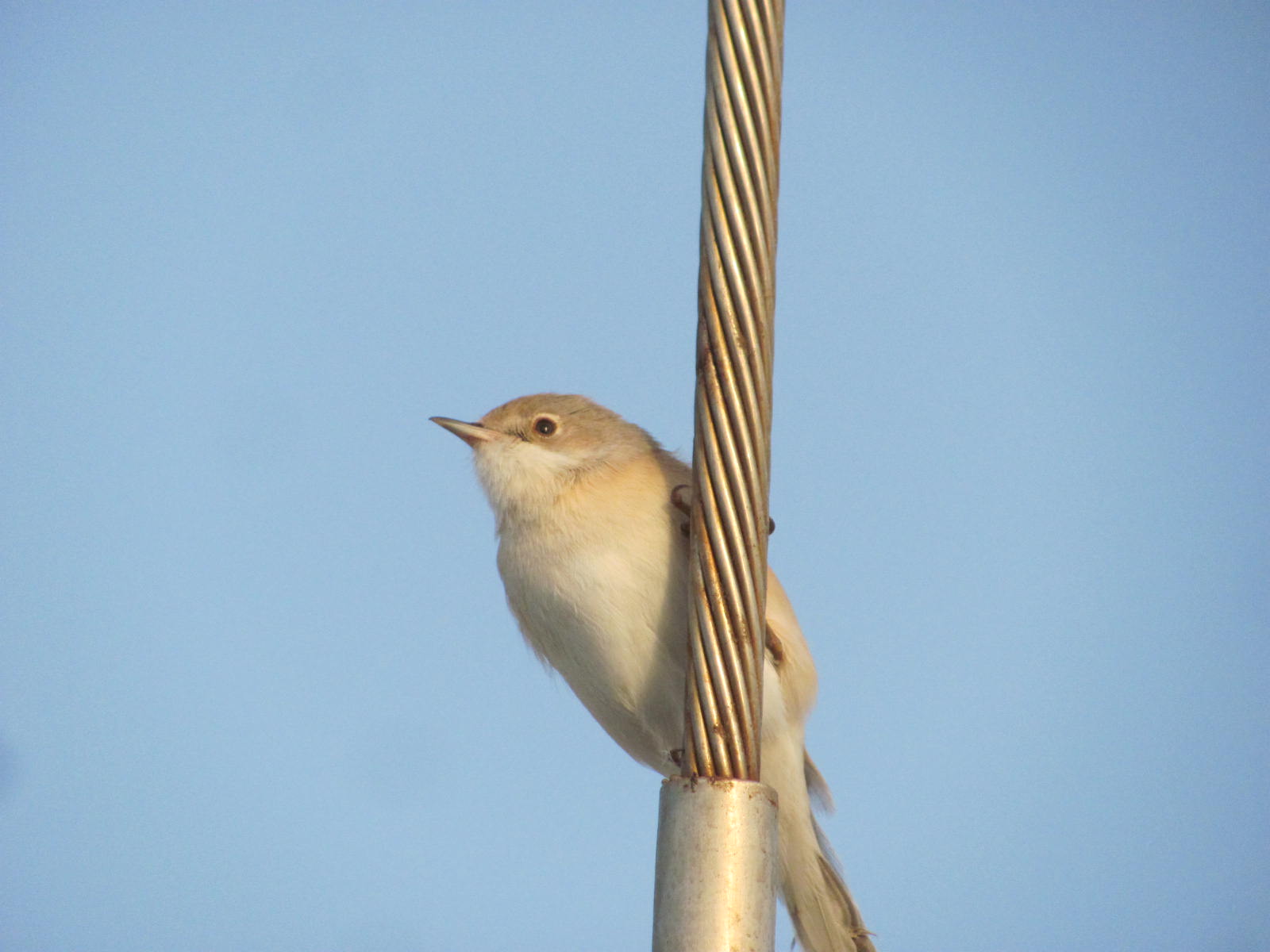 On the stern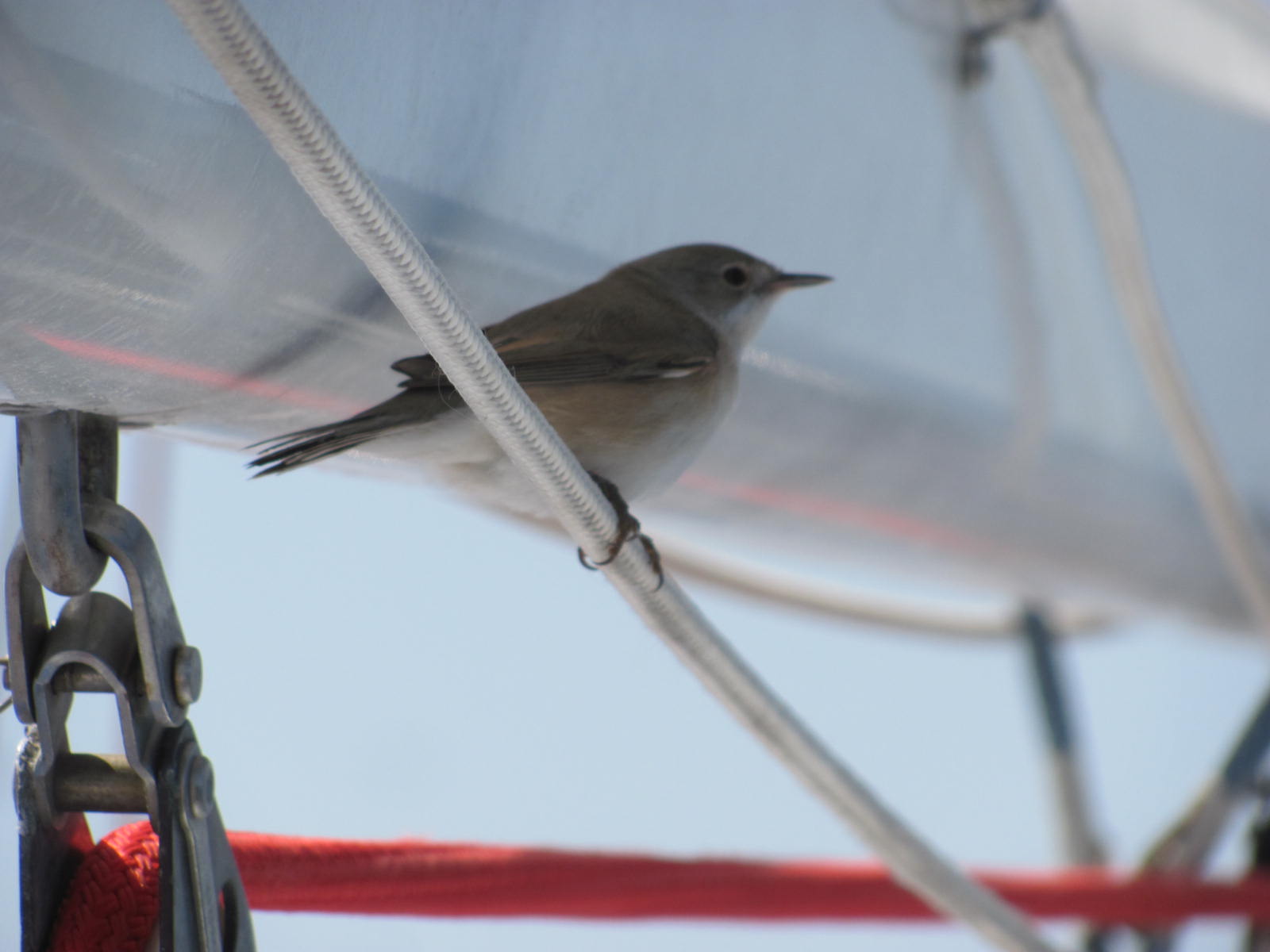 On the bow
Sharon's blog 08/28/13:
As typical of Georgia J, we have been on the move covering a lot of ground (well, water). The last couple of weeks have been a series of overnight passages, a day, sometimes two of rest, and then off again. One thing we have re-affirmed is that sailing in the Med is feast or famine, you either have 30+ knots of wind or you have < 5. Neither one is a good thing. We have also realized that the only thing you can count on about the weather predictions is that they will be wrong! Leaving Cortone, we were anticipating a smooth sail. We even chatted with a German couple going the same direction that it was going to be a comfortable downwind sail with moderate winds and little chop. Within two hours of departure, we were being slammed by gale force winds which had us scrambling to find a secure anchorage. Although not in real danger, it would have been a very trying and uncomfortable night.
The passages have been quite challenging with a lot of ship and local traffic. Going around the "toe" of Italy kept us on our toes as we passed through the Straits of Messina. Reminiscent of crossing the channel in Singapore, we had strong current and lots of traffic. In our most recent overnight, two interesting things happened. We were listening to VHF conversations between a "British War Ship on NATO Active Endeavor" and the Italian Coast Guard. Also, I was more than a little startled as a jet passed over us at 3:00 am so low that it at least looked like it was going to hit the mast (an optical illusion, I hope).
The small towns we have visited have been rather similar. Each one has a castle. The people have been friendly but speak almost no English. Last, but not least, they all have great pizza. I have not been in what I would call a real supermarket since Montenegro.
Tomorrow, we begin our last overnight passage for a while, as we head to Sardinia to meet our friends, Bill and Kayce. We bid Sicily a fond farewell.
S/V Georgia J, moored at Castellammare, Sicily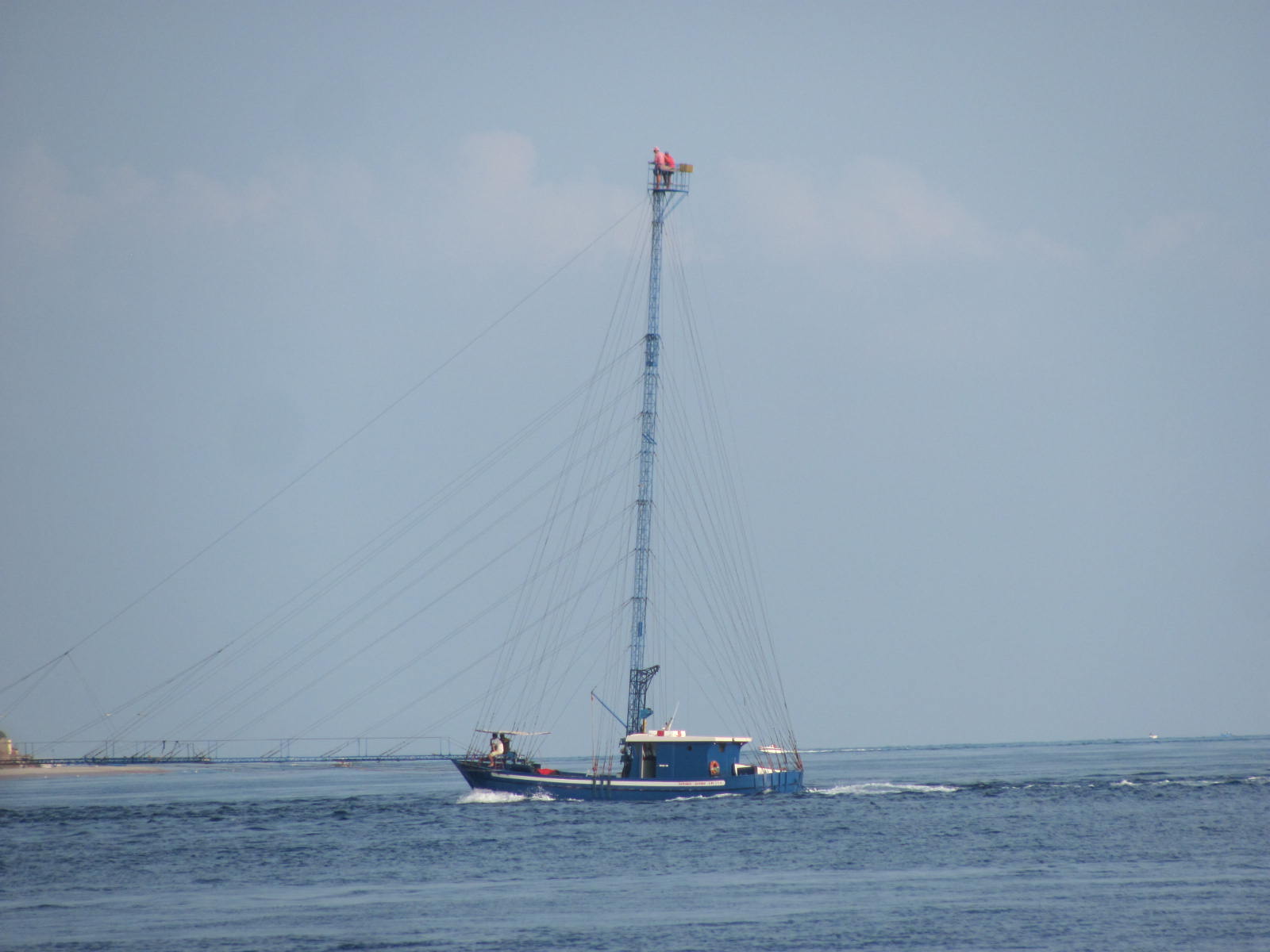 Swordfishing Boat in Messina Straits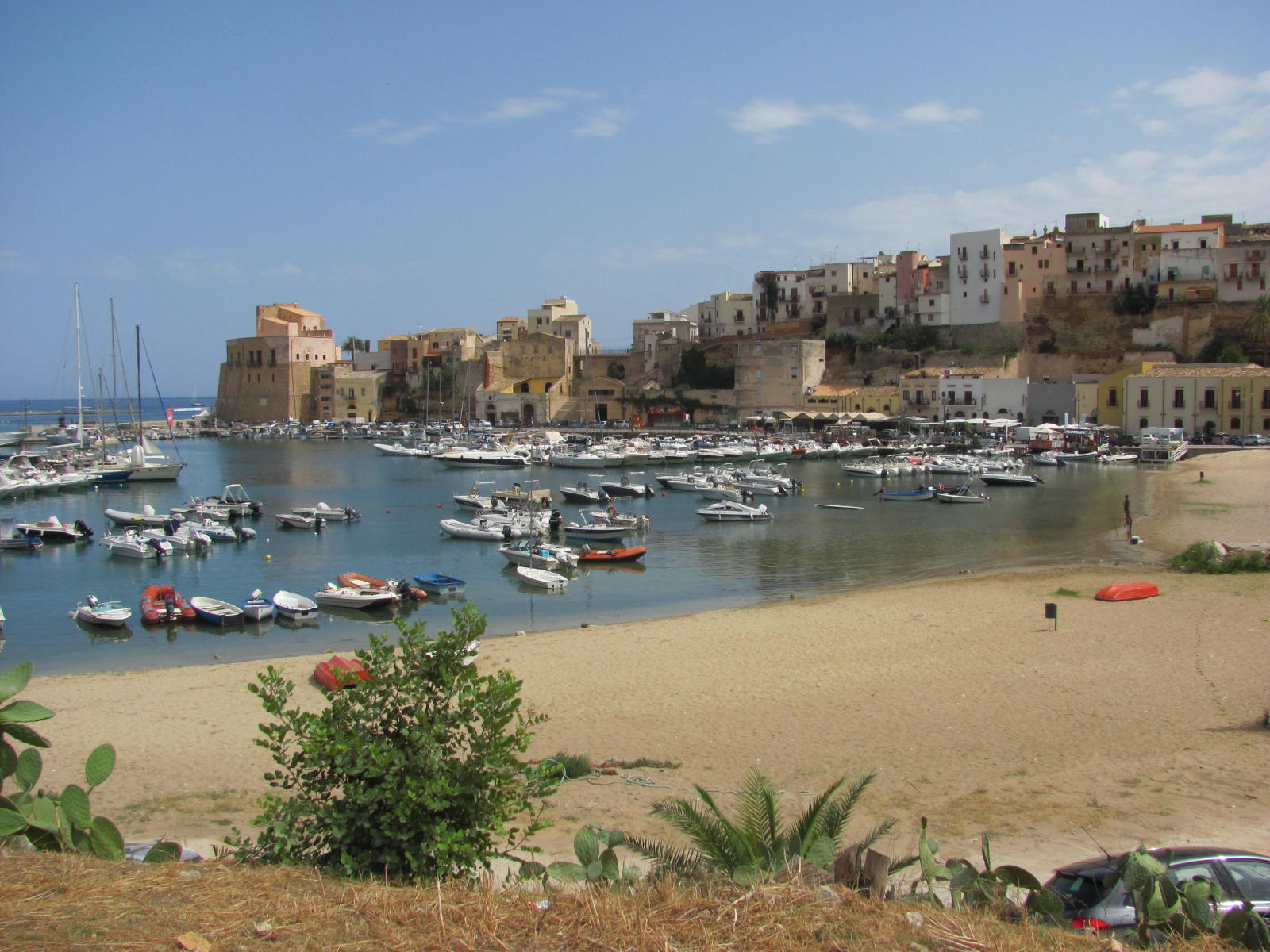 Castellamare, Sicily
Fresh pasta is never far away with this delivery truck
Kim's Blog 8/18/13
Our passage around the heel of Italy's boot went very well. After several days of high winds in Brindisi, we decided to poke our head out of the harbor to see how rough the Adriatic had become. We were pleased to find that the waves were only about 4 feet high. We had a wonderful downwind sail along the southeastern coast of Italy. During the day, the wind increased but the waves continued to decrease. When we rounded the heel of the boot of Italy, Georgia J was making 9.5- 10 knots on flat seas and a reefed main. This was the best day of sailing we have had in months.
At the heel, we left the Adriatic Sea and entered the Ionian Sea. Within 15 minutes, the wind died but we decided to continue overnight across the Gulf of Taranto, a distance of 73 miles, to the town of Crotone.
When we travel at night, we try to identify all the lights we see in order to avoid collision. This is done with a combination of radar, binoculars, night vision scope, and intuition. We also have charts and publications which identify navigational lights for the entire world by location, color, and frequency.
At 3:30 am, Sharon awoke me because she could not identify some unusual lights. When I went to the cockpit, I was shocked to see a string of brilliant flashing red lights extending across the horizon. I slowed the boat to a crawl and reviewed our publications to see what I had missed. Crotone has four offshore oil and gas platforms, but we were still 15 miles away from the wells. I considered airport runway lights, but we were 18 miles from land and the string of lights clearly stretched for many miles. I thought that perhaps an over-sea pipeline had been built to service the oil platforms. However, my charts showed underwater pipelines and nothing appeared on radar. We also appeared to be very close to these lights.
With no mention of similar lights in any publication and nothing showing on radar, the only logical conclusion was that this must an offshore transportation facility for extra-terrestrial abductions. Slowly, we crept closer and closer through the dark studying the radar and scanning with binoculars. As dawn started to break, I could tell that the lights were actually quite a bit above the horizon. When dawn finally came, the lights were gone and no structures were visible. We continued past the oil platforms to Crotone Harbor still wondering what we had seen. Just before entering the harbor, I noticed a long line for windmills on a hill way above the town. We had seen the windmills' warning lights for airplanes from about 20 miles away. Thank God we didn't hit them. Sharon remarked that she felt like Don Quixote.
s/v Georgia J, moored at Crotone, Italy
We forgot to add pictures of Brindisi. Here are a couple:
Brindisi Waterfront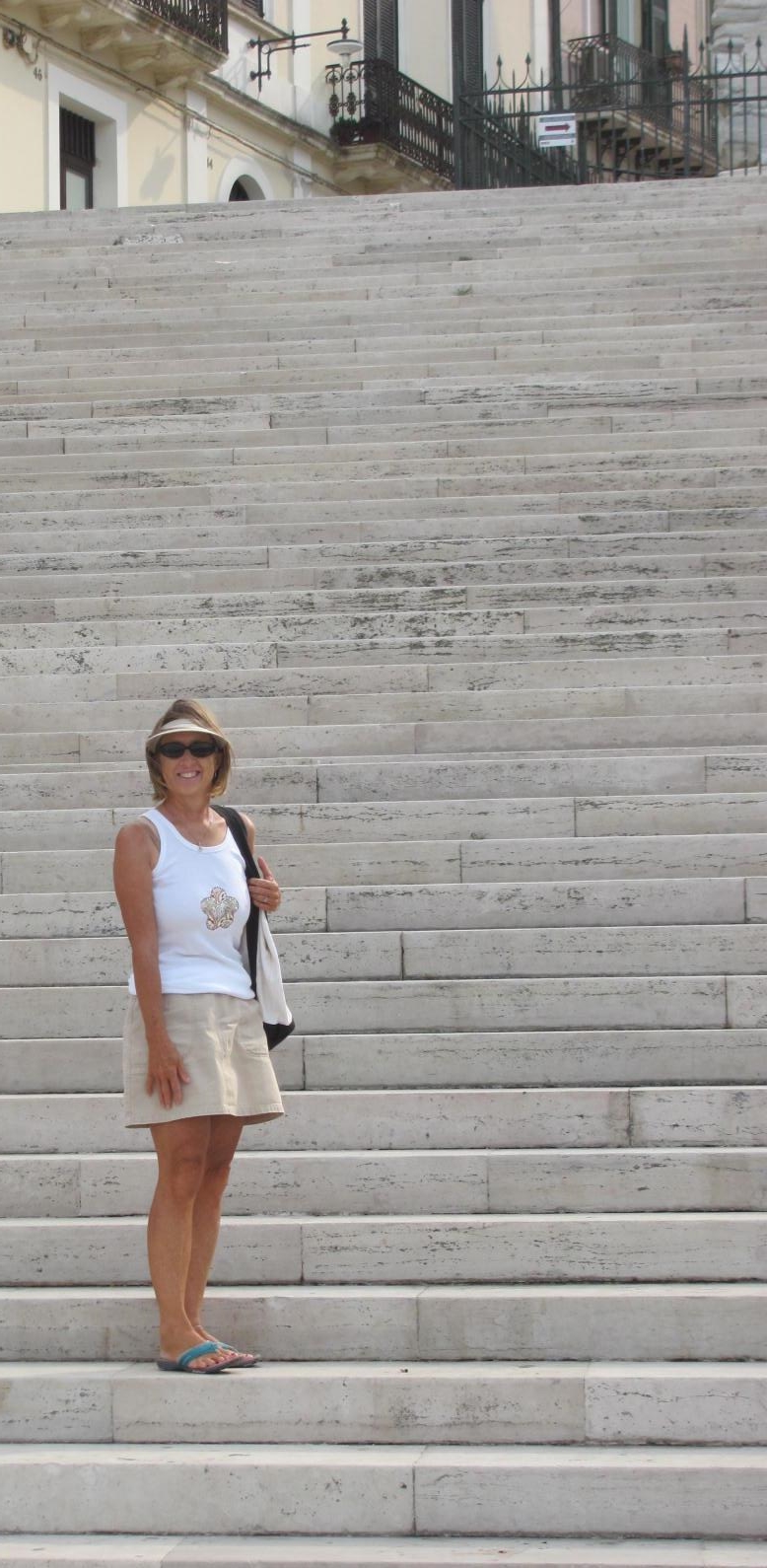 Brindisi Steps built to Commemorate the end of the Appia Road from Rome
Kim's Blog 8/15/13

Our crossing of the Adriatic was a mixed experience. During the day, we had a wonderful sail downwind with 20 knots and very small seas. The weather was also much cooler. We had a couple of visits from Dolphin pods surfing our bow wave. We never grow tired of seeing Dolphins.

As night came, the wind and seas continued to build. We reefed the jib and jibbed back and forth to stay on our course line. Finally, the short, steep seas became pretty uncomfortable, so we turned on the engine and headed straight down wind. Georgia J surfed down the waves making 8 knots with only a little help from the engine.

The sea became very confused as we entered Brindisi Harbor after daylight. We brought the sails down in 28 knots and proceeded to the marina. Anxiety always builds when heading for a dock in high wind- particularly if med mooring is required. However, the marina had huge open spaces and a helpful ormeggiatori (the guy who helps boats tie up) which made the process easy.

Each new country has a similar process- check in with the marina. Go to customs or police. See the harbormaster and buy new SIM card to have a local cell phone. Find an ATM for local currency. Italy seems to have very lax enforcement of their borders. In most countries, we are required to tie to a specific quarantine dock (often surrounded by locked chain link fence) and talk to the officials before leaving the dock. Here we stopped wherever we chose and took a taxi to the town find the officials. Immigration had no way of knowing whether my boat was full of Albanian refugees or contraband.

In our short time in Italy, we have noticed a few things. First, the people are incredibly friendly. Everyone says hello. When I walked down the dock yesterday, an old man greeted me and waved me over to show how many fish he had caught. Second, the pizza is really really good here. Third, the plumbing contractor for the marina had a sweet deal. For every toilet, there are at least 5 sinks. Some are utility sinks and some are vanity sinks. Most look like they have never been used. Go figure.

Unfortunately, we have been delayed in Brindisi by mechanical problems and high winds. The Single Side Band radio and water maker are not working properly. The Yanmar alternator belt cut into a coolant hose which I was eager to replace before another overnight trip. We were elated when the hose arrived from Genoa and the mechanic brought it to the boat after closing hours. We were all ready to leave this morning.

However, morning arrived with 30 knot winds so we will not be leaving today.

s/v Georgia J, Moored at Marina di Brindisi, Italy