10/27/14- We enjoyed our early morning flight to San Jose. Sharon was a little nervous on the take off in the small plane, but she also enjoyed the flight.
Aeropuerto Golfito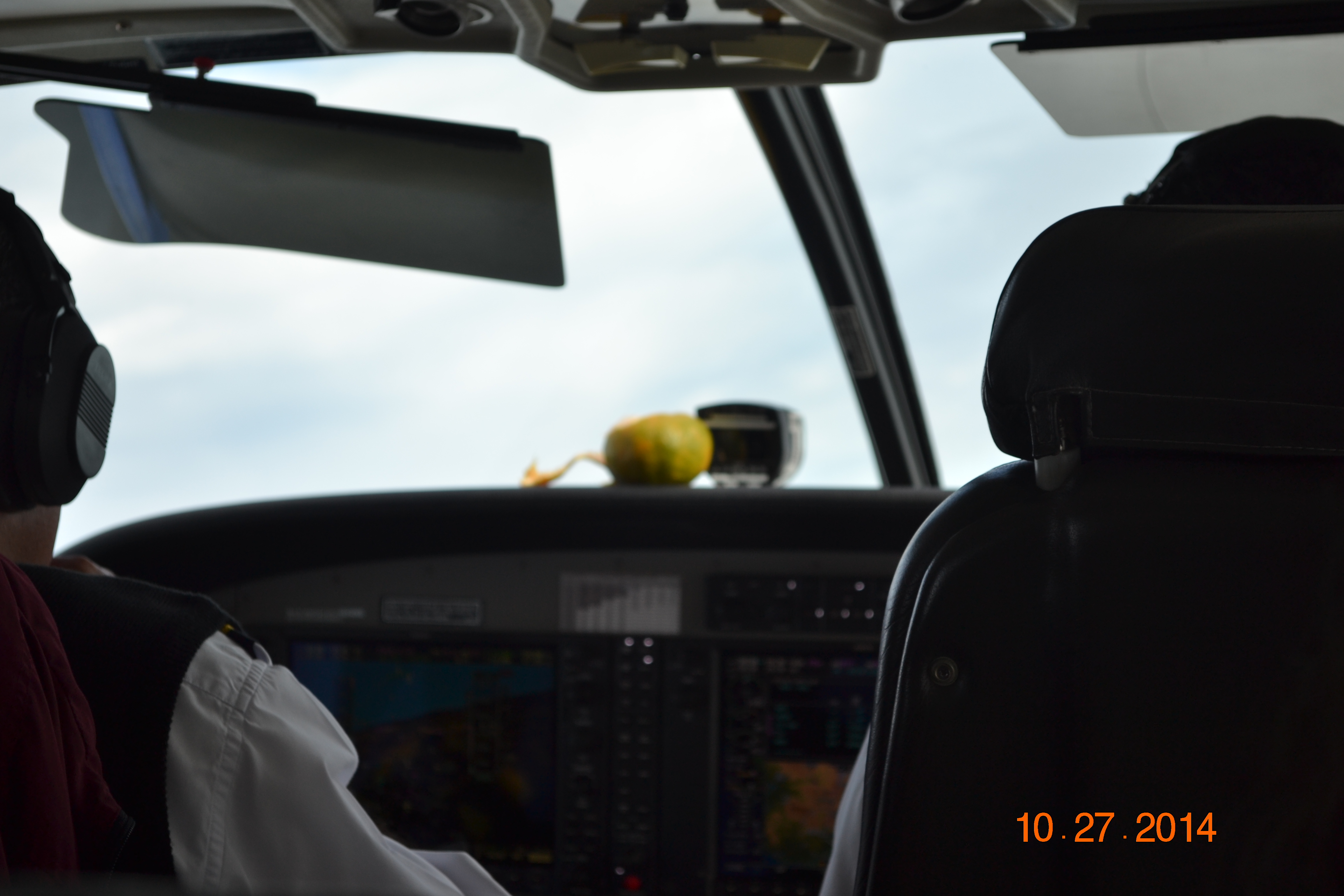 Pilots are served breakfast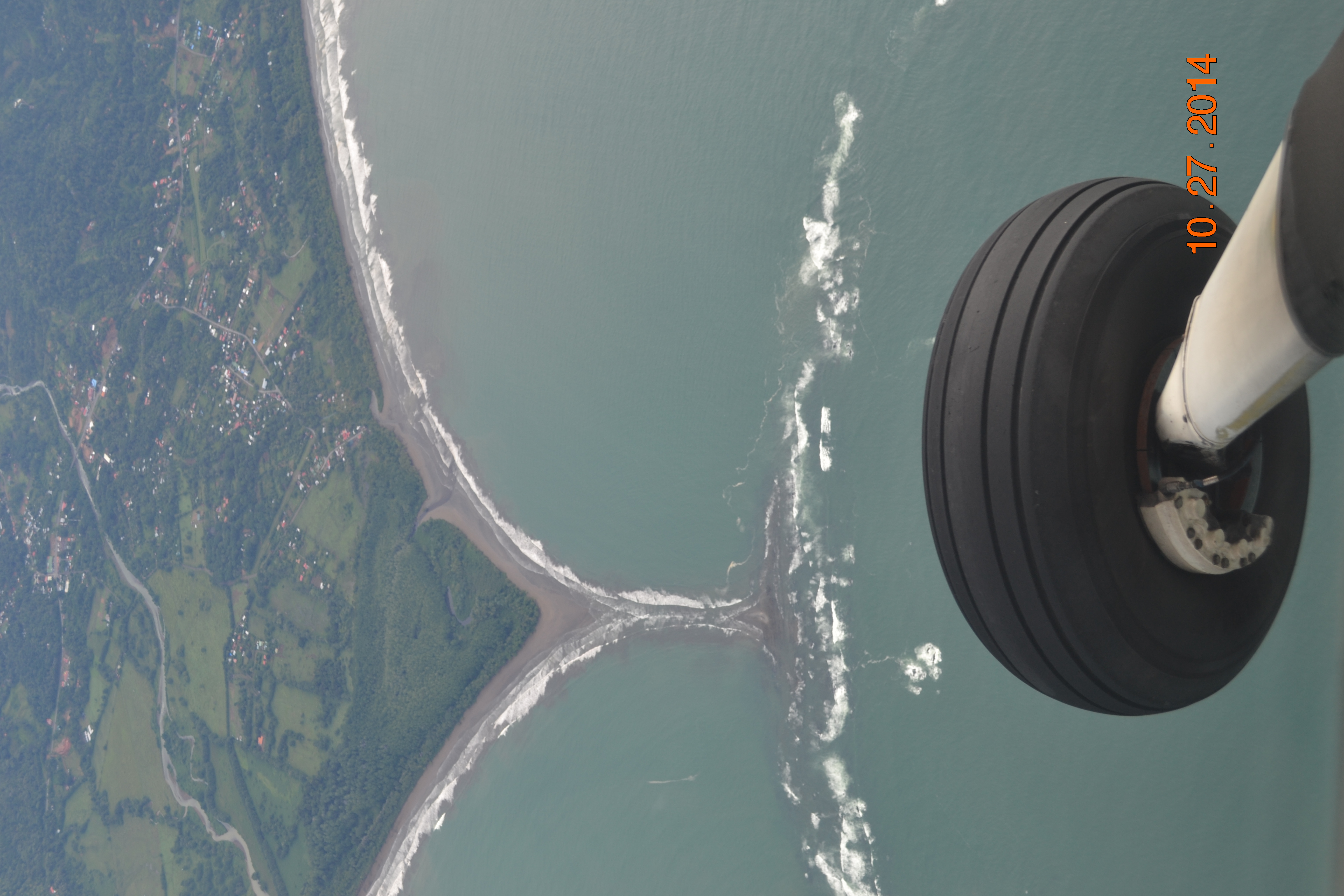 Too late to check the tires
10/26/14- We loaded Georgia J on the m/v Rickmers Yokohama for her ride to Ensenada, Mexico. The process went pretty well. In the last hour before loading, the autopilot stopped working and a toilet started overflowing. Both of these projects will provide additional learning opportunities in Ensenada.

We managed to snuggle up to the ship without actually touching her and the diver and crew soon had slings under our hull. After climbing aboard the ship, we reattached the backstay (which holds up the mast), stowed the fenders and shut down the electrical systems. Only then did the heavens open up with a typical torrential Golfito rain. After a wet panga trip to shore, we enjoyed crevezas and fish sandwiches.

We will fly out of Golfito tomorrow traveling to San Jose, Houston, and San Diego with stopovers in each city. From San Diego, we will walk over the border to Tijuana and take a bus to Ensenada. The Rickmers Yokohama is scheduled to arrive in Ensenada in 10 days.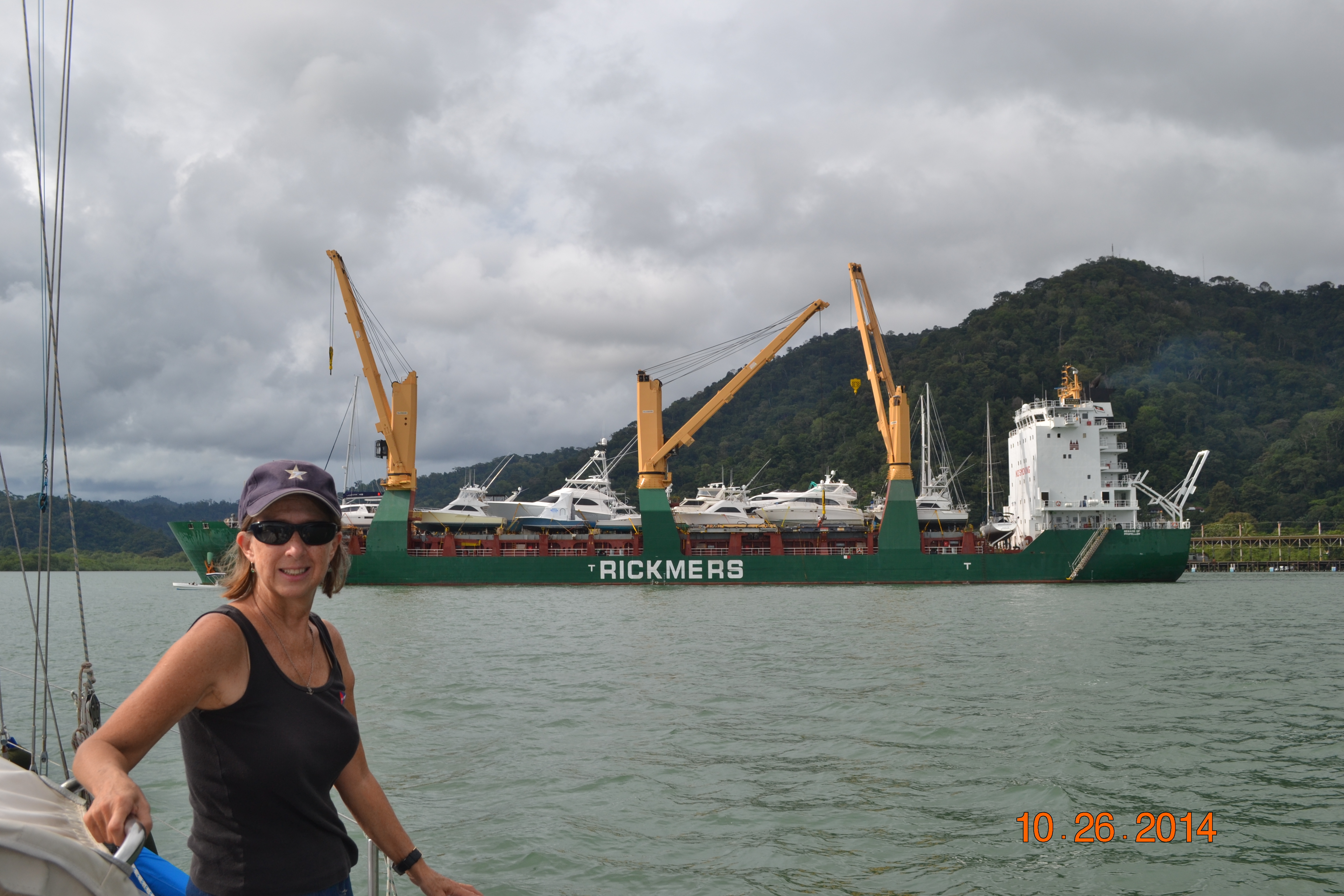 Approaching the Rickmers Yokohama
Georgia J Flys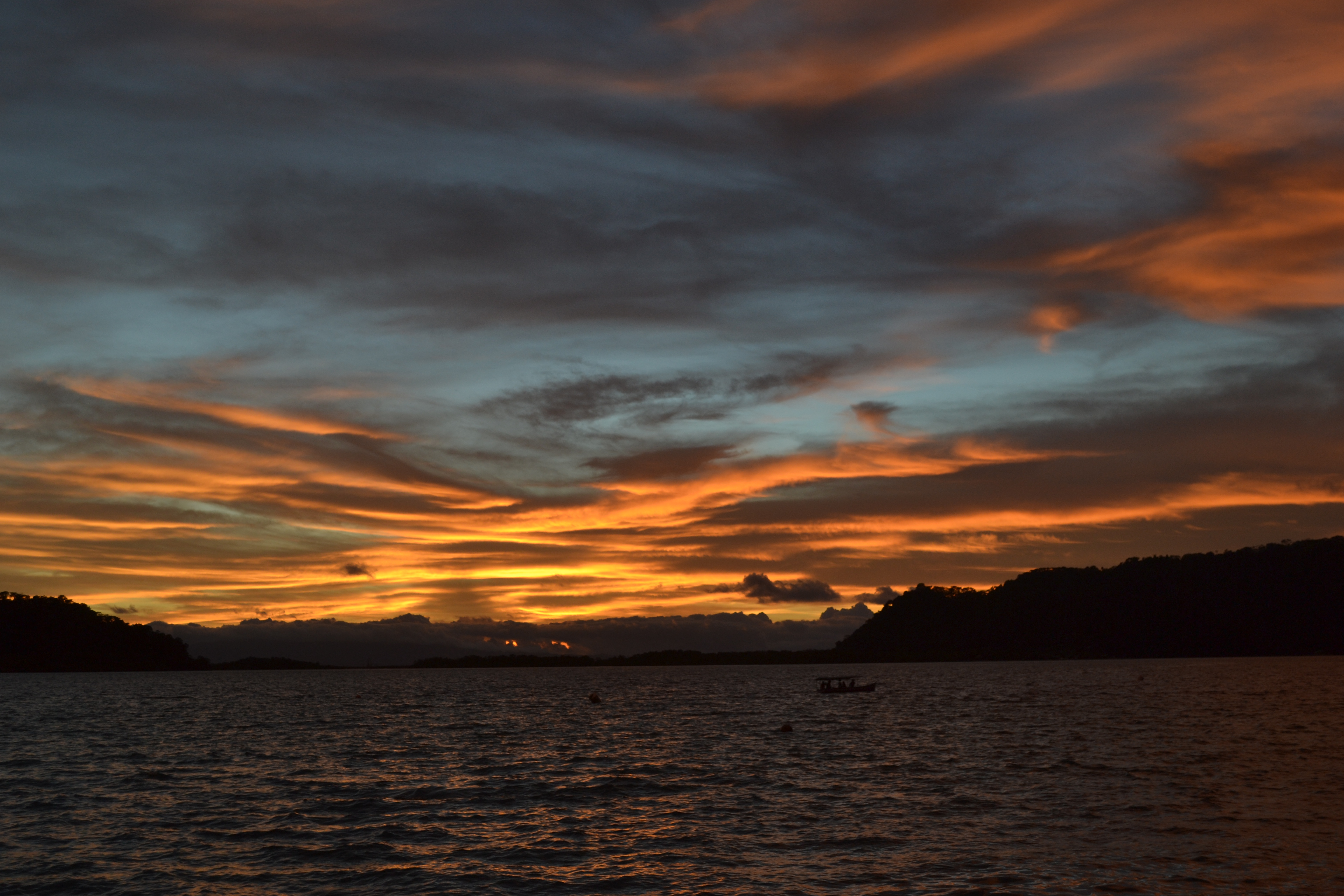 Afternoon storm moving into Golfito
Road trip....Blue River Resort with Ron & Mel
Well we have learned a lesson about traveling across borders via bus in Central America. Always take one of the "express" streamlined buses. Costa Rica actually offers several. We took the Tica bus from Granada, Nicaragua to Liberia, Costa Rica. Bus personnel collect your passports and documentation and you are streamlined through Immigration and Customs. This was a much more pleasant and cheaper way to go.
We were so pleased and excited that our dear friends and next door neighbors from Tiburon , Ron and Melanie, were coming for a visit. As they were only going to be with us for a quick visit and it was their first time in Costa Rica, we struggled to find the perfect setting. Kim gets all the credit for finding the Blue River Resort. Although after a very difficult and rocky 90 minute drive from the Liberia airport, we were all very skeptical when we pulled into the resort. We were relieved to learn that the first building was the maintenance barn and employee common area.
The cabins turned out to be modern, spacious,comfortable and spotless. The resort offered everything you expect in Costa Rica- beautiful botanical gardens, nature walks, hummingbird feeding area, mariposa (butterfly) reserve, horseback riding, tubing, waterfalls, zip line. mud baths, natural sauna and hot spring pools and howling monkeys. The problem was deciding what to do! When we first arrived, there were only two other guests. After all, it is the rainy season.
Mel and I proved to be the most adventuresome as we opted to see the waterfalls from above- on the zip line. We both loved it and got a check mark on our bucket lists. We all took full advantage of the gardens, the wildlife, the hot springs and more than one cerveza. Our time together was too short, but saying good-bye was easier since we know we will be home soon.
We took advantage of Marce and Jack's hospitality once more as we drove back . We are now back on Georgia and chomping at the bit to get started home. Our yacht transport company, Seven Star, has continuously been posting delays. Nothing too serious..YET. Kim has already launched into the boat projects made possible by the parts brought by Ron and Mel. We will get those tasks done well before we leave.
We are eager to be on our way once more!
S/v Georgia J
Still moored at Land & Sea, Golfito, Costa Rica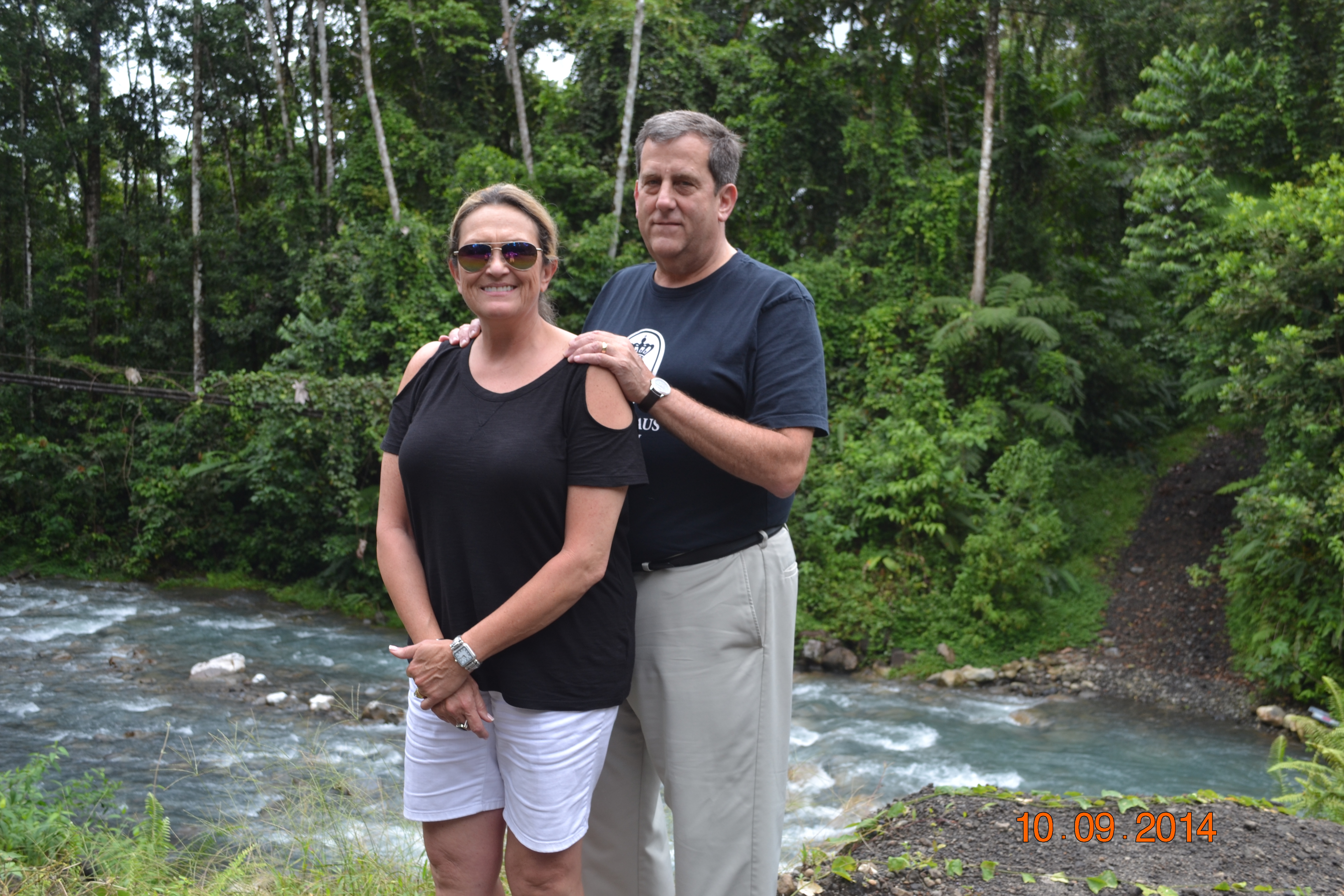 On the road to Blue River
Mariposa at Blue River
Resort botanical gardens
Hummingbird meal time
Road Trip: Quepos and Manuel Antonio

As we said we have enjoyed our time in Golfito but it was definitely time to get out of Dodge! So we set off for sight seeing and visiting friends. We arranged for Tim, owner if Land and Sea, to babysit Georgia so we felt very comfortable leaving for a couple of weeks.

Our first stop was in Quepos, Costa Rica where we stayed with our good friends , Marce and Jack (http://escapevelocity.mobi/). Still mastless, they seemed happy for a diversion while they waited for their delivery. Our first day we had lunch in a rather unique restaurant. It is housed in a plane formerly used by the CIA to supply the Contras. Clearly a tourist place, the food was good, the staff was nice and the view was stunning. Whales obligingly performed for us during lunch. Day 2, we hiked in Manuel Antonio Park. This is one place where a tour guide is a must. Without the guide's knowledge and especially his high powered scope, we would have never seen the wealth of wildlife. He even helped us use our IPhone to take pictures through the scope. On the hike, we met four very nice people from Mexico City who have all now been invited to San Francisco.

Next day, we said good-bye to Marce and Jack (knowing we would see them again on our return) and started the next leg. Nicaragua here we come...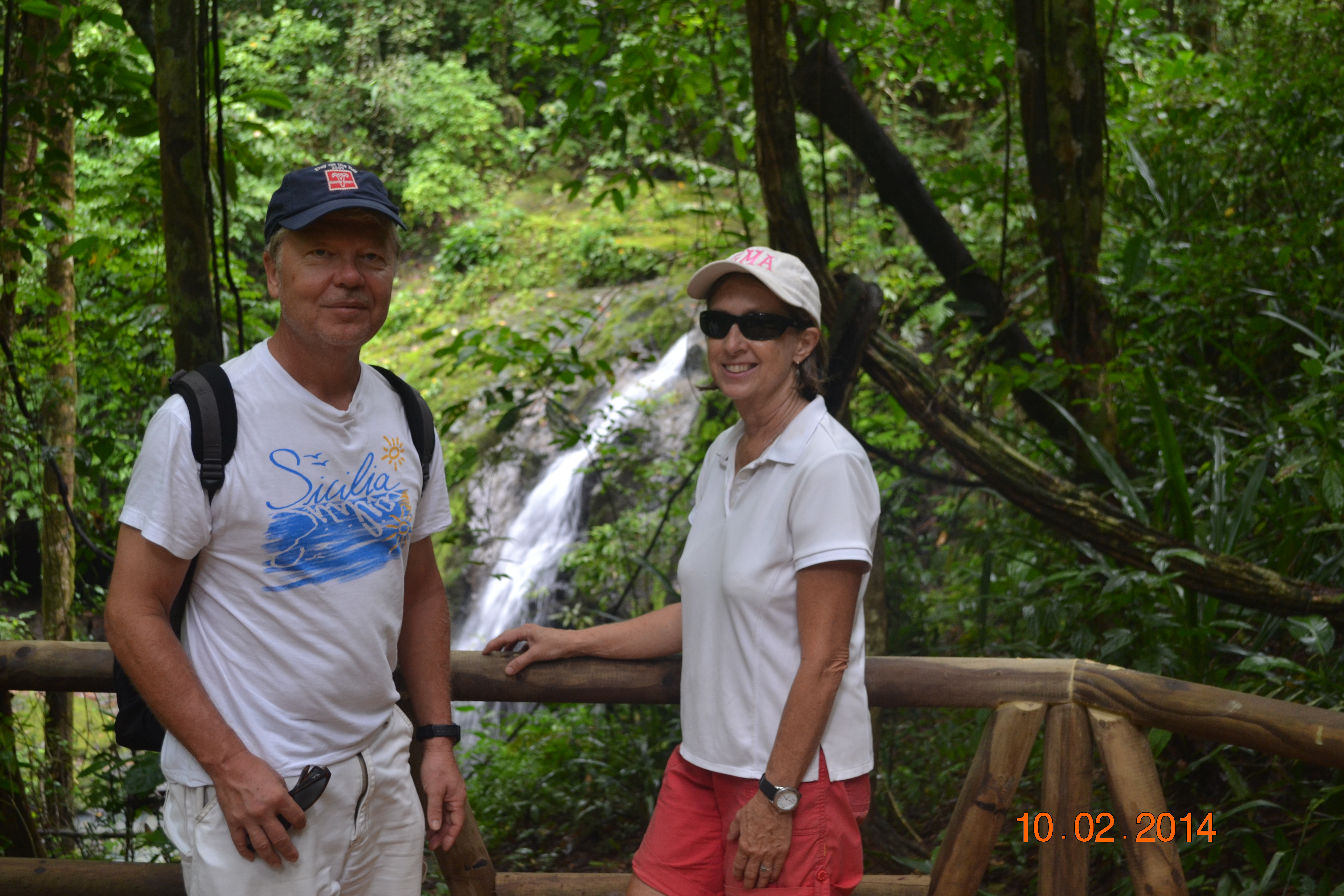 Manuel Antonio hike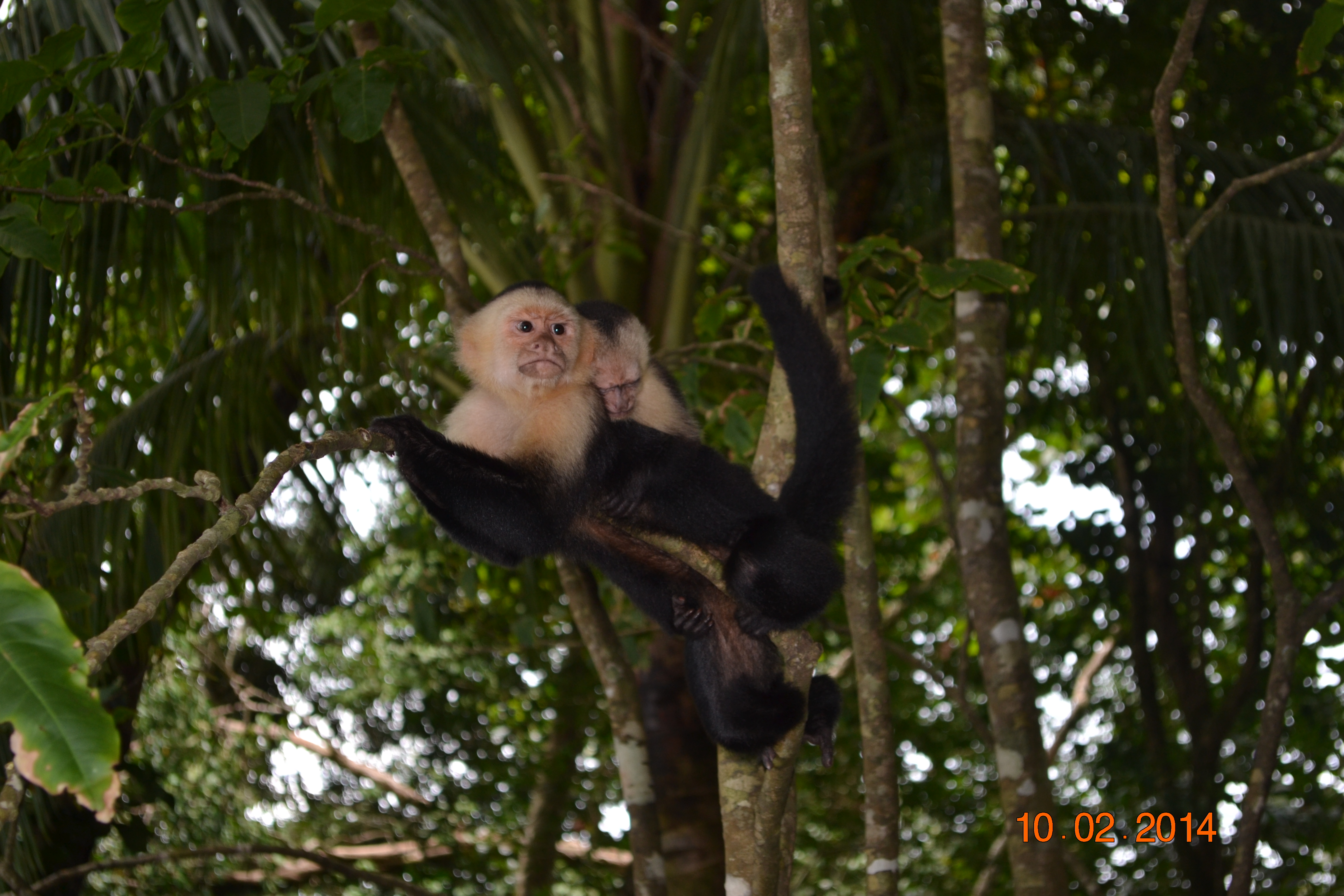 Mom and kid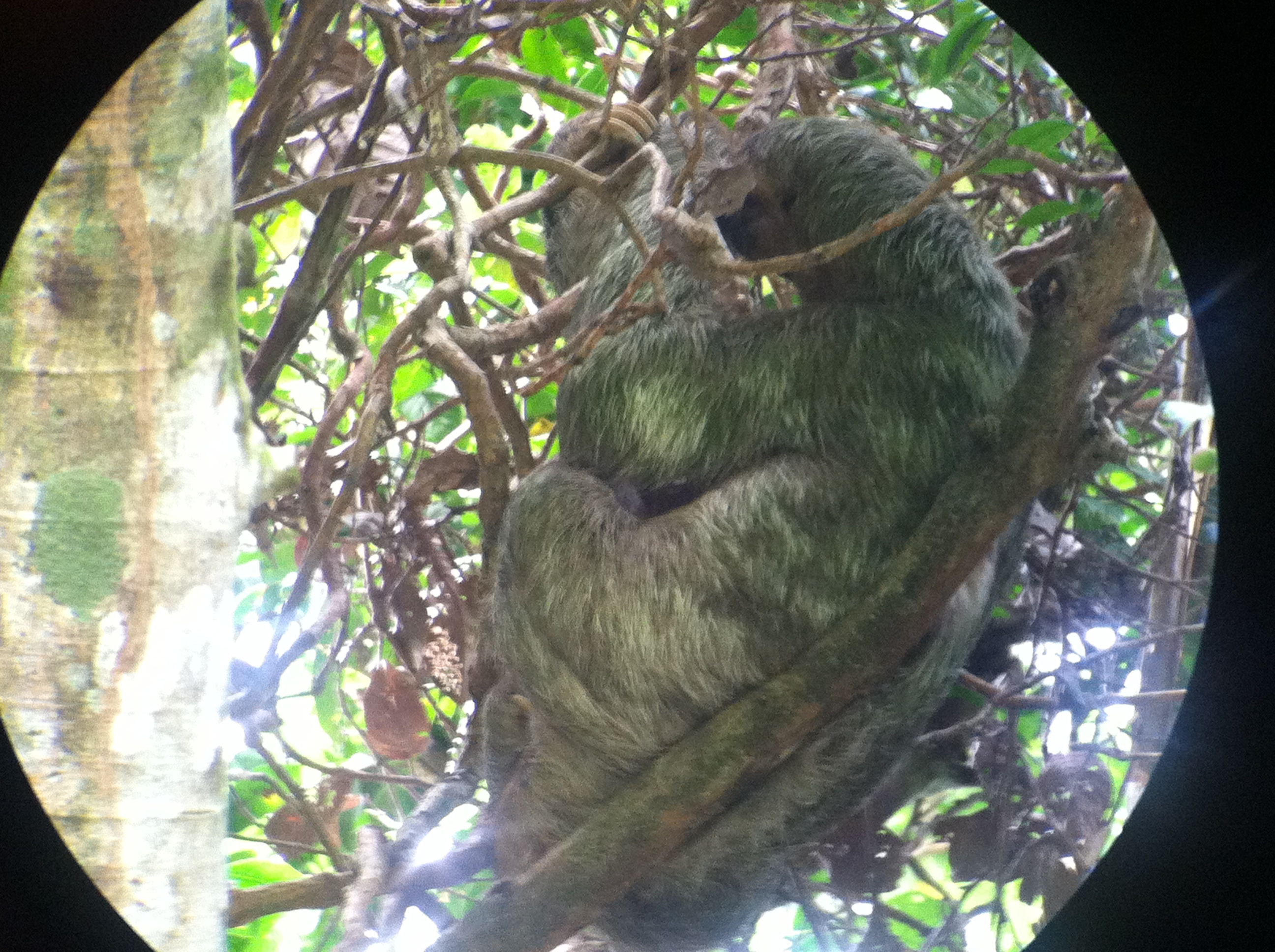 Sloth via telescope and iphone
CIA plane with menu
Change of Plans

For the first time in 3.5 years, Kim and I are both been ready to go home at the same time. Kim will tell you I only wanted to go home when it was geographically impossible. Motivated by our tenants' decision to move out at year end instead of next June, we started to look at all of our options. For the past year, we have been dreading taking Georgia all the way home, assured of the Gulf of Tehuantepec winds and the rigors of the Baja Bash. To our surprise not one, but two yacht transport companies have planned pick ups here in Golfito next month. Kim did a masterful job playing the companies against each other to get the price down. We are now planning to use Seven Star (the company we used before ) to ship the boat from here to Ensenada, Mexico, leaving between October 15-20. Originally, we thought we would wait until after the first of the year to take Georgia to Tiburon. Assuming the ship is close to being on time, we now hope to take Georgia home before Thanksgiving. Can you tell we are ready to go home?




Although, Golfito is not on anyone's top picks for places to visit, we are enjoying our time here. The people are extremely nice and we have an inexpensive place to moor Georgia. We are however getting a bit of cabin fever. This week we start a big road trip. We will stop in Quepos to re-connect with our friends, Marce and Jack and to visit Emanuel Antonio Park. We are then going to Nicaragua for 4 days. We are very excited that our friends, Ron and Mel from home are coming down for a visit. We plan to head to a river resort and hot springs with them. By the time we return, it will be time to focus on getting the boat ready to load.

As I said this is a change of plans, but one we feel great about.

s/v Georgia J- Still in Golfito, Costa Rica
Sharon's Blog 9/11/14:

We had a fabulous week with our nephew, Jeremy our niece, Carlee, and our little niece, Emma.

This was the first time we had met Emma, and at first she was very wary of Kim. However, Uncle Popeye won her over. We moved off the boat for most of the week, renting a villa directly across the street where Georgia is moored.

We took in all of the local sites, botanical gardens, a jungle hostel, ancient spheres of unknown origin , a ferry ride to Puerto Jimenez and majestic vistas from the mountain top. Jeremy and Carlee both said their favorite outing was the overnight we spent on Georgia J. This gave them a true picture of how we have been living the past 3.5 years.

We were very sad to see them go, but so grateful for our very special time together.

s/v Georgia J- Still in Golfito, Costa Rica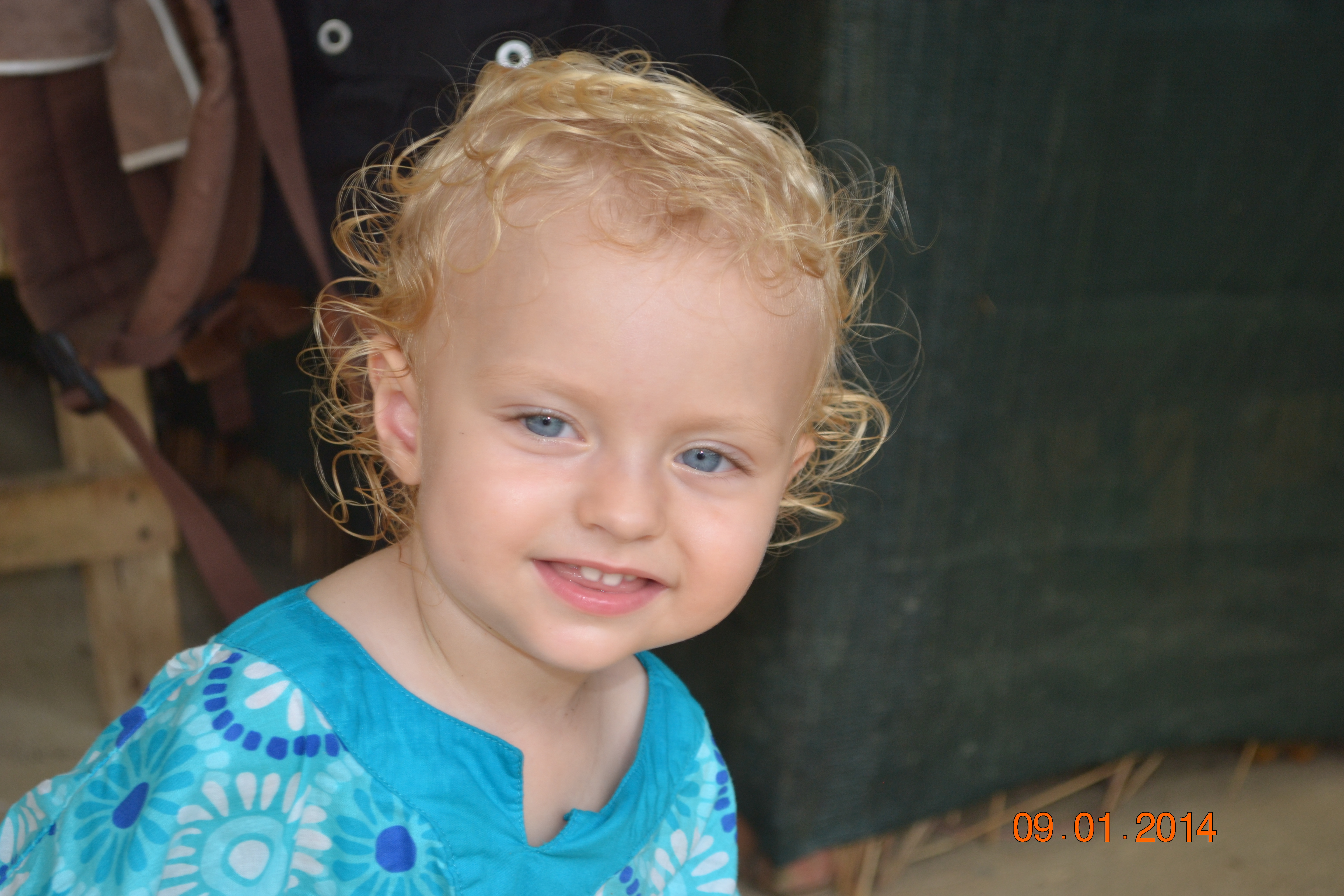 Emma was a great joy to meet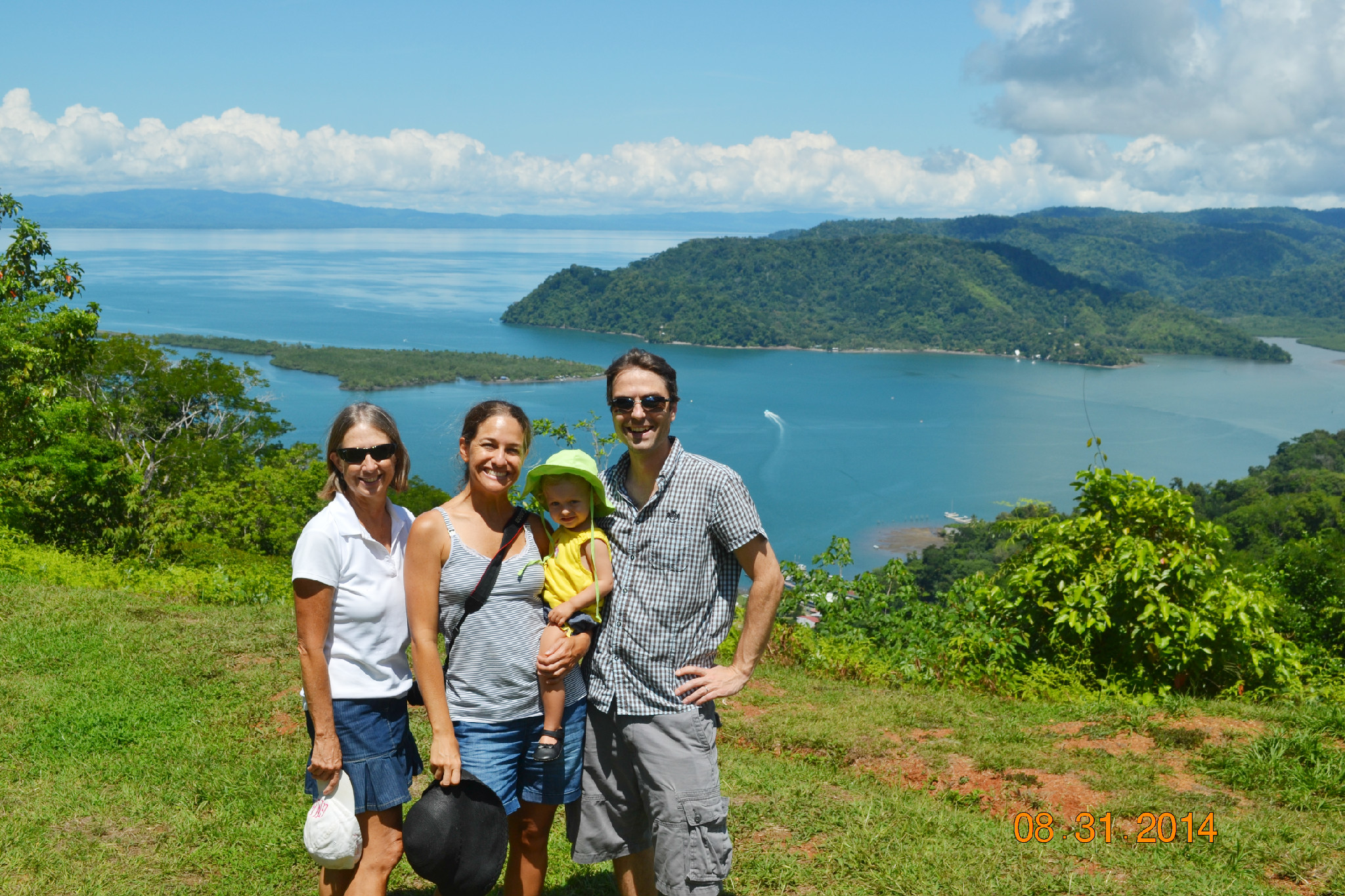 Over Golfito Bay
Friendly Ferry to Jimenez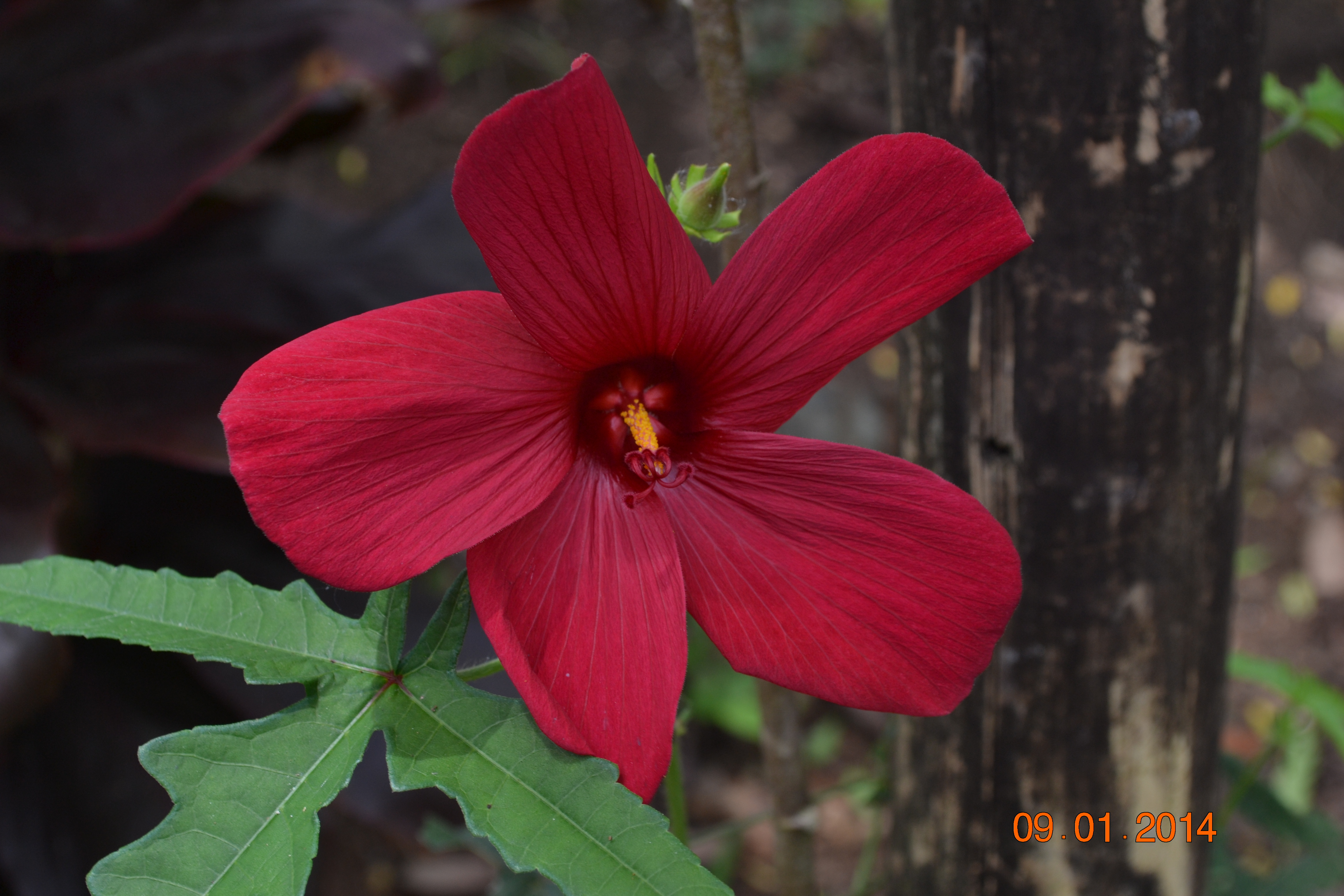 Botanical Garden
Searching the jungle for monkeys