Kim's blog 3/14/13:

Today we loaded Georgia J on the Thorco Svendborg for the trip to Turkey. We have had an anxious few days awaiting the ship's arrival. The schedule changed repeatedly as we rushed to complete all work on Georgia J and cover teak, blocks and winches with canvas, tape and plastic to protect against Red Sea sand and sun. We had to leave the marina yesterday in order have sufficient depth during the full moon tides. We had pleasant overnight anchorage at a beautiful island, our first night on Georgia J since November.

We met the ship today at our noon appointment. Unfortunately, our loading was delayed for 4 hours while we circled the ship in the blazing sun. The only glitch in the process occurred due to a sun induced headache. I intended to take a few Tyenol, but took Tyenol PM by accident. When our time finally came, we pulled up alongside of the ship with a perfect three point touch down, barely touching it's rough metal hull. A perfect controlled collision- despite the Captain's drugged state. Workers spent almost an hour securing straps underneath with a diver's help.

After Georgia J was lifted aboard, we went on board the ship, climbed a ladder to Georgia J and reattached the rigging. We think she is in a good spot at the back of the deck where she will be more protected in the Red Sea sand storms.

As for us, we fly to Israel in two days to tour the Holy Land and will meet Georgia J in Marmaris, Turkey around April 1st.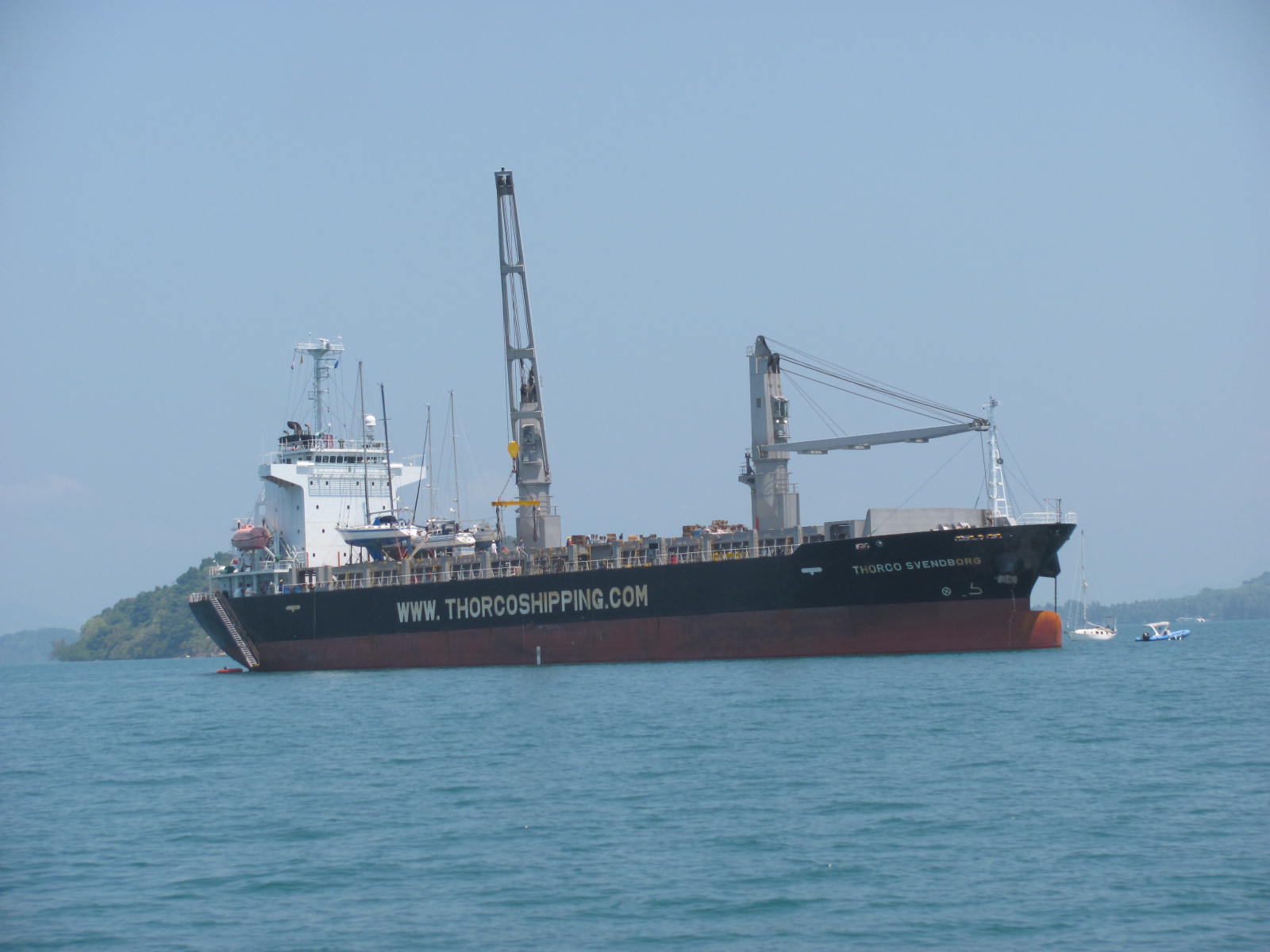 Georgia J's Ride to Turkey- note yachts at back
Georgia J flys
Georgia J succesfully loaded
Kim's blog 3/1/13- Georgia J refloated

Today was the big day when Georgia J went back in the water after almost 4 months of work. We were more than a little nervous when the lift came to pick us up and gently us drop in the water. Would the engine start? Would the boat leak? Most important, had we forgotten how to manuever her through a marina and into a slip. Our shinny new paint job depended on a successful transit to the berth.

As soon as we began moving, I realized something was terribly wrong. The boat was not responding correctly. Then the awlful truth hit me. The steering cables had been reversed. When I turned the wheel right, the boat turned left. When I turned left, the boat turned right. It took all my concentration to manuver the boat opposite to my instincts. However, with help from the marina staff, we completed our 100 yard voyage without a scratch.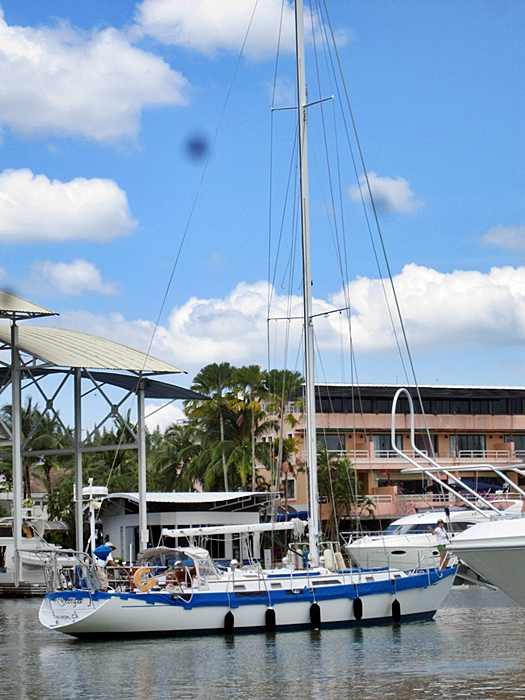 She Floats!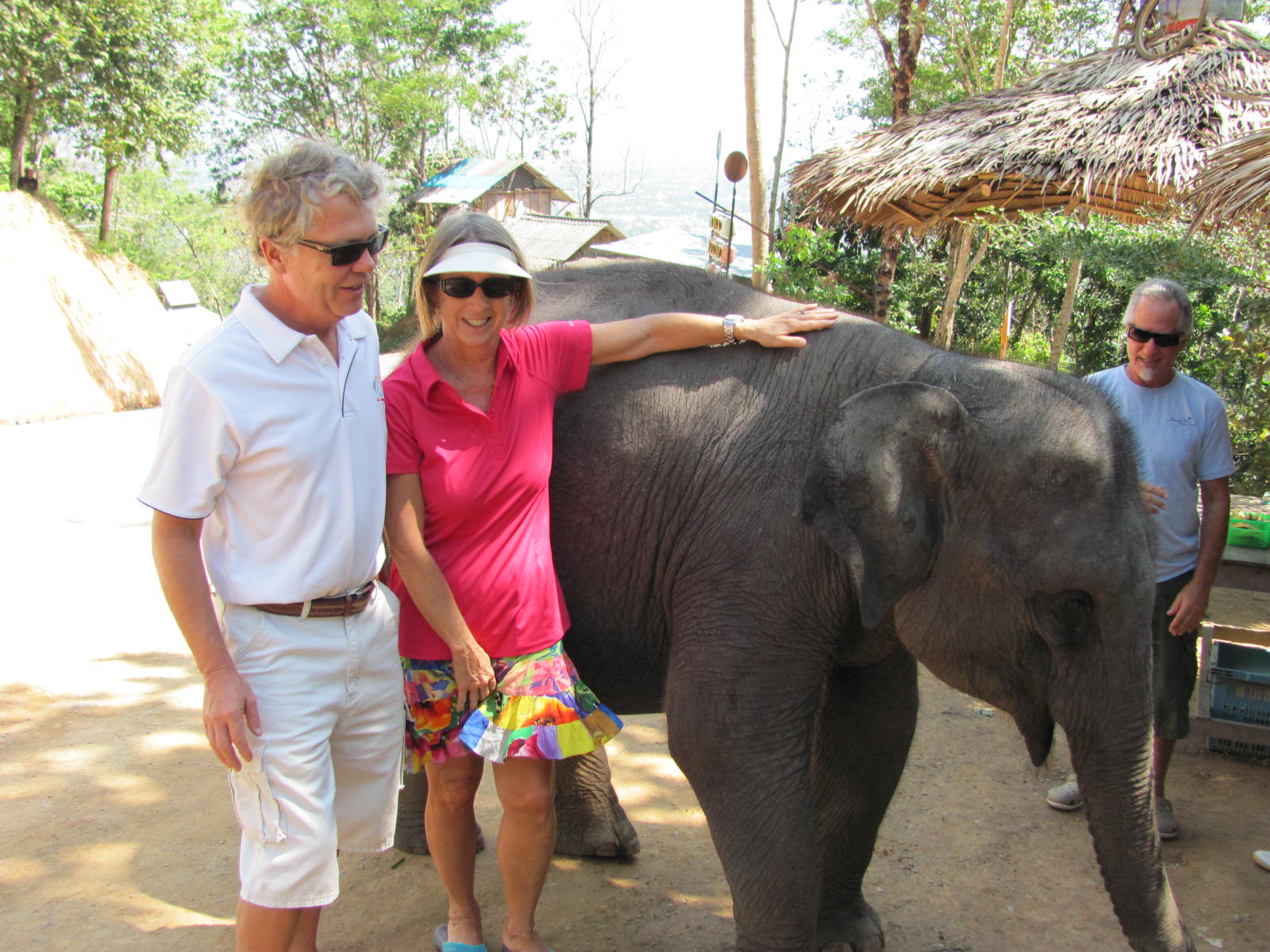 Nicole - age 2
One mighty big Budda
Sharon's Blog 01/31/12- Out and About in Thailand

The re-fit is continuing to go well; we are very pleased with the work being done. Kim has had to be content with getting on board during the lunch hour and after 6:00 pm. My bribe (to continue cruising), a new Force 10 Range went in yesterday. Yeah!

Recognizing that we have spent way too much time in the resort, we have finally gotten out and about a bit with Michael and Sue. Last week, we all went with another cruiser and a delightful local woman who took us to an amazing restaurant we would have never tried (or found). We dined beside the water and enjoyed a fresh seafood feast, appetizers, soup, multiple mains, ice cream and beer, all for 700 bat (about $23. per couple). Some of the food was so spicy we were in tears, but we are getting acclimated to the heat, at least in our food.

This week we went to visit the giant Buddha, Phuket's top attraction. The Buddha, sitting on top of a mountain between Chalong Bay and Kata, can be seen from miles away. It is 45 meters high and 25 meters across the base and is layered with white Burmese marble. It glistens in the sun and the nearby trees are filled with tinkling bells. This impressive structure was built solely with donations and functions both as a temple for Buddhists and a tourist destination.

On the drive up, we saw numerous elephant treks. We chose to visit Nicole, a 2 year old baby, who was not chained and scampered to greet us as soon as we pulled off the road. Nicole eats 80 kilos (176 lb.) of food daily. At the speed, she grabbed bananas from us, this is no surprise.

On the way home, we stopped at a supermarket which caters to Western ex-pats and cruisers. Now this may not sound like much of an outing, but buying groceries has been a challenge. The local markets have very few products labeled in English and practically no one in this part of Thailand speaks English.

We are planning a land excursion to Vietnam soon. We are still waiting on a date for shipping Georgia to Marmaris, Turkey.

S/V Georgia J on the hard in Boat Lagoon (Sharon and Kim in a condo)
Sharon's Blog 1/18/13- Phuket, Thailand Happy New Year!
We arrived back in Phuket after fabulous holidays and wonderful visits with family and friends. Truly special was our time with Erica, Alex, and our adorable grandsons. Observing the activity level in that household makes our life look pretty easy.

We do not recognize any discernible drop in temperature in Thailand even though we are in their winter. It is pretty hot here. As Georgia is on the hard, we have rented a condo in Boat Lagoon. It is almost funny how much better a place can look on-line than it does in reality. It is just very tired and in dire need of a paint job and new furniture. Our air conditioning upstairs (bedrooms) has not been working and the downstairs toilet leaks. Other than that it is a palace. The Australian owner has been so darn nice and responsive; we are trying to make this work. There is a real shortage of short term rentals. Most houses in Phuket do not have kitchens ad driving here is a nightmare. Being in Boat Lagoon, we can walk to the boat, numerous restaurants, spas, and we can use the resort amenities. Our close friends, Michael and Sue from Infini, are here and it has been great to re-connect with them.

The work on Georgia is going really well. The teak decks and the hull painting looks so good, we can almost feel good about all the money we are spending (almost!). We will be reluctant to ever put her back in the water. Of course, the scope of the project has grown as we encountered some unknowns. Isn't that always the way? Kim is chomping at the bit to be on the boat so we can start our own massive to do list. It will most likely be the end of February before all of the work is done. That will give us a short time to do shake down sailing and cruising here before we put her on the ship to the Med.

Our visas will run out the middle of February so we are contemplating some land travel to Vietnam and/or Burma. We are still negotiating that between ourselves.Coming back was a bit tough, but we are quickly getting re-settled and back in the groove. We will keep you posted on our progress.

S/V Georgia J On the hard at Boat Lagoon, Phuket (Sharon and Kim in a condo in Boat Lagoon)
Kim's Blog 11/10/12:

After a week of agonizing, we have decided to proceed with a refit of Georgia J. Here is the shopping list:

· Remove mast and inspect rigging

· Cut backstay chain plate out of fiberglass and inspect

· Remove deck fittings and repaint top sides and hull

· Remove teak decks and replace with quarter sawn Burmese teak.

· Strip external varnish and replace with 10 new coats

· New Force 10 range

· Reupholster leather nav station seat

· Recover cockpit cushions

· Inspect and repair sails

· Repaint bottom

· Other miscellaneous cleaning, polishing and maintenance

Although expensive, the work is a fraction of what it would cost in the USA.With the help of only 14 Thai workers, we hauled Georgia J out today. The mast and rigging will be removed before we fly to the good old USA next week. We are extremely eager to see family and friends.

The work will hopefully be completed when we return in January. We plan to spend some time exploring the cruising grounds near Phuket. In March, Georgia J will be shipped to Turkey. Although we would have liked to have bragging rights for circumnavigating, we decided to fly over the Red Sea pirates.

s/v Georgia J, on the hard at Precision Shipwright, Phuket, Thailand (see

www.precision-shipwright.com

)
Sharon's Blog 11/05/12- Phuket, Thailand

We pulled into Ao Chalong harbor only one day beyond our goal of November1st. The anchorage was crowded with a few cruising boats, many boats that looked semi-permanent and many tour boats. Following the guidance of our cruising guides, we took a mooring ball (actually two, the first being too close). Fortunately, a friendly surfer dude from North Carolina came to our boat to tell us the mooring balls were all privately owned. We retreated to the back of the pack and anchored gearing up for a long dingy ride to shore. After Singapore and Malaysia, we are surprised at how little English is spoken here. Without question, we are the guests and have no right to expect English, but we rarely encounter Customs and Immigration officials who speak no English.

After a couple of nights of squalls and electrical storms, we made the journey to Boat Lagoon, about 15 miles away. The marina is located at the end of a windy, shallow narrow channel through a mangrove swamp. We had traveled over 13,000 miles without running aground until this day. We actually hit bottom twice but managed to plow our way out of the mud.

The marina is a nice facility with more marine services than the last three countries we have been in combined. However, it is HOT and HUMID with almost no air movement. After a couple of nights, we surrendered and found a tiny little condo in Phuket Town. The traffic is crazy with motorbikes and scooters coming from every direction at our little car. Of course, the whole family will fit on a single motor bike. We are already struck by how different Thailand is than anywhere else we have traveled. "Thank you" is expressed with folded hands and a bow and shoes are left at the front door of most establishments.

We are busily meeting with service providers and pricing some work we may have done on Georgia as well as frantically working to get the boat ready to leave for 7 weeks while we head back to the States. Seeing Phuket will have to wait until we come back in January. Right now, Captain Kim is wielding that "to do" list!

S/V Georgia J Moored at Boat Lagoon, Phuket (Sharon and Kim in an air conditioned condo in Phuket Town)