Kim's blog 6/1/13:
We have had a great week visiting with our friends from England- Karen and Will. We visited local markets, shopped for Turkish carpet and spent time catching up.
Other than Will's singing, the highlight of our visit was the trip to the ruins of ancient Ephesus. Ephesus was already 1,000 years old, when the Apostle Paul arrived in the summer of 52 CE. We were amazed at the extent of the ruins.
We fly to North Carolina on Wednesday and are very much looking for to visiting our family.
s/v Georgia J. Moored at Setur Marina, Kusadasi, Turkey

Ephesus ruins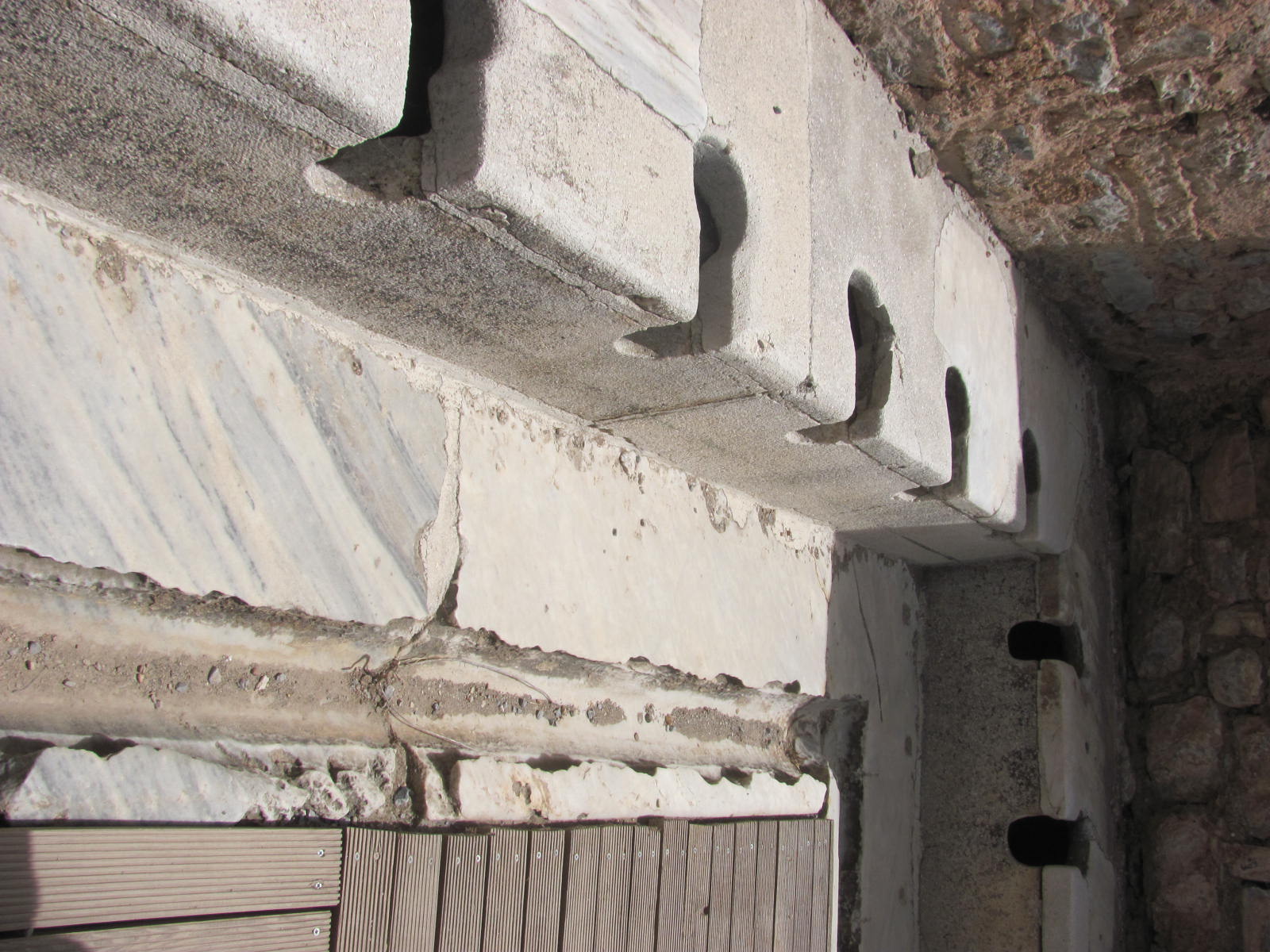 Ancient Latrines where Early Christians Sat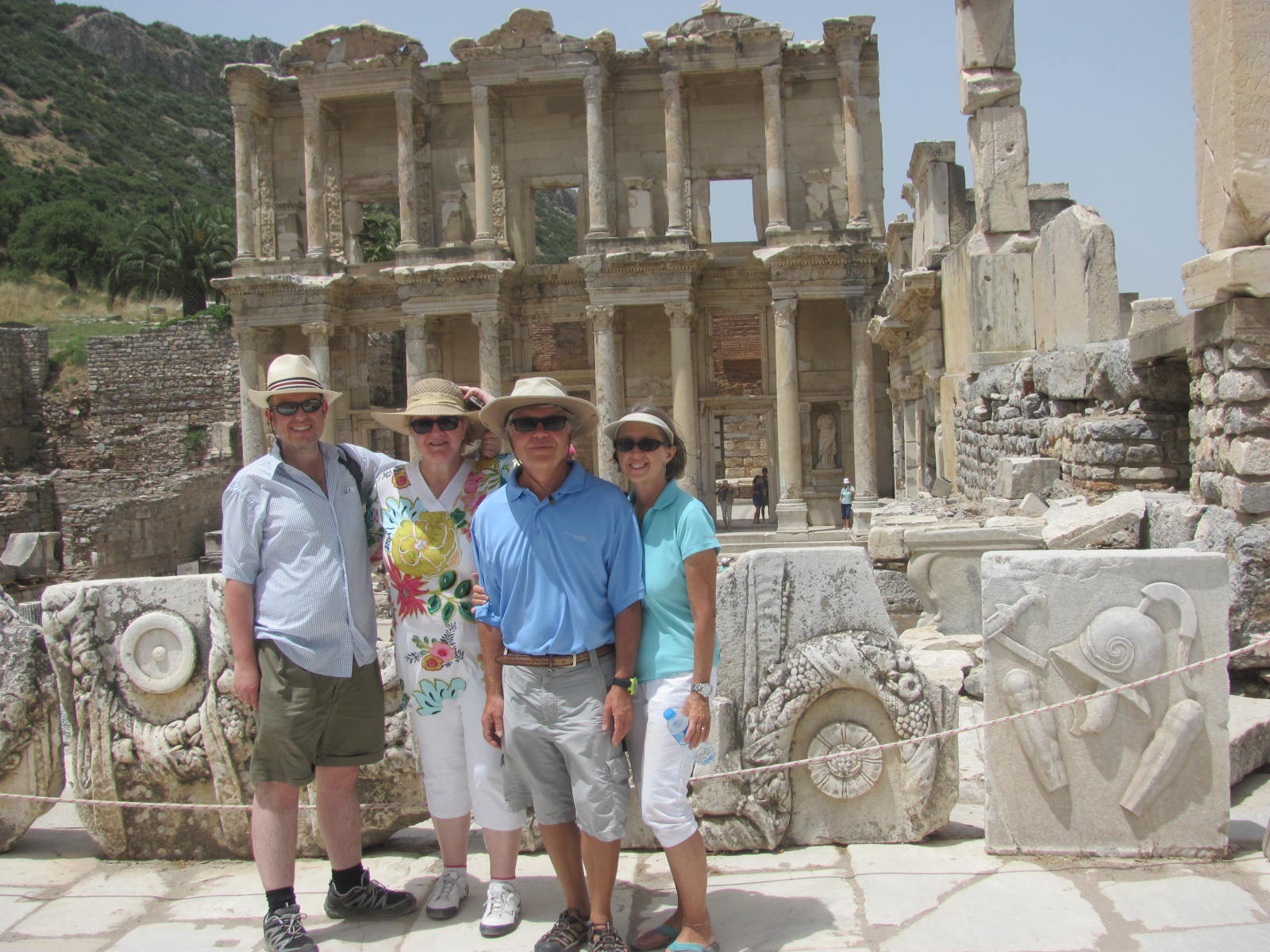 Ephesus Library Completed in 135 AD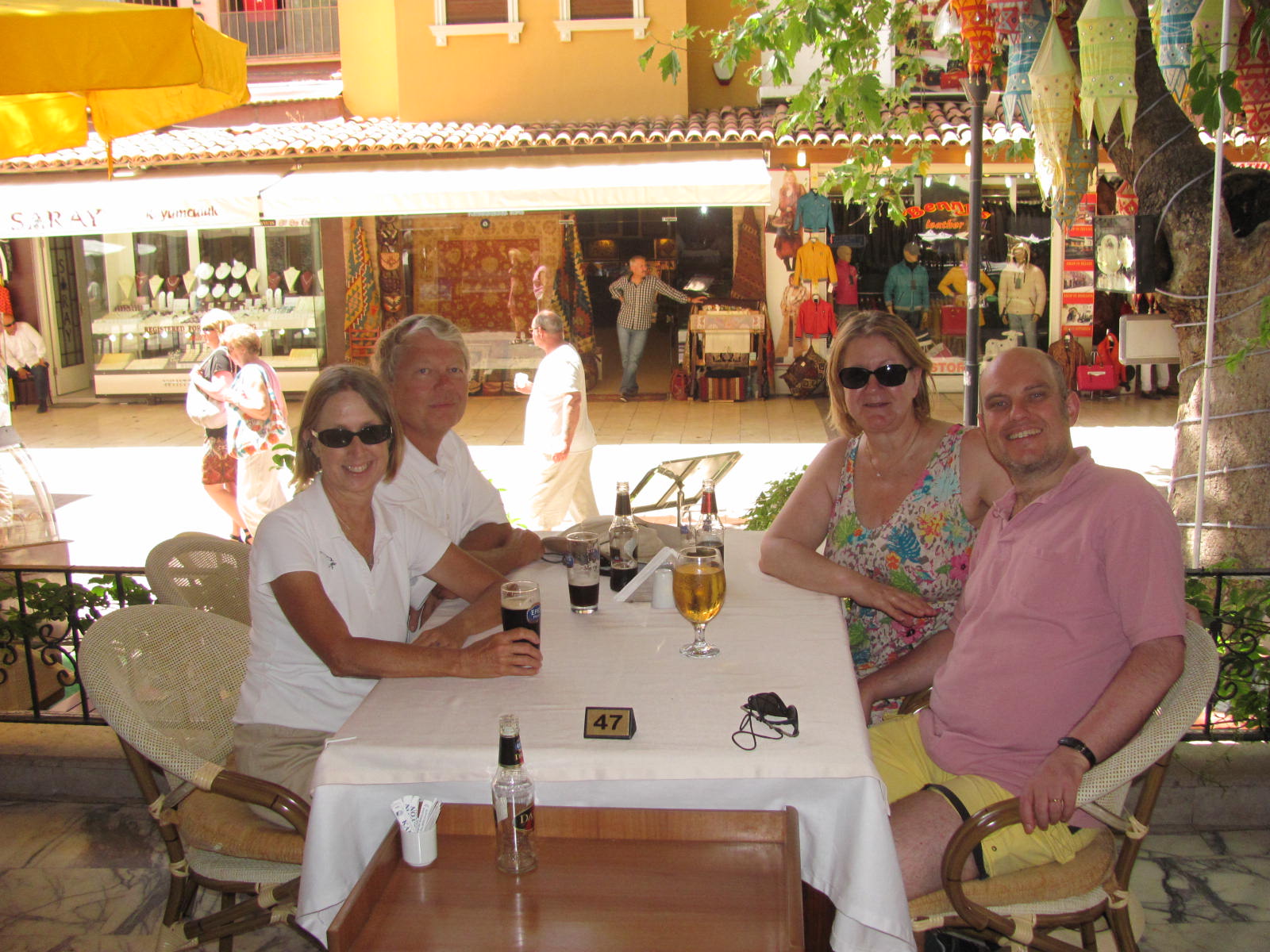 Relaxing in Kusadasi

Hanging out on Georgia J
Sharon's blog 05/24/13

We have just returned to Kusadasi after a fabulous visit to Cappadocia in Central Turkey. Cappadocia is really like no other place we have ever been. This should be on everyone's bucket list. The most distinctive features of this area are the fairy chimneys and underground cities. The chimneys are minarets or pillar shaped rocks formed from volcanic matter and millions of years of wind and erosion. Ancient people carved out houses, churches and monasteries into the rock formations. Many are still decorated with beautiful drawings and frescoes. The origin of the earliest underground cities is not clear but many have started by the Hittites 4,000 years ago. Early Christians used them as refuge from Arab invasion and persecution. The underground city we visited was 13 levels deep and probably could house 5,000 people. Being claustrophobic this was not my favorite stop, but the history is fascinating.

Cappadocia is also a popular venue for hot air balloon rides. Kim was very reluctant to do this due to safety concerns. I prevailed and we both loved it. Tragically, the very next day there was a balloon collision killing 3 people and seriously injuring several more. We felt very lucky, and Kim did refrain from saying "I told you so."

This area is also famous for its pottery, Turkish rugs and a relatively new wine industry. We managed to check out all of this. Oh and one of the cool things to do is to stay in a cave hotel. Ours was very nice but a bit dark.

This was a very nice respite from being on the boat. We are glad to be back and thrilled that our longtime friends, Karen and Will, from London are arriving on Monday. We can't wait!

S/V Georgia J, moored at Setur Marina, Kusadasi, Turkey
Early Christian Monastery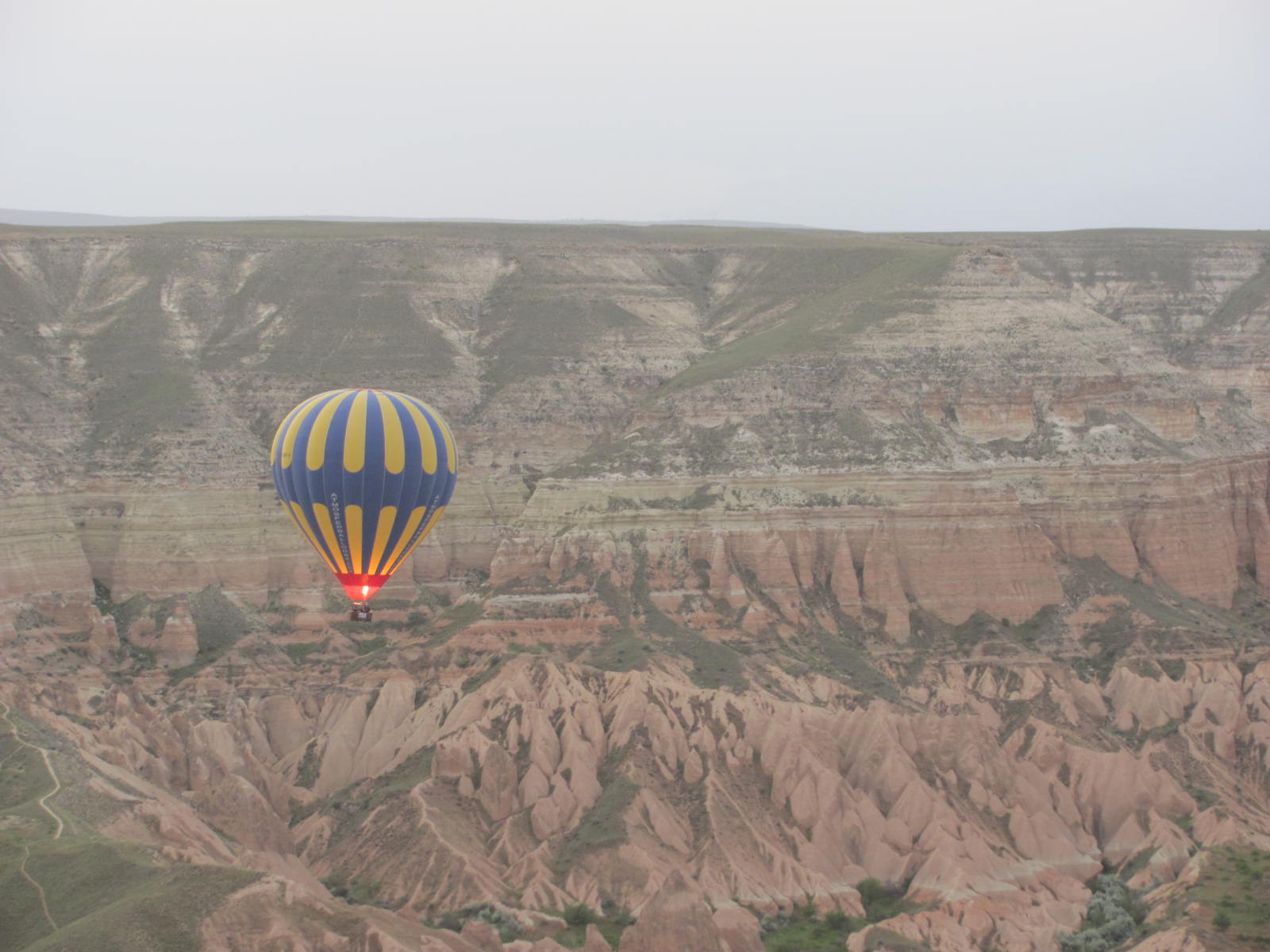 Balloon Ride at Dawn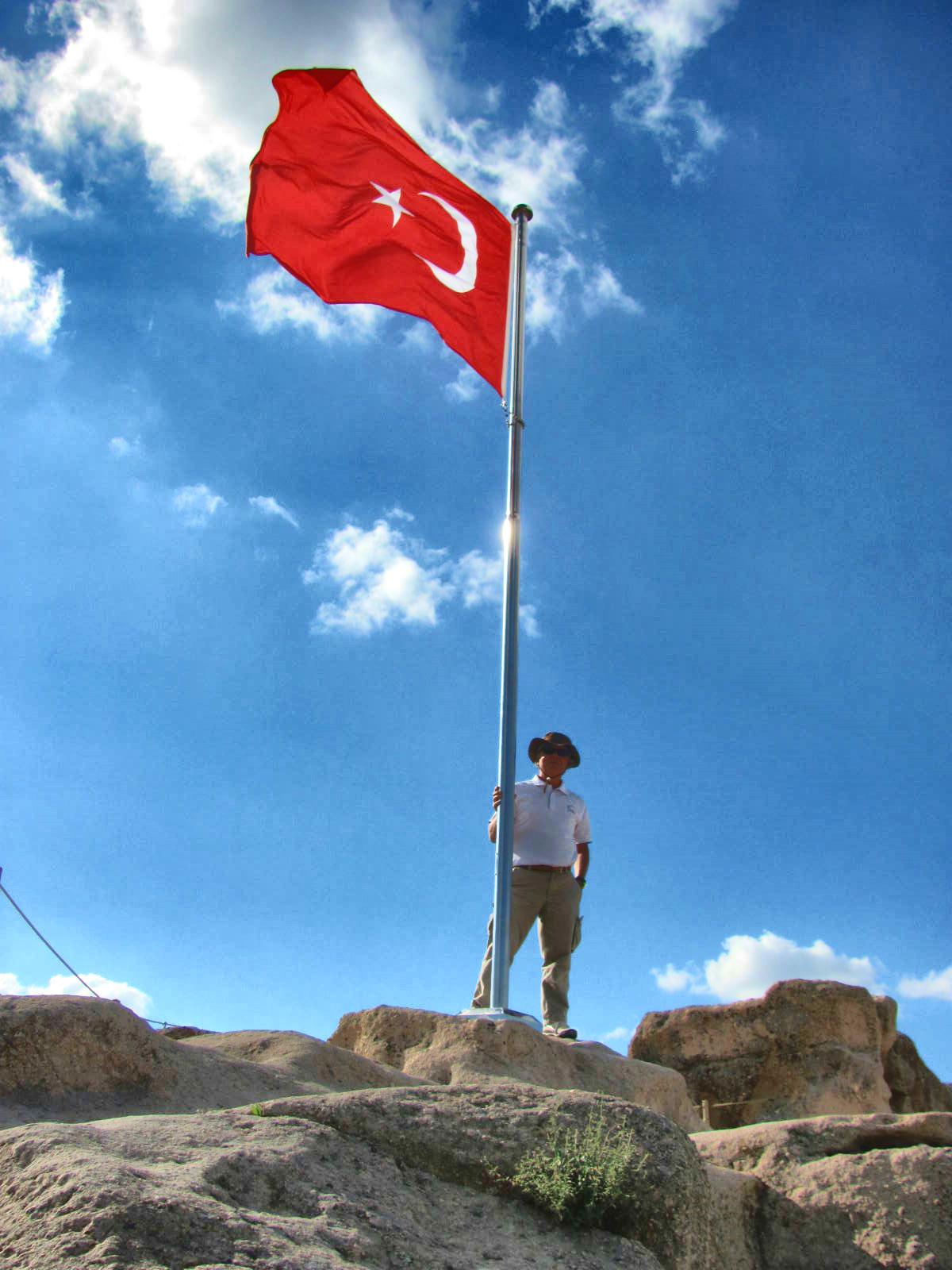 Climbing Uchisar Castle to Support Turkish Way of Life
Kim's blog 5/14/13
We are drying out today after enduring our first Aegean Sea storm yesterday. We had enjoyed a beautiful overnight anchorage all alone in a little bay called Cukurcuk. Our internet weather sources all predicted winds not exceeding 15 knots with perhaps a little rain. As we pulled up the anchor Sharon heard thunder in the distance, but the sky was clear. A couple of hours into our trip, we could see a line of lighting on the horizon straight ahead. Lighting is one of our biggest fears due to the 70' light rod extending from our deck. We tried a couple of course changes, but our radar confirmed that the storm was growing and could not be avoided. We reefed the main sail and headed for the lee side of a little island with tall hill (to attract lightening) which happened to be in Greek waters. The prior day we had heard a confrontation between the Greek Coast Guard and a boat which was ordered to leave Greek territory. Although we were flying the Turkish flag, the Greek Coast Guard did not challenge us.

As the storm passed over us, the temperature dropped dramatically, the winds gusted and the rain literally filled my sea boats. Since our autopilot is not worked, we hand steered the boat through the chaos. I drove until I was thoroughly soaked and feeling hypothermic, then Sharon took over. All the while the electrical storm was very dramatic.

When the worst was over, we continued on our course against strong wind and seas. The nasty chop covered the boat at times with a foot of water and found leaks in hatches and deck fittings. We entered our new marina exhausted. However, our only damage was one locker of thoroughly soaked clothing. We now have more respect for the little Mediterranean Sea.

s/v Georgia J in Kusadasi Marina, Turkey
Before the Storm
Sharon's blog 05/10/13
One would think after a month in Marmaris, every possible thing would be done. However, the last few days there were a mad dash to finish up. We were both chomping at the bit to get back out on the water. It had been too long. Our euphoria was dampened a bit by an intermittently working auto pilot. We considered returning to Marmaris (where we know there is a good Raymarine dealer), but we ultimately decided to keep going.

Not wanting to leave our friends on Serenity just yet, we did something we rarely ever do on Georgia J. We had made the decision to plan our travels necessitating us to back track. Day one we headed southeast with Gordon and Sherry to the Koycegiz River. We had heard great things about the tours offered by local boats, and we were not disappointed. Our guide picked up the four of us in the anchorage and we spent the day of touring ancient ruins, seeing a turtle feeding, and visiting a fish farm where we pre-ordered our blue crab for dinner. We had lunch at a lovely river front restaurant and relaxed in the mud and sulfur baths (well maybe not so much relaxation in the mud!) We ended our perfect day on Serenity with our crab dinner.

The next day our two buddy boats sadly went different directions as we headed north. Day two turned out to be a pretty easy day with a short distance and a little bit of wind. That evening we pulled into Serce, a small ancient used long before the Romans arrived. Use of the dock or buoys was permitted only if you ate dinner in the restaurant. The proprietor was a bit strange (as he danced around the tables), but the food was good and the setting was a spectacular star lit night only slightly interrupted by the braying of the donkeys on shore. We opted not to have red meat that night. The next night we were the only boat anchored by a small town. Yesterday we anchored for two nights at Datca, a favorite stop for the gullet boats. It is a lovely little town with restaurants and bars, ATMs (which we needed) a grocery store and several specialty food shops. We found a great restaurant for lunch today, using Kim's new approach. We walk a block or two away from the water and look for a place that is packed with locals.

Tomorrow we pull up the hook early. Well, at least we hope so as a small French boat is over our anchor chain. This will be our longest day so we are hoping that friend "Otto Pilot" is along for the ride.

S/V Georgia J, anchored at Datca, Turkey
Mud Bathing with Serenity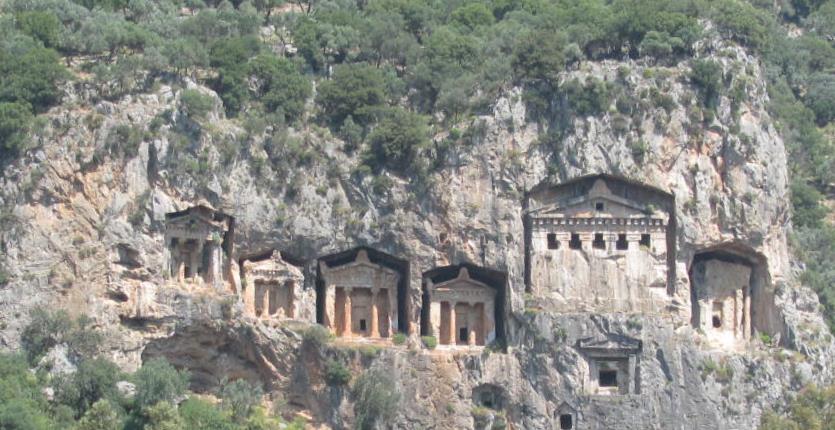 Lycian Tombs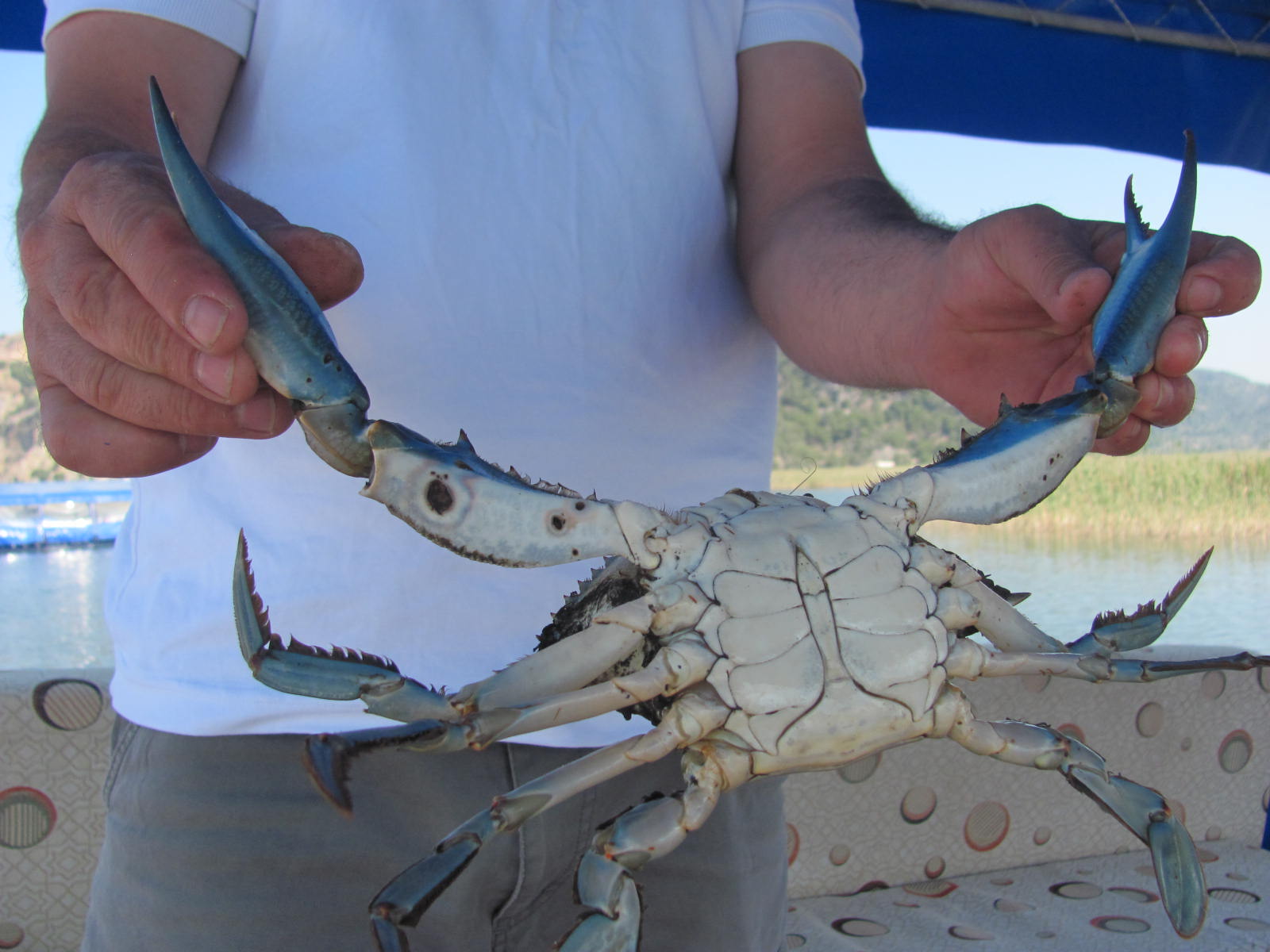 Blue Crab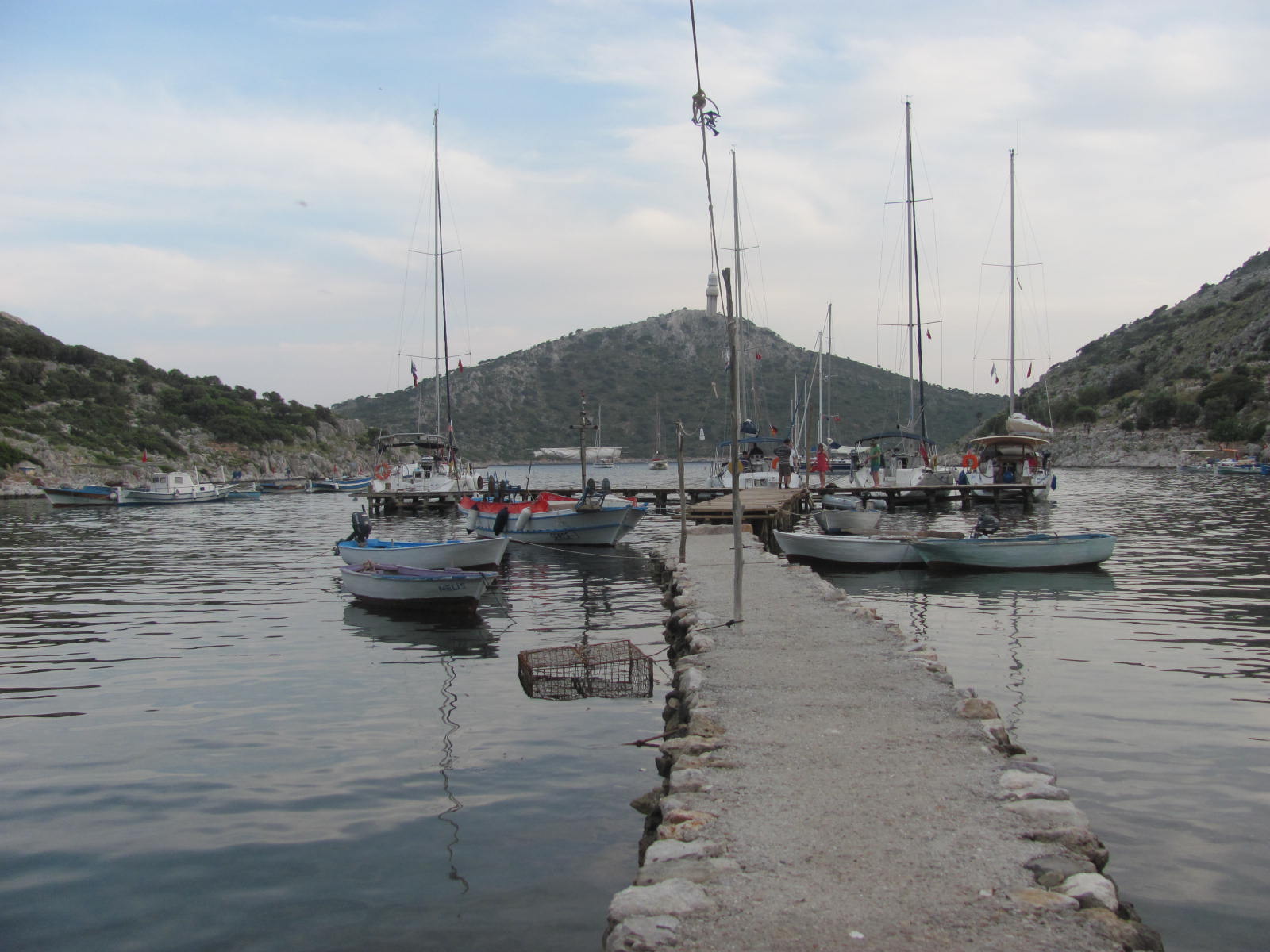 Ancient Harbor at Serce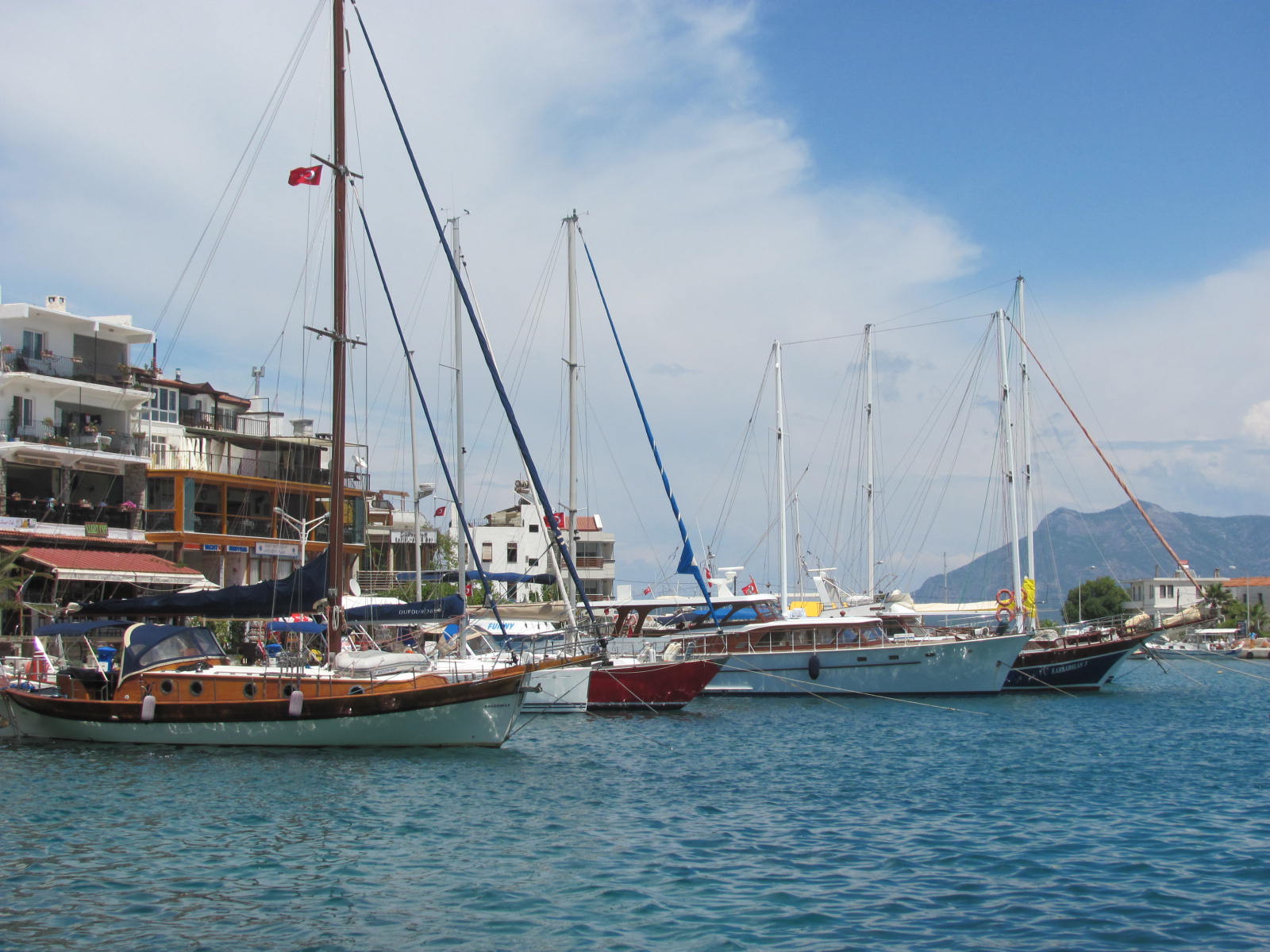 Datca
Sharon's Blog 04/26/13: Time here in Marmaris seems to be going by quickly, not so much our boat projects. As Georgia had been back in the water just a few days before we loaded her for shipment, we had a lot of re-commissioning tasks awaiting us. Marmaris is a very pleasant place to get those things done. The weather is perfect with warm days and cool nights and the tourist season really has not kicked off. There are more boat services and chandleries than any place we have ever seen. We even have a real West Marine which we seem to visit almost every day. Marmaris is what Kim calls a "sticky" place where cruisers get stuck. We have a very active cruiser community and some people have been here for years. Although, few have traveled the kind of miles we have.

We love the culture here, and the Turks are so welcoming and helpful. It is a very family oriented culture, as evidenced by the two day national holiday, translated as Children's Days. We are enjoying the food although it has been an adjustment away from the heat of the food in Thailand. (In fact, I tried my hand at Pad Thai on GJ last night). We have gotten used to salad with lettuce, tomatoes, olives and cheese for breakfast. Restaurant proprietors are so accommodating if you order something they don't have, they simply send the youngest staff member out the side door to get it for you next door. Prices are certainly higher than in Thailand, but we suspect these are the lowest we will see in the Med.

We are enjoying the company of Sherry and Gordon on Serenity. We have discovered the massive market, held on Thursdays and Sundays (just like Marin). We already have our favorite vendors and products. I could barely contain my excitement when I saw a display of tomatoes I immediately identified as "heirlooms". The confused woman kindly shook her head correcting me with "Oh no, Lady, domates."

As it was cheaper to stay in this very expensive marina for 30 days than for 19, we decided to stay here a bit longer, hopefully finish up our projects and take off in the more reliable weather. We are also waiting for the return of our passports from Istanbul. We had to send them off to have more Visa pages added. That is a cool problem to have. This should be soon…..we hope.

S/V Georgia J, moored in Netsail Marinna, Marmaris, Turkey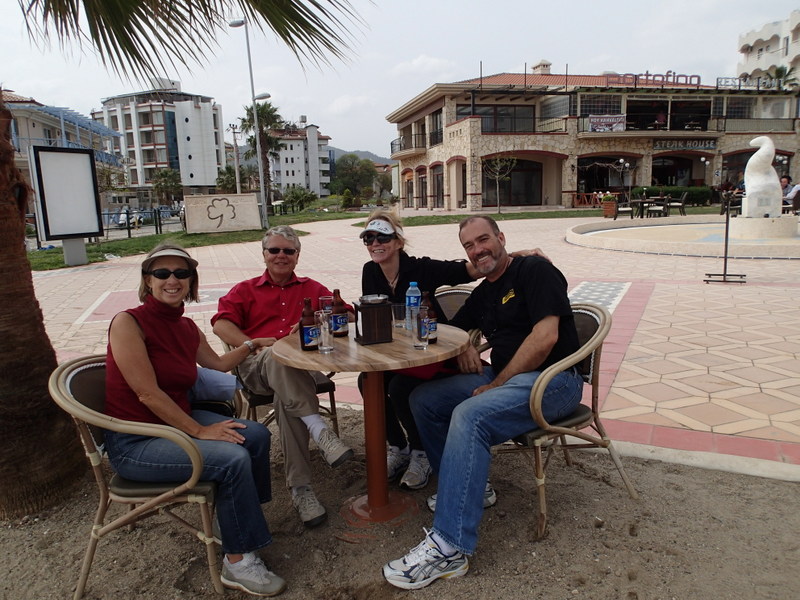 With Serenity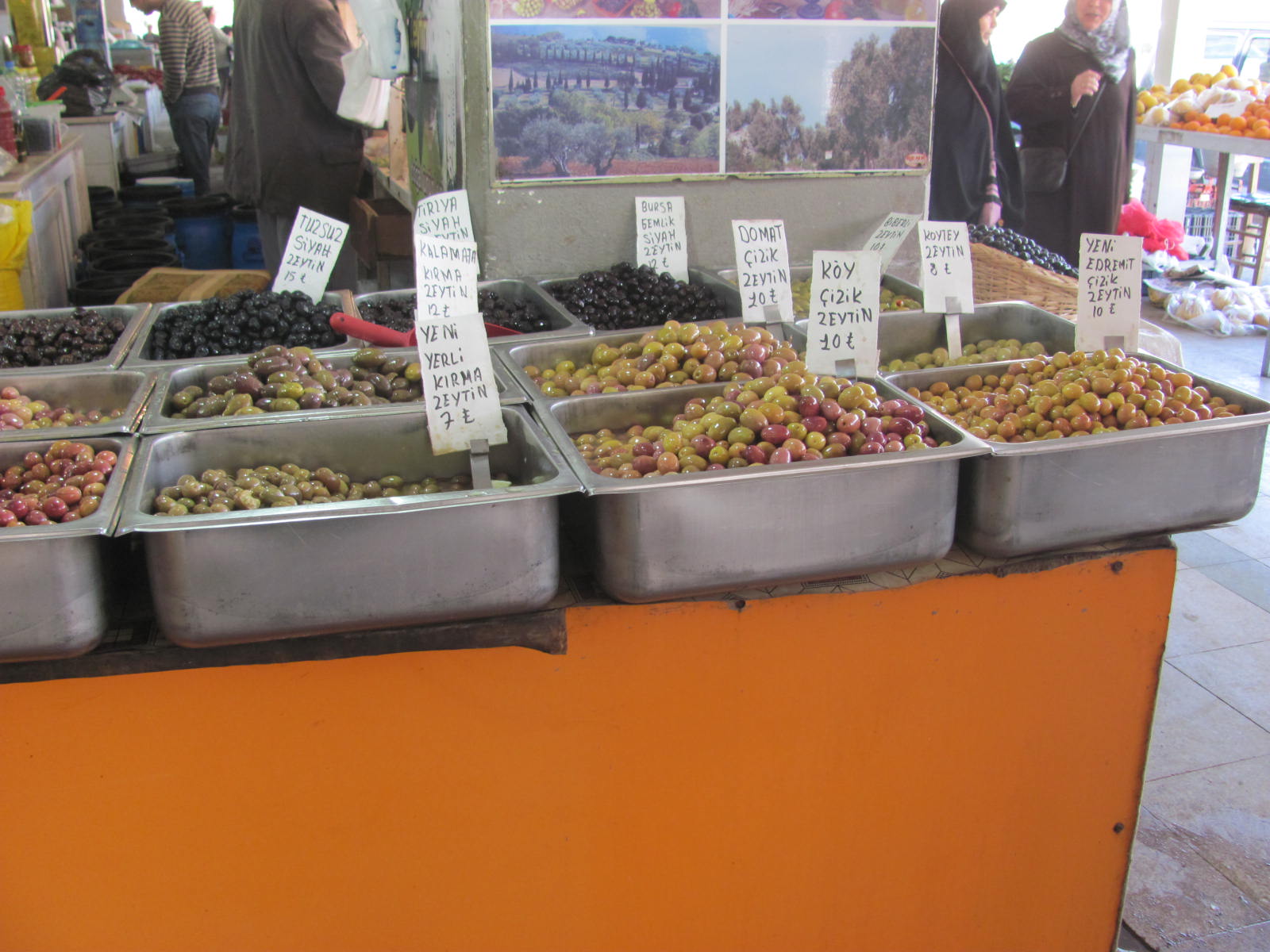 Olive selection is more difficult in the Med
On Marmaris Malecon
Kim's blog 4/8/13: We received a surprise call at 1:10 am to come immediately to the ship to unload Georgia J. Winds had subsided and the loadmaster had decided to unload at night. By the time we reached the ship, the wind and rain was blowing 23 knots. Magically, when Georgia J was lifted, the wind and rain stopped. Sharon grumbled to loadmaster about climbing down a 30 foot rope ladder from the ship. Although contrary to the company's procedures, Georgia J was lowered to the level of the ship's deck and we stepped on without drama. The batteries were very low, but the engine started without a hiccup.

As we reconnected the backstay, marinaros from the marina came out into the harbor in their dingy to make sure we were ok and lead us to our mooring. Finally, we backed into our first med mooring without banging the boats beside us. Our nighttime inspection revealed a very dirty, but undamaged Georgia J. At 5:45 am we returned to hotel to finish the night's sleep.

All this occurred as the result of a righteous life.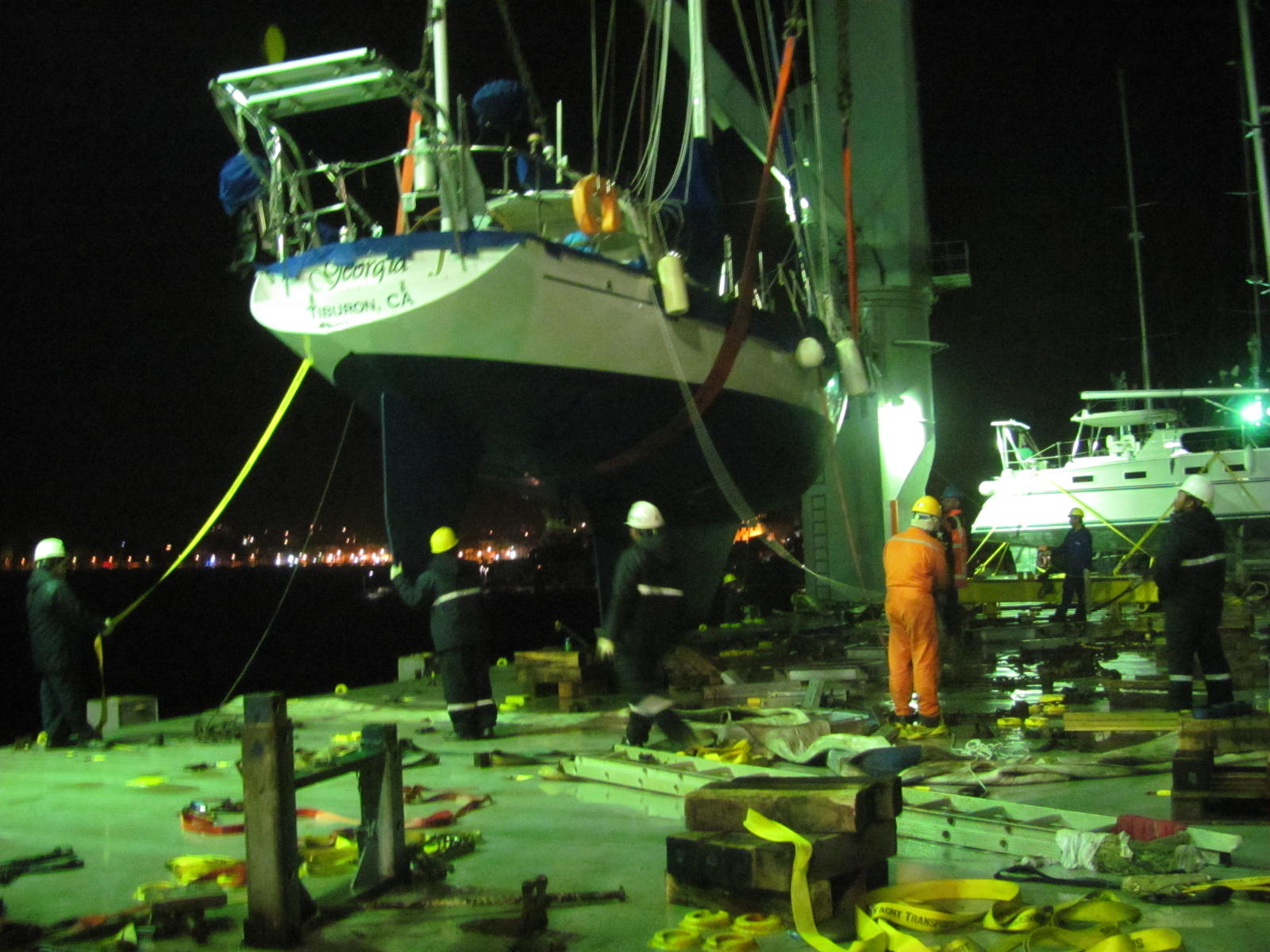 Unloading at night