Added recording of morning radio net with Ranger James. To listen, click link below picture of Kim, Sharon and James below. Be sure to wait through the pauses, he takes his time
Kim's Log 9/6/11:

The last few days have been extremely busy. The kava party turned out fine since no kava vendors showed up. Our new Tongan friend, David, was disappointed, but I was greatly relieved. Sharon did a 9 km hike which included rope climbing in the national park with a group of women cruisers. I installed the new motor for our refrigerator and filed our 2010 tax returns at Pago Pago post office. We saw the famous "flying foxes" of Samoa. These are actually bats with a wing span of 2-3 feet. The natives eat the meat which apparently tastes like venison. Sharon and I bravely walked under trees with thousands of the squeaking creatures us.

We plan to leave for Tonga on Thursday. Our first stop is Niuatoputapu (inappropriately called "New Potatoes" by the cruisers). The passage is only about 200 miles and will take us two nights to arrive. We will not have cell or internet service in Niuatoputapu since it is a very small island and was severely damaged by the tsunami. In fact, we understand that the first telephones were installed there in the 1990's. Prior to that, they still used Morse code to communicate with the outside world.

s/v Georgia J
Anchored in Pago Pago, American Samoa
Island Tour with David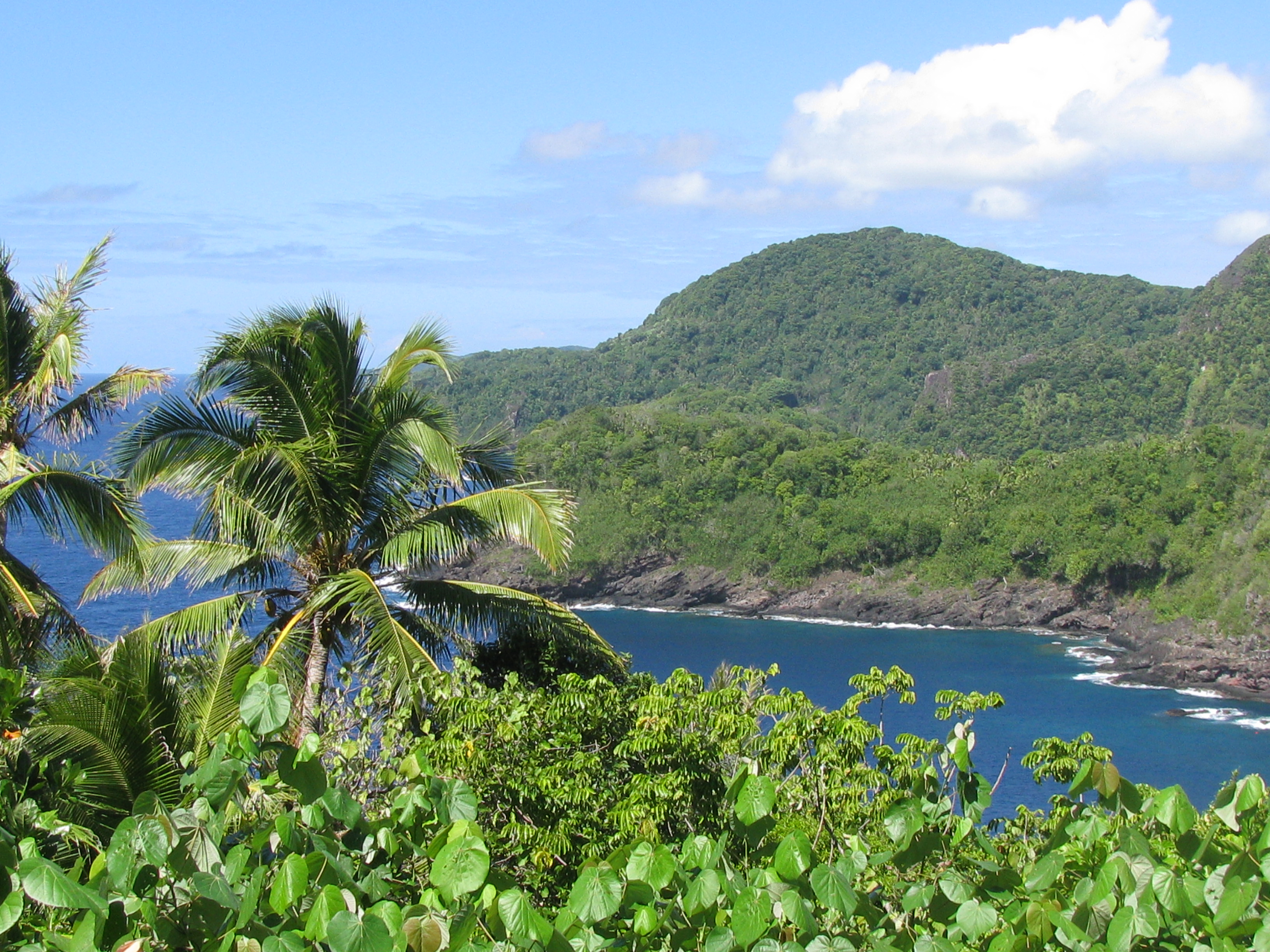 View from National Park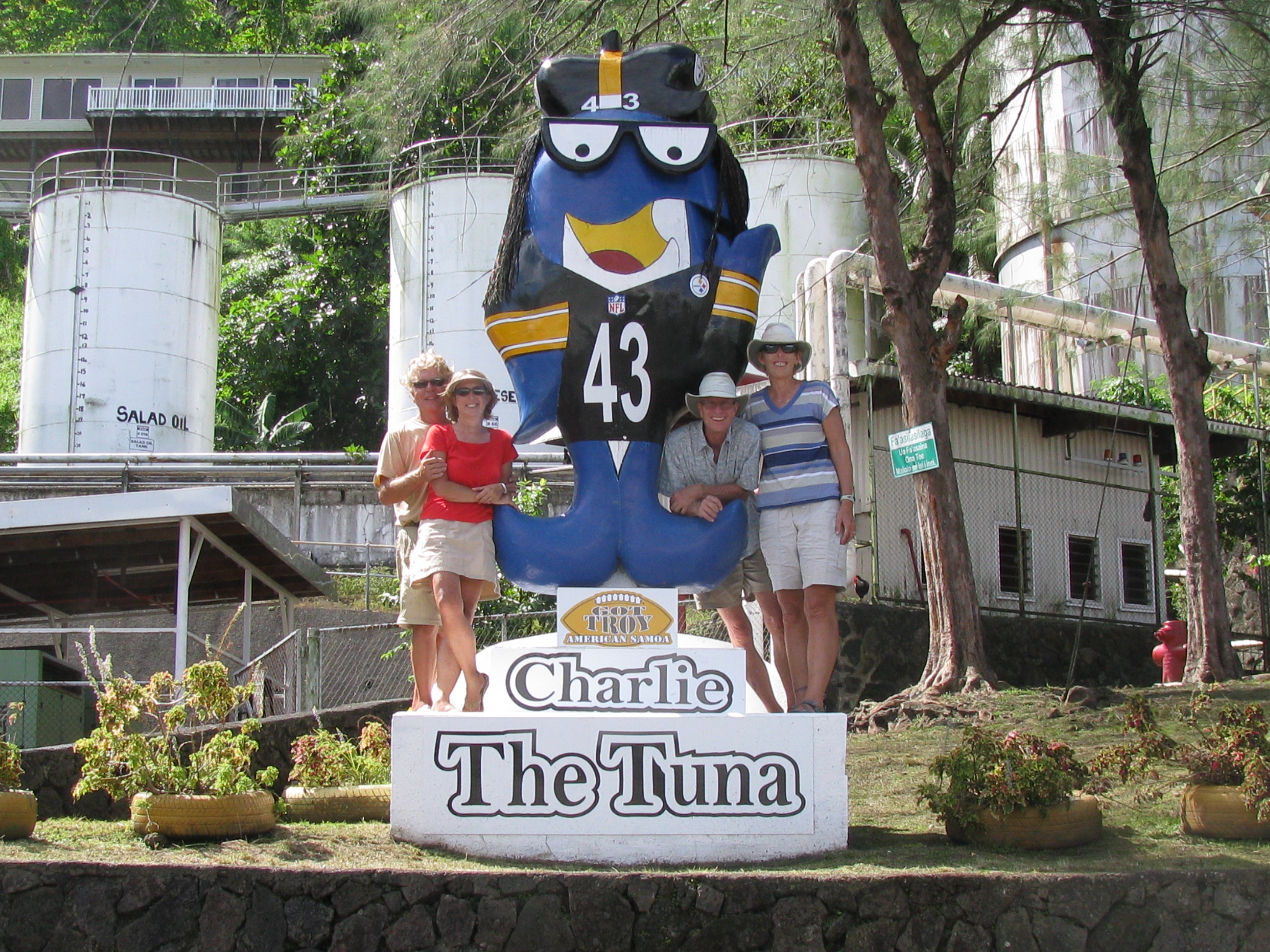 Starkist Charlie the Tuna from Pago Pago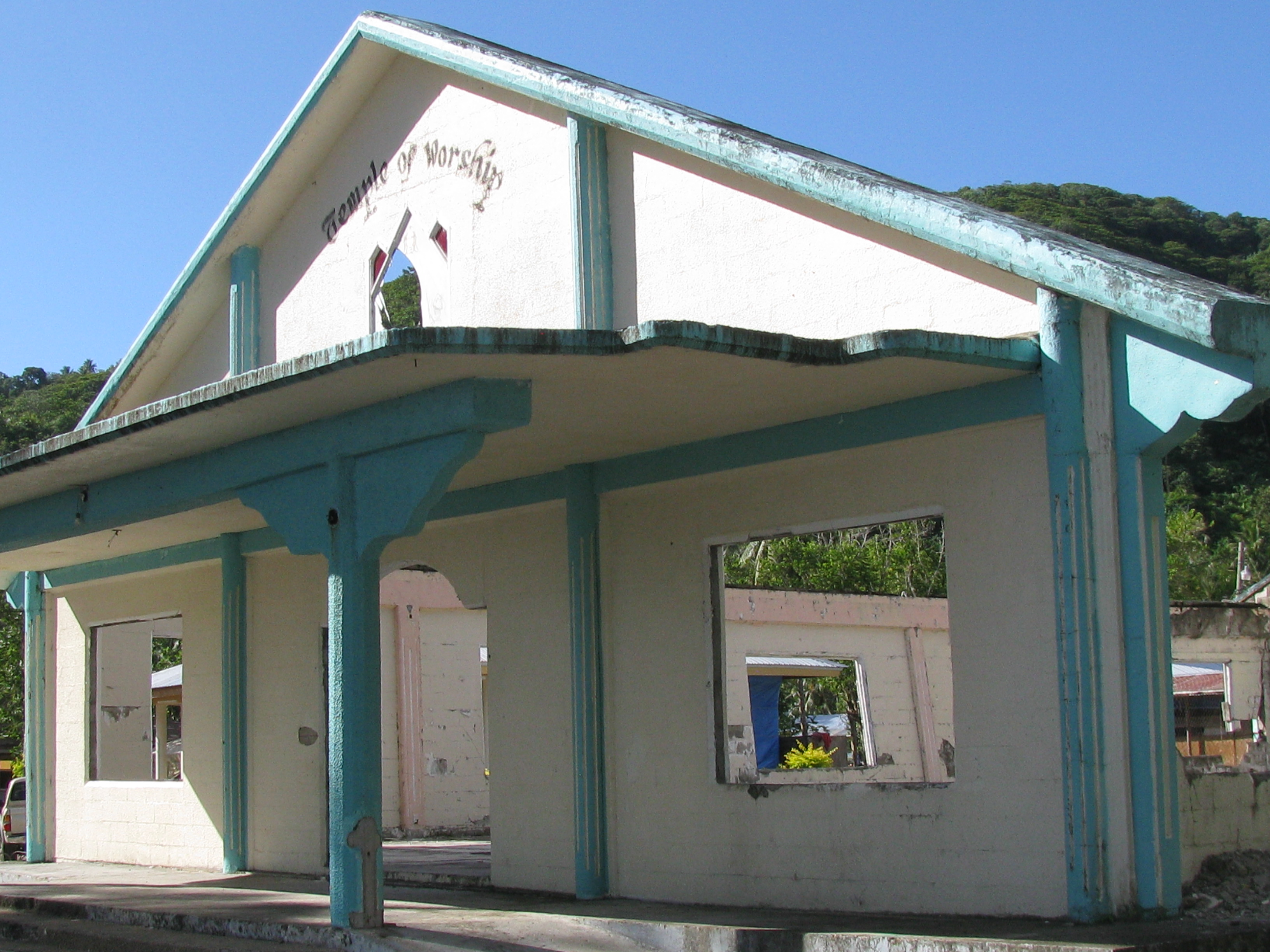 Church Gutted by Tsunami Wave
Kim's Log 9/1/11:

This week has been a work week on Georgia J. We retained a mechanic and two assistants at very reasonable price. Together we cleaned the fuel tanks, rebuilt a toliet, rebuilt a water pump, rebuilt fuel filters, changed oil, modified the water system, fixed broken rigging and varnished the teak. I have also been refueling the boat by lugging 25 jerry cans of fuel from the service station by dingy. In the process, I have made friends with the mechanic and his assistants who are all from Tonga. We have been invited to an event Friday night with the Tongan community. Since communication is difficult, we are not really sure what we are in for. We know that there will be food, music and dancing. David, the mechanic, also confirmed that kava will be served. Kava is a legal, intoxicating drug made from a root. The drink tastes like mud and has a strong narcotic affect. It is very bad manners to turn down the kava offered by Tongan guys. Although only the men traditionally get stoned, David confirmed that it might be ok for Sharon to taste.

David has also borrowed a car to take us on a tour of the island on Saturday if we have recovered. More to follow. Kim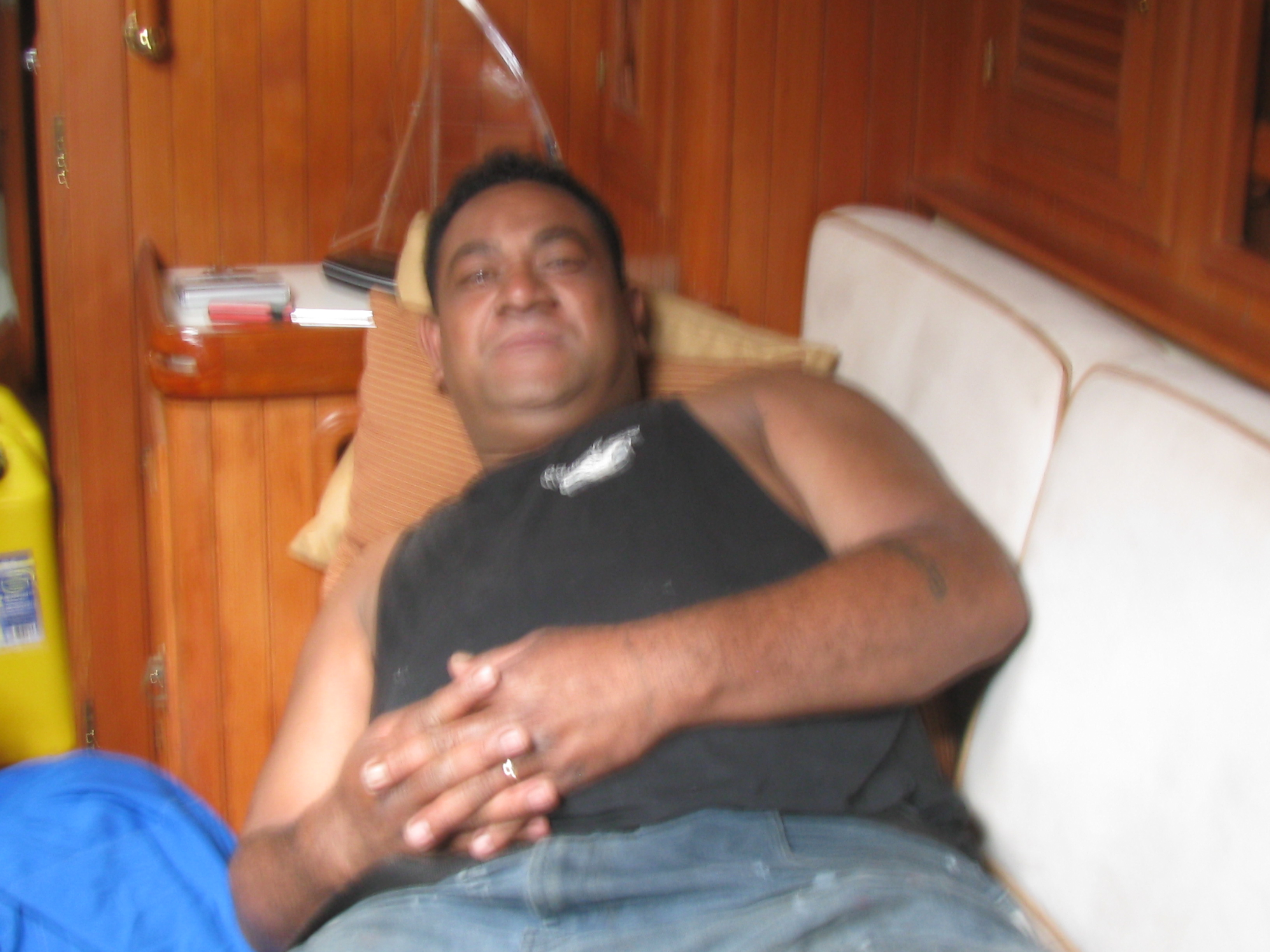 Our friend David gets comfortable on Georgia J
Sharon's Log 8/28/2011
What a week this has been! With the exception of losing our shrouds on the passage, I have to say this has been our toughest week. The combination of winds gusting up to 40 knots and the atrocious holding in the anchorage has kept us trapped on the boat all week and doing anchor watch each night. Yesterday we finally got off the boat together early in the morning and went out to breakfast. I thoroughly enjoyed each bite of my omelet. However, by the time we got back to the boat, the wind was back up so that one of us had to be on the boat all day. It is a sad comment that I actually enjoyed my time away at the laundry. Practically every article of clothing we have was dirty. This is a very conservative culture, so I concealed my beer in a black bag while I worked. Kim was nice enough to babysit Georgia while I went to a happy hour on shore. Most boats only had one attendee.We have two pieces of good news this morning. The weather is finally predicted to improve tomorrow and the motor part we think will fix our refrigerator has been located. We had been told that we would have to wait a minimum of a week. My culinary creativity has been challenged as I have not been able to go to the market and I have no refrigeration. It is really a shame that the anchorage is so bad. The American Samoan people could not be nicer and it looks like this would be a fun place to visit. That said, we want to leave for Tonga as soon as our critical repairs are completed. S/V Georgia J
Kim's Log 8/22/11

The last 24 hours have been one of the most challenging times of our entire trip. We knew that the bottom in Pago Pago has poor holding. We did not realize how bad. We had been anchored for one night without any problems. We knew that we did not have sufficient anchor scope (the length of chain and rope holding the anchor). However, the anchorage is full of yachts and there simply is not sufficient room to let out more. I did the anchor watch last night. At about 3:00 AM, I started seeing our boat drag back towards a large fishing trawler. The wind was blowing about 25 knots, but Sharon and I retrieved the anchor and moved the boat. The anchor would not set and we retrieved it again. On the third try, we held but drifted back to within 100 feet from the trawler. We also had the land and a rock wall on our port side. This time the anchor held until daylight when the rain and wind started howling. When the wind reached 35 knots, boats all over the anchorage started dragging. The radio erupted with cruisers asking friends for help, looking for scuba tanks to clear ropes off their propellers and trying to avoid collisions.

We also started dragging again and drove the boat into the wind as best we could for about two hours. The harbor master allowed boats who could not set their anchors to tie up to a ferry. No one was able to go to shore to check in with customs and immigration. Two harbor policemen also drove jet skis through the blinding rain asking everyone if they were ok. As the wind dropped to 25 knots, everyone calmed down and we seemed to be holding. However, we were still too close to the trawler. We decided to pull up the anchor and put out another 100 feet of line hoping that we would not swing into another boat or shore. This seems to have worked. We have not drug for over 6 hours. We will have depth alarms, drag alarms and wind alarms set tonight. This wind is expected to continue for the next three days.

s/v Georgia J at moving anchorage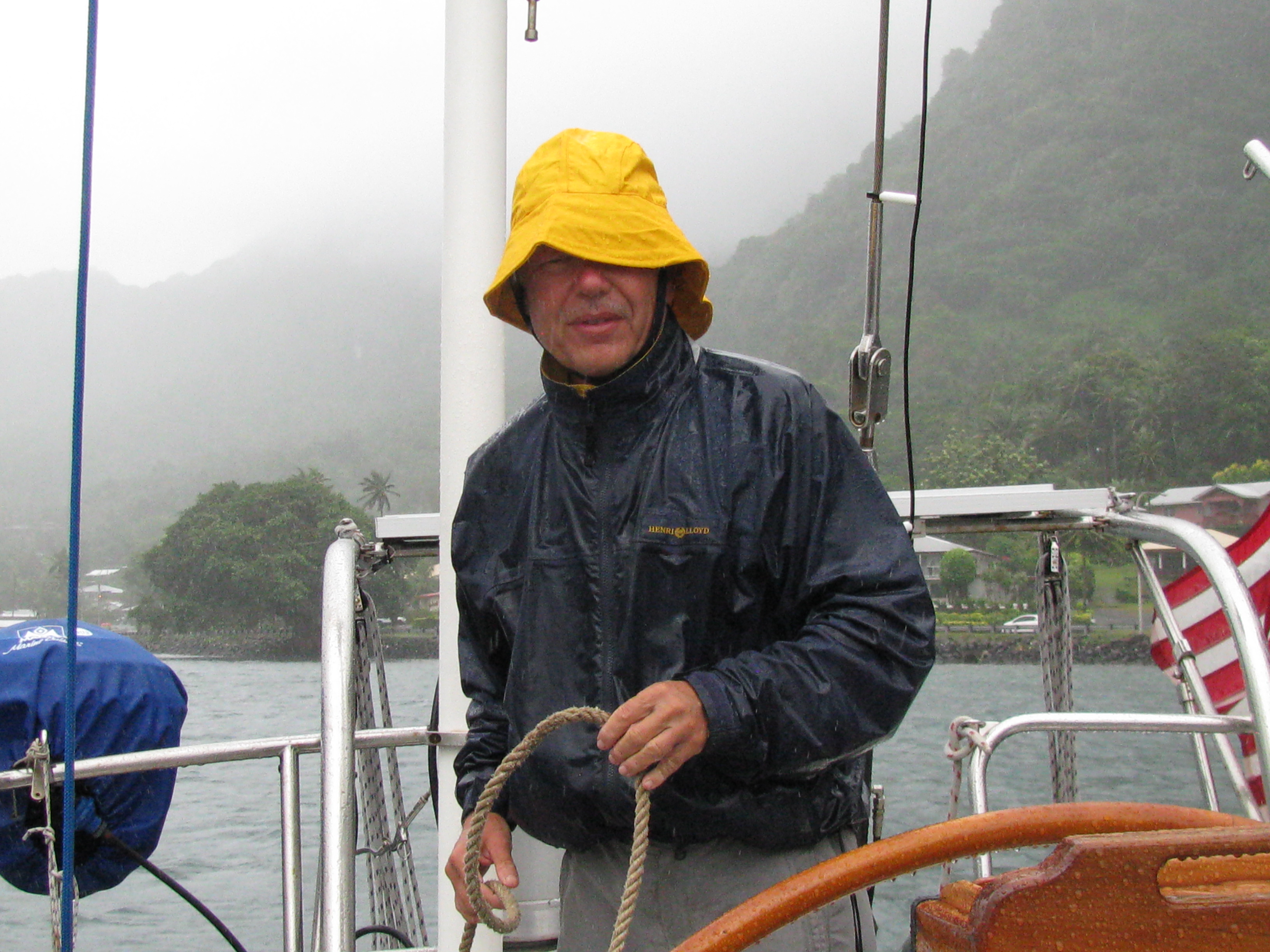 Kim Preparing Emergency Anchor


The trawler behind us

Kim's log 8/21/11:

We arrived safely yesterday in Pago Pago (pronounced "Pango Pango"), American Samoa. Overall, it was a mixed passage. We had a beautiful downwind sail the first day in very calm seas. We motor sailed for the next two days with only 2-3 foot swells and little wind. On the second day, Sharon smelled smoke in the galley. When she opened the cabinet where the refrigerator compressor is located, smoke bellowed out. The motor was extremely hot and probably would have started a fire but for her excellent nose. I adjusted belts and attempted to run in 15 minute increments, but the problem grew worse. Interestingly, one of the boats on the passage had a refrigeration expert on board. He advised us by radio and offered to fix the system when we arrived. After we reached Pago Pago, another boat offered to keep the frozen items in their freezer.

We also had a rigging failure on the morning of the last day. We heard a loud bang and found the main sail flogging wildly. The out haul, which holds back end of the sail to the boom, had broken. The sail and an attached metal cable was slapping everything in sight. We were able to control the sail by tightening both reefing lines, turn the boat into the wind and seas and drop the main. It is actually a blessing that this occurred so near a port rather than on a long passage. One more item added to the fix list.

American Samoa is an unincorporated territory owned by the United States. The harbor is surrounded by mountains making it the best protected harbor in the Pacific. The entrance to the harbor was beautiful, but the anchorage stinks- literally. The tuna fishing industry is headquartered here and the processing plant releases some obnoxious odors. The anchorage area is really crowded with other yachts and anchors frequently drag. Cruisers have snagged their anchors on everything from lawn furniture to trees lying on the bottom. The only spot we could find is very close to shore and next to a loud electrical generating plant. However, our anchor set on the first try. I have been up off and on through the night and we seem to be holding.

s/v Georgia J. Anchored at 14 16.299 S, 170 41.683 W, Pago Pago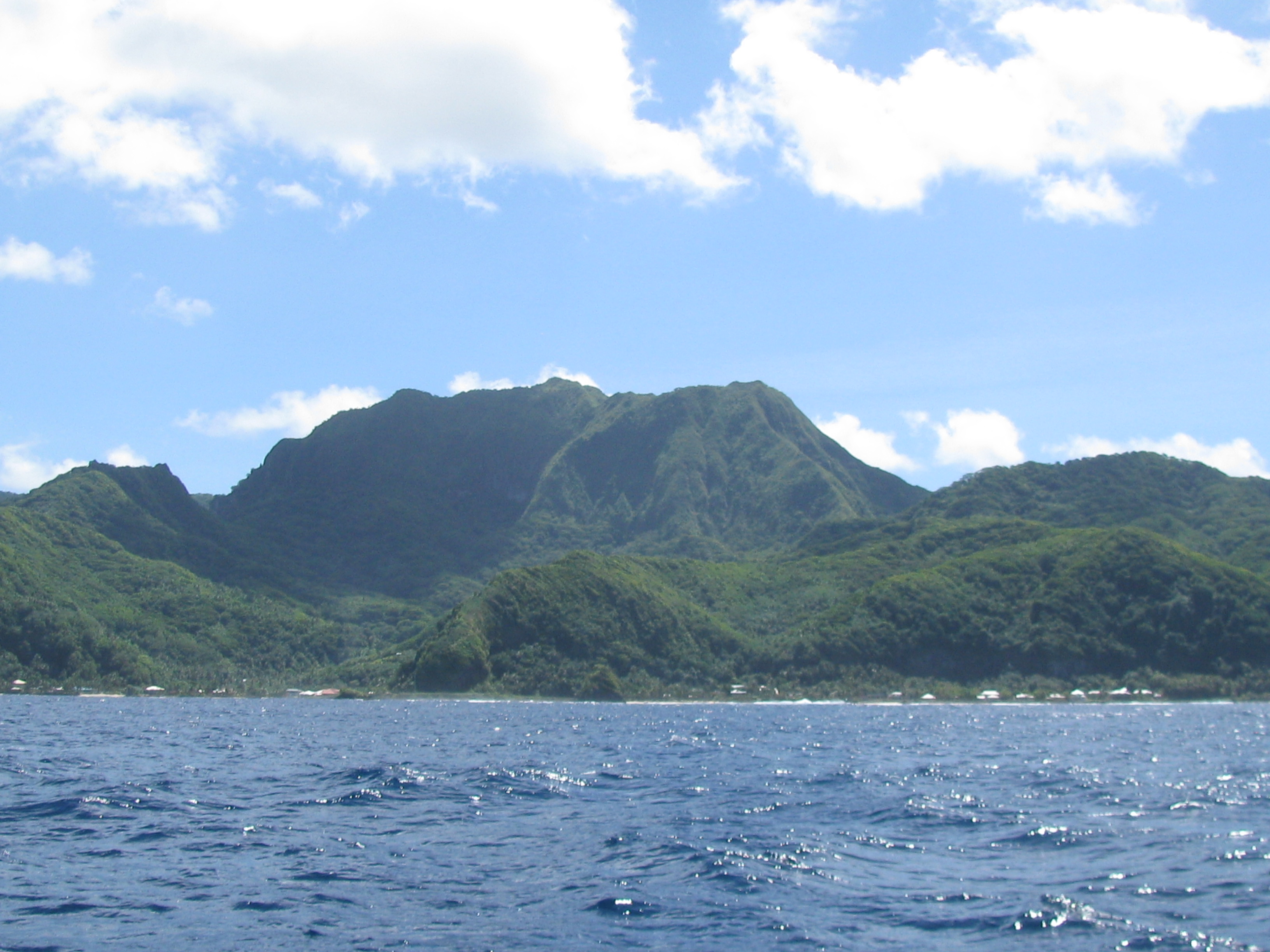 Approaching Pago Pago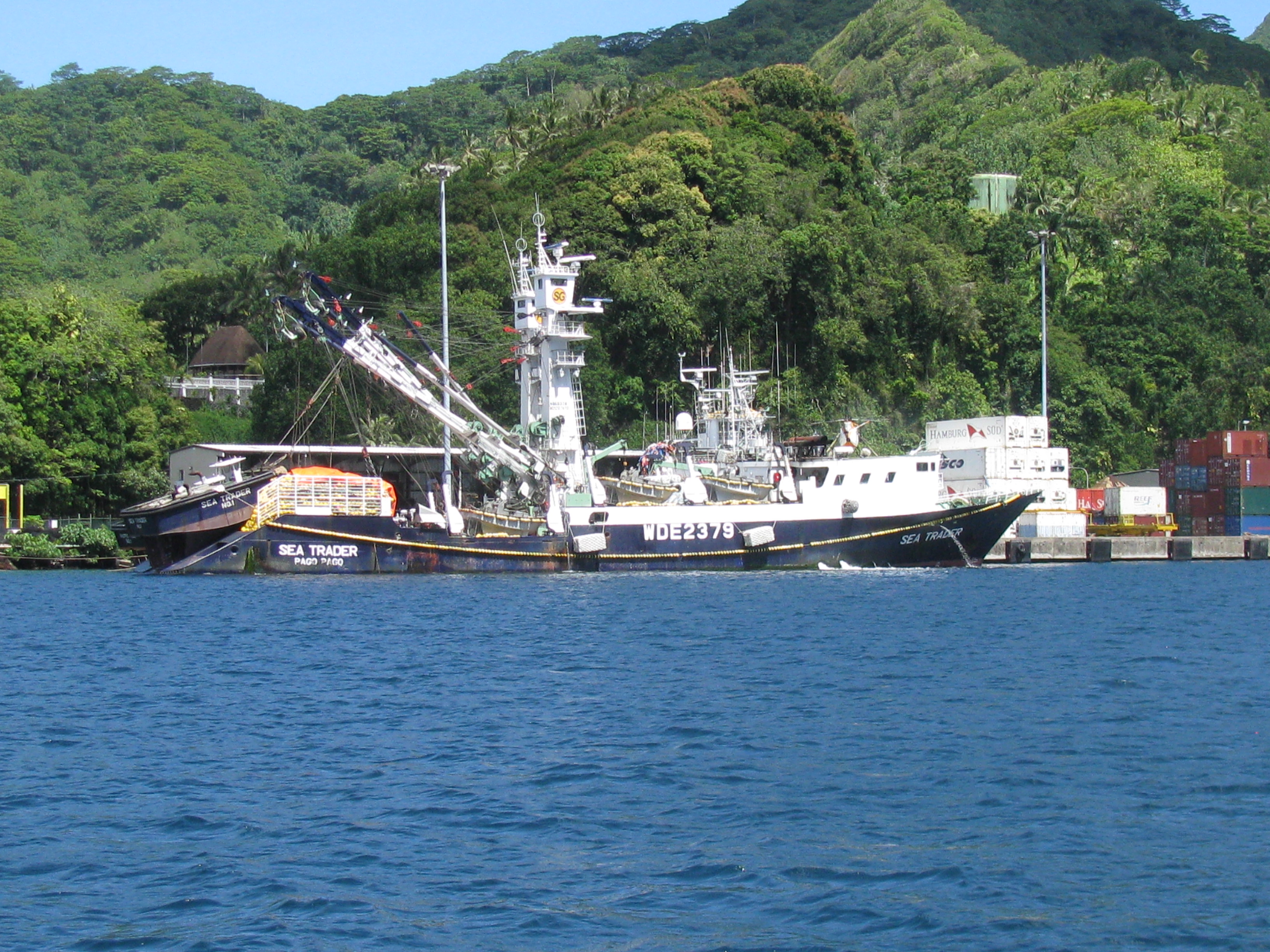 Pago Pago is an industrial harbor
8/17/2011
Sharon's Log

Today we bade a fond, and somewhat sad, farewell to Suvarow. We are convinced that we will not find another pace quite like this. This is truly a family like atmosphere. The past few days have been busy with snorkeling, parties on the beach and pot lucks. We caught up with some friends we had no seen for a while and made many new friends.

Our passage to American Samoa has gotten off to a good start. We managed to disentangle the anchor without going for an early morning dive. The sharks rallied to send us off. For the first time since we left San Diego, we pulled out the fishing poles. Actually, we have not fished since 2006. If we actually catch something, it should be rather interesting. Our passage should take us 3-4 days.

S/V Georgia J Latitude 13 07.0 S, Longitude 163 46.3 W at 01:46 on 8/18/11 UTC. Course 280 T, Speed 5.6 knts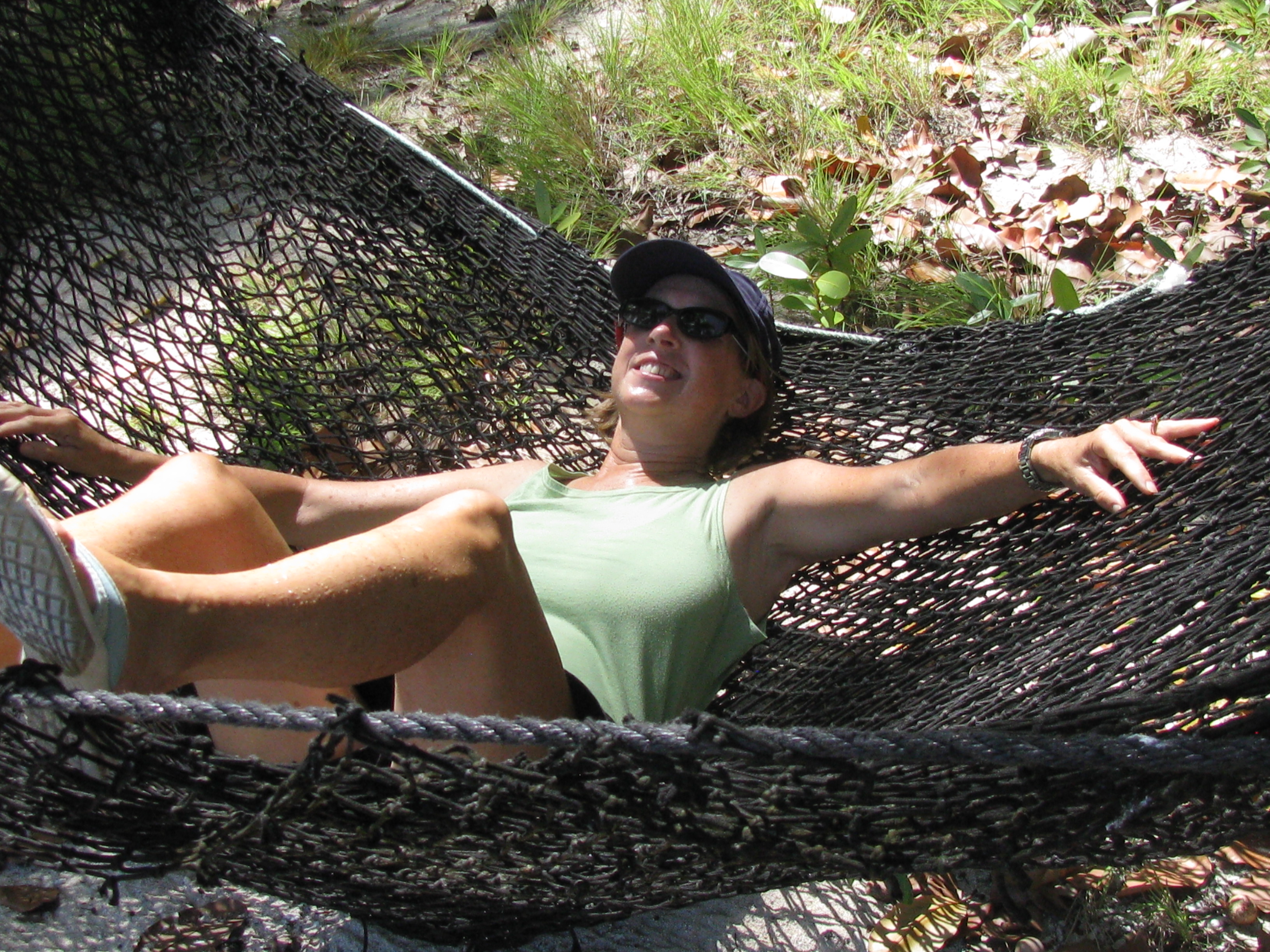 Last hour on Suwarrow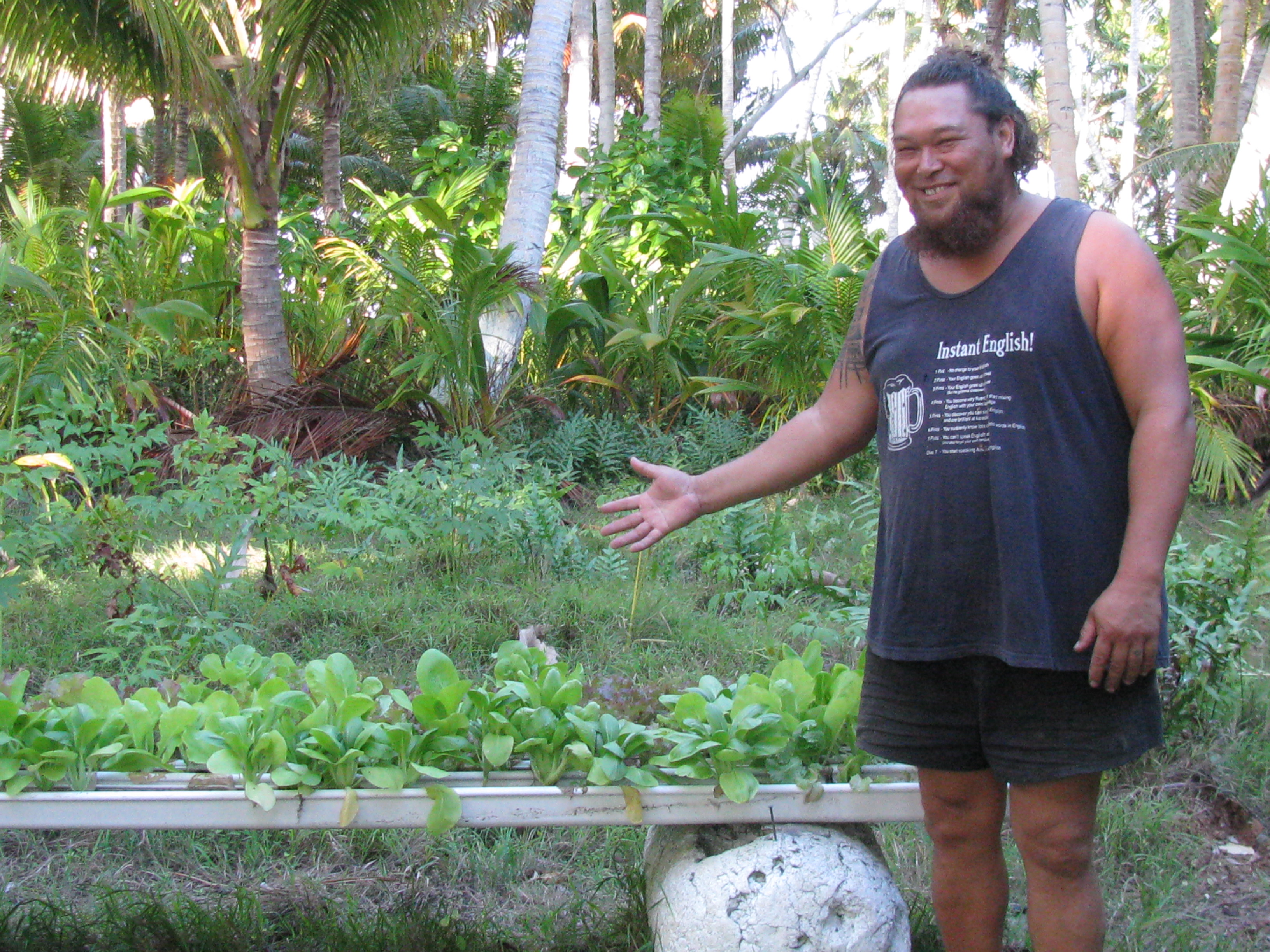 Junior Ranger John shows off his lettuce grown in a coconut
8/15/2011
Sharon's Log

We have been in Suvarow one week today, and we have been very busy. The two park rangers offer almost daily activities. Since I last wrote, we have had a surprise birthday party, shark feed, reef walk (or maybe I should say wade) to a tiny island which is home to many, many nesting birds, potluck dinner, and group dive trip.
This is definitely our favorite stop, not because of the activities, but because the rangers, James and John, truly have made us feel so welcome. They routinely get cruisers who never want to leave. We have actually met several new people here, as a different group of boats have arrived. Kim shared his dive equipment with a young couple yesterday and this morning, they showed up early with freshly baked scones.

We are beginning to run low on some provisions, especially wine! We are completely out of bread (the French baguettes I froze are all gone). As I have no yeast on board, I tried my hand yesterday at making wraps. They are an acceptable substitute for tortillas. Erica included both yeast and tortillas in our box on its way to Samoa. As Kim says, who would have ever dreamed the U.S. Postal Service would be a draw, but that is one of the main reasons we are going to American Samoa. We hope to start our 3.5 day passage to Samoa on Monday, but the weather may not cooperate.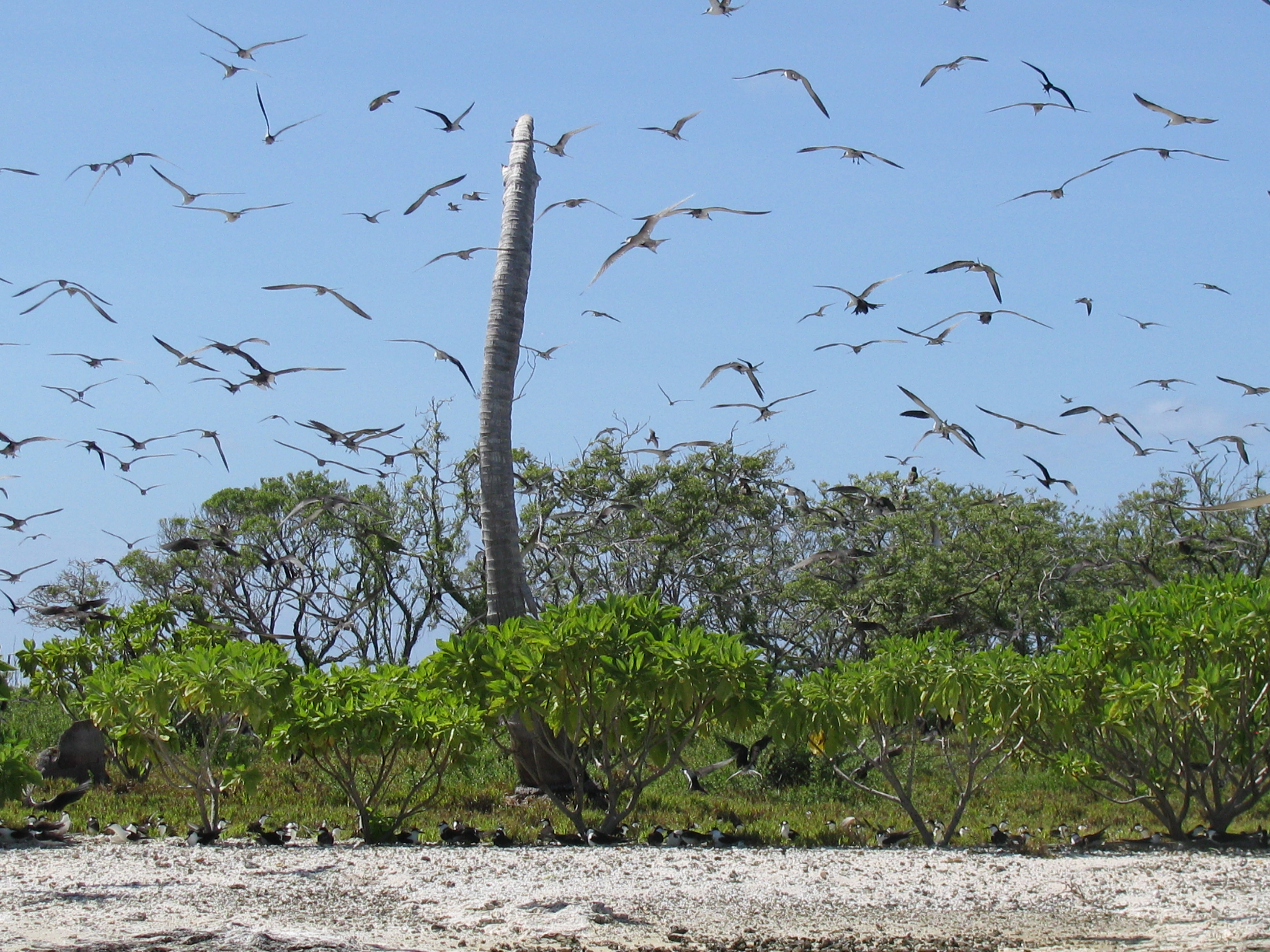 Reef Walk to See Nesting Ground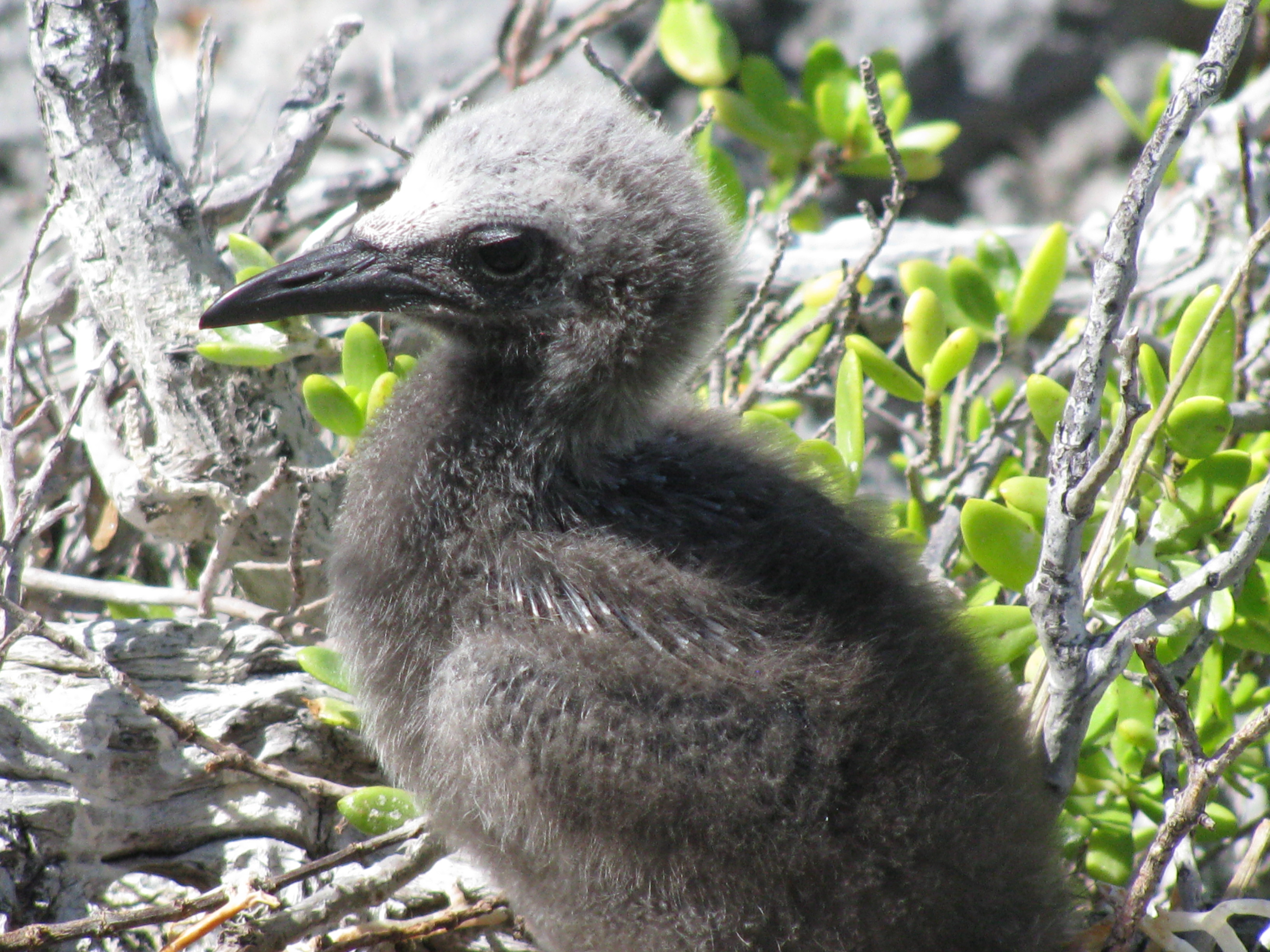 Reef walk to see the chicks
Shark warning where fish scraps are dumped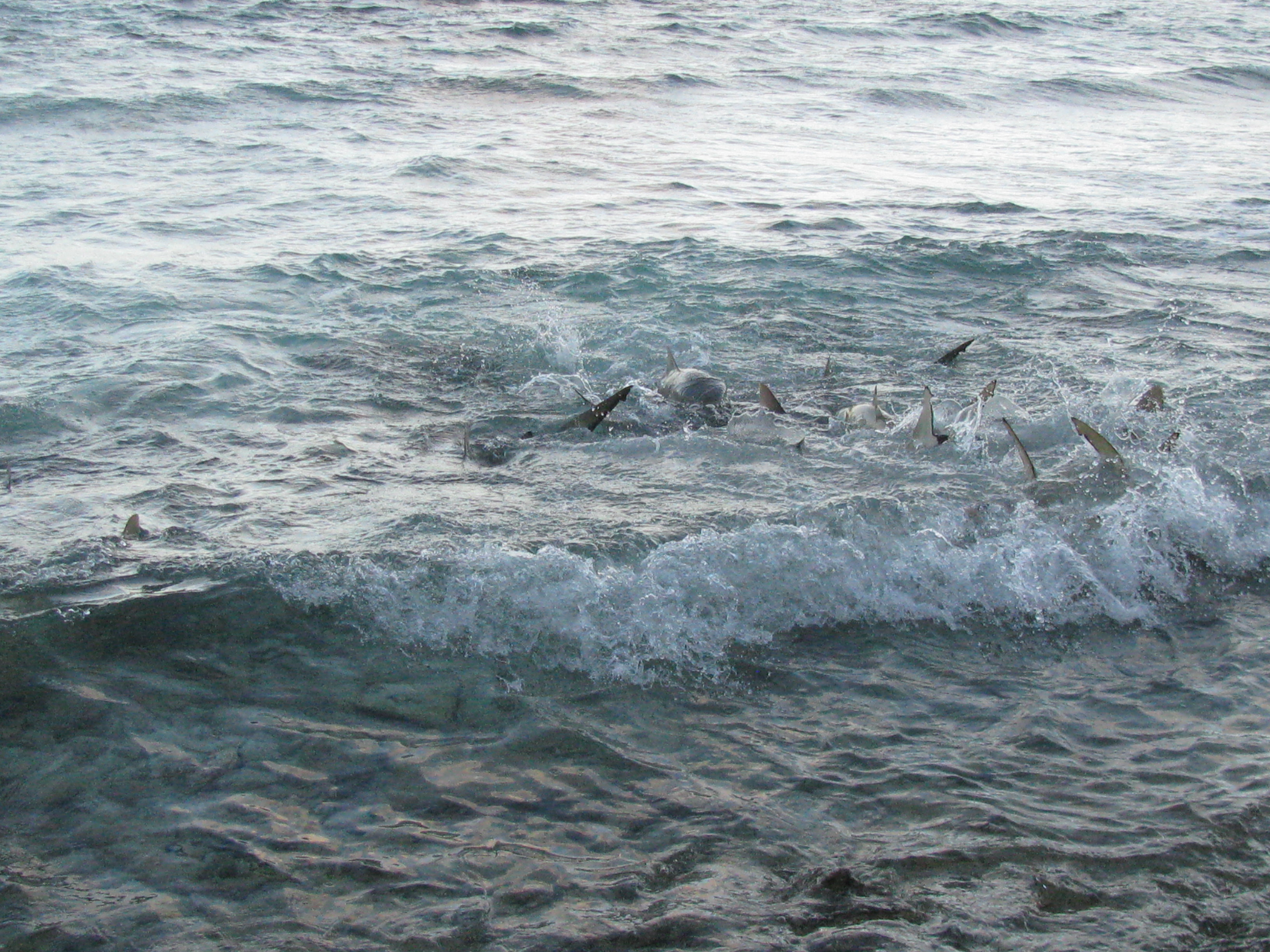 Feeding the Sharks
8/7/11
Kim's blog:

We had a very interesting second day in Suvarow. The first day was missed since Sharon slept 15 straight hours to recover from the passage.

We were greeted on shore by the 50% of the population, i.e., one ranger who looked Robinson Crusoe. After completing our formal check in to the Cook Islands,he offered a quick tour of their compound. There is one small wooden building constructed in WWII for two coast watchers from New Zealand. Throughout the war, they never spotted a Japanese ship. Later, a man named Tom Neale lived alone on the island as a hermit for many years and wrote a book about the experience. The rangers live here for six months per year and depend on the cruisers to bring supplies. In return, they are wonderful hosts who take cruisers fishing, on tours and organize pot lucks. They have a small gas generator, a freezer and 3 car batteries for their radio which are charged with solar power. On the tour, they explained that they were trained as morticians and pointed to the grave site of at least one snorkeler who died while here. They assured us that the the individual died of natural causes while snorkeling, not a shark attack. The sharks are everywhere. We always have multiple sharks around our boat. Our friend has developed a technique for spear fishing with the sharks. He spears the fish and then swims like crazy for the dingy before the sharks go after the fish dragging behind him. Maybe we will get up the nerve to stick our toes in the water. We will post pictures when we have internet in America Samoa.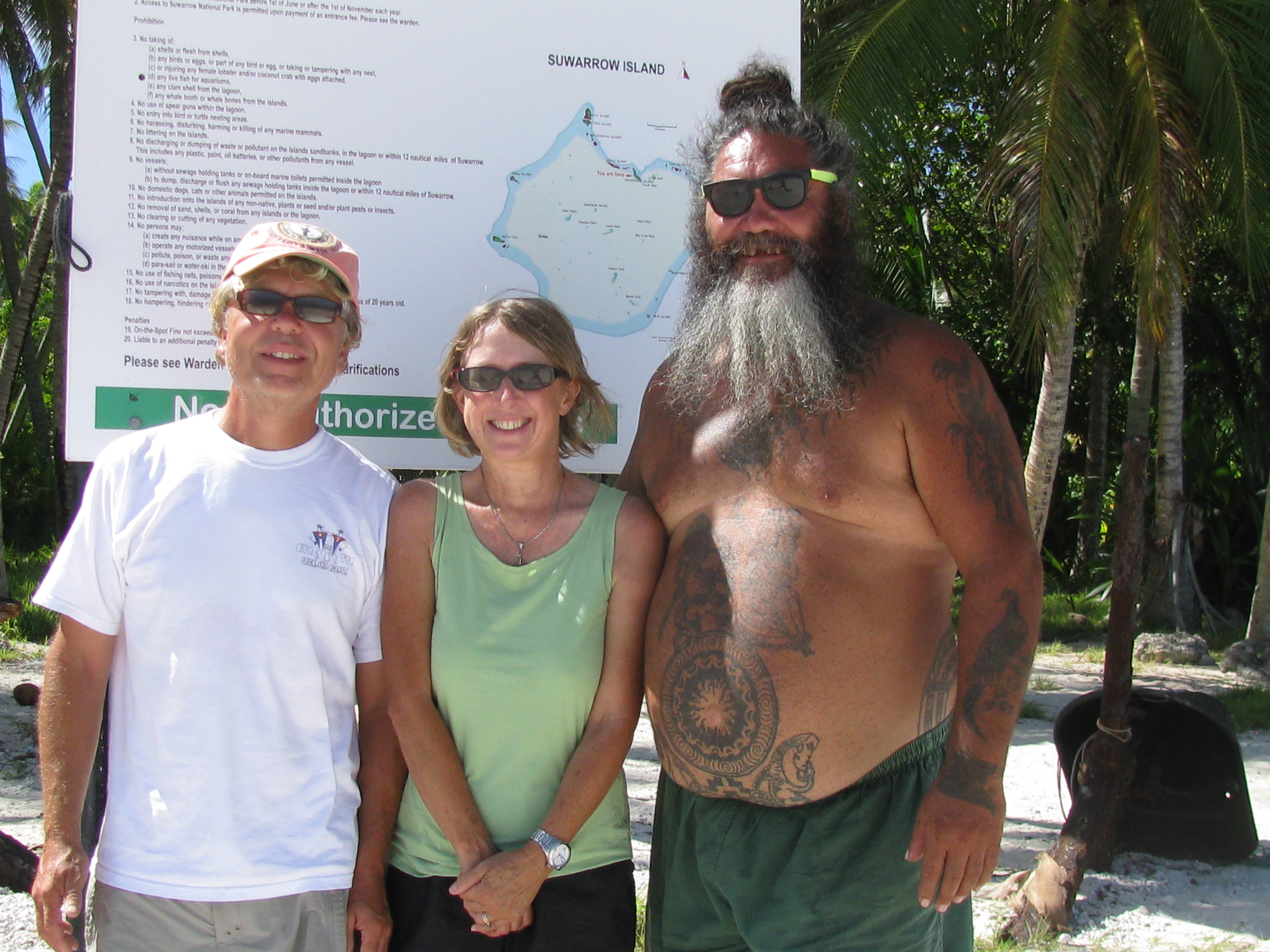 Head Ranger James greets us on arrival
Click here to hear Ranger James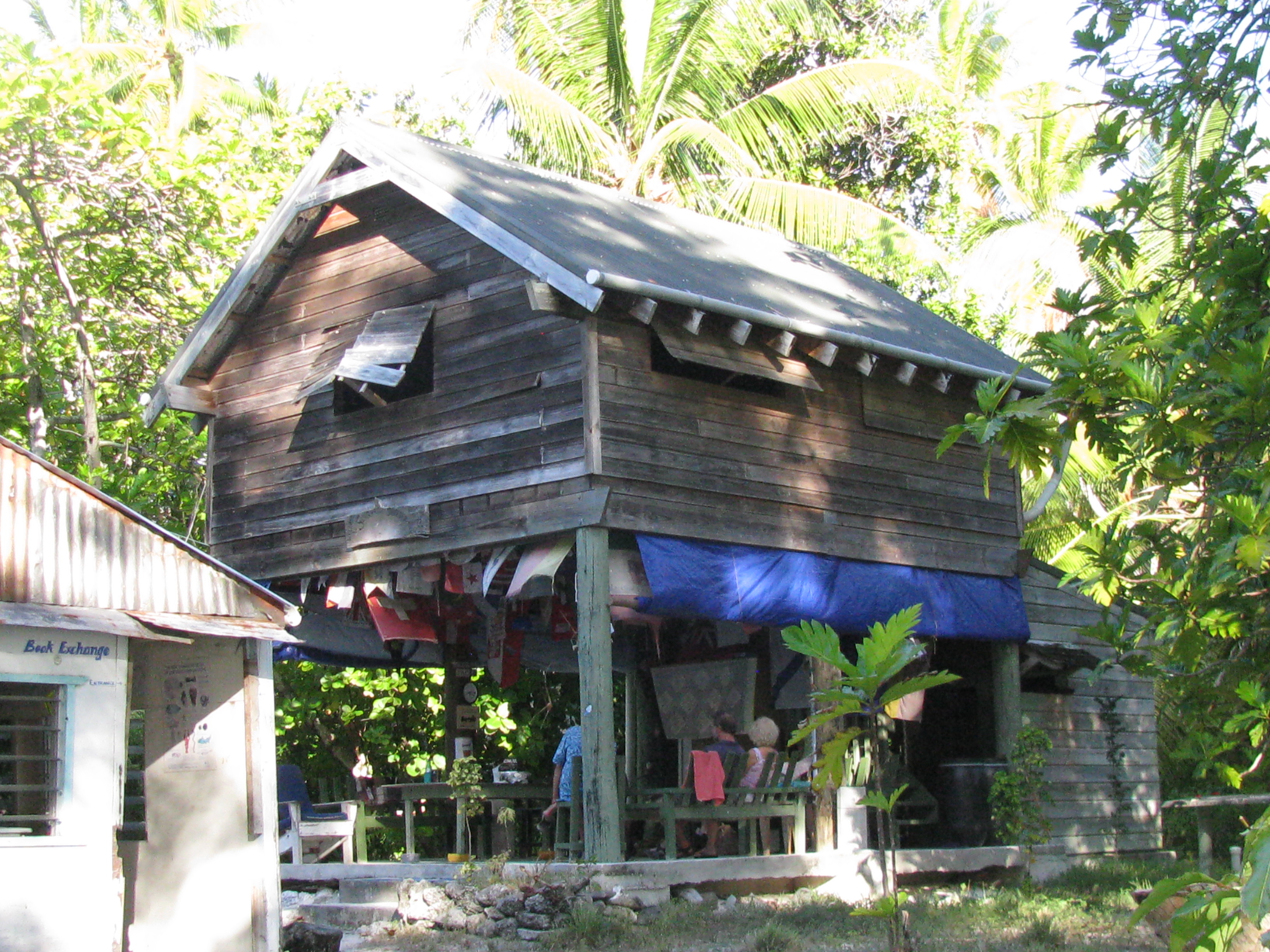 Suwarrow Yacht Club
8/5/11
Kim's Log - Safe arrival at Suvarow

We arrived safely at Suvarow at about 1:00 pm today. Although the trip was 687 miles as the crow flies (no crow could possibly fly that far), we probably traveled over 800 miles. Our course line was straight down wind until the last day. To avoid jibbing, we kept the wind at an angle to the boat as we sailed. At times we were 60 miles off the course line in order to avoid using the engine.

I was pretty anxious about the pass into the atoll. There are no buoys or other navigational markers here. In addition, the route required six turns to avoid coral reefs in only .6 miles. Sharon stood at the bow spotting the coral patches and reefs as the depth changed from 3000 feet to 18 feet in only ½ mile. Fortunately, the electronic charts were spot on. I can't imagine how a large sailing vessel entered this atoll before the age of GPS.

There were 12 other boats at the anchorage which means it is jam packed. We had to anchor in 75 feet of water. I have only 150 feet of chain out to avoid swinging into my neighbors, so it may be a sleepless night. Within five minutes of our arrival, lemon and black tip sharks began circling the boat at the surface. Our swim was deferred to tomorrow.

Sharon fixed sandwiches and her traditional safe arrival Bloody Marys. We discussed how well our informal coordination of watch schedules had worked during the passage. Although we had a watch schedule each night, one of us keep the watch until we were too sleepy to continue. We felt we could have continued this routine indefinitely. We then took a 5 hour afternoon nap.

We plan to be here about 1 week.
s/v Georgia J
Anchored (securely we hope) at 13 15.030 s, 163 06.426 w
Suwarrow beach on anchorage island
8/04/11
Sharon's Log
6:30 a.m.

An hour and a half ago, I had just sat down to do an update. I was typing that all was well on Day 4 when I heard a loud screeching sound. Our reefing line had broken. For you non sailors, the reefing line is how we reduce the size of our mainsail in strong winds. I woke up Kim and we managed to get in the second reef. This will hold us until daylight. We are currently about 185 miles from Suvarow (pronounced "Sue var oh"). Prior to this, things have been going quite well. Day 2 was glorious! We had the easy downwind sail that I have been waiting for the entire trip. Plato and I cranked up the music (of course, he is deaf, you know) and spent the day in the cockpit. I kept thinking how I wish Rob Massey had been with us. It was his kind of day. I actually remembered why I was doing this crazy thing.

Plato is having his best passage to date. Although, he much prefers being in the anchorage, he is doing okay at sea this time.

Day 3 our pesky generator decided to act up again. It had been running perfectly for the past month, and we knew it couldn't last. Poor Kim has spent hours and hours keeping that thing going. He has gotten quite good at it. Perhaps, he will be a generator repairman in his next life…..or maybe not.
On to Suvarow!

s/v Georgia J-Latitude 13 11.3 S Longitude 160 02.7 W at 18:55 UTC. Course 261 M, speed 6.7 knts.